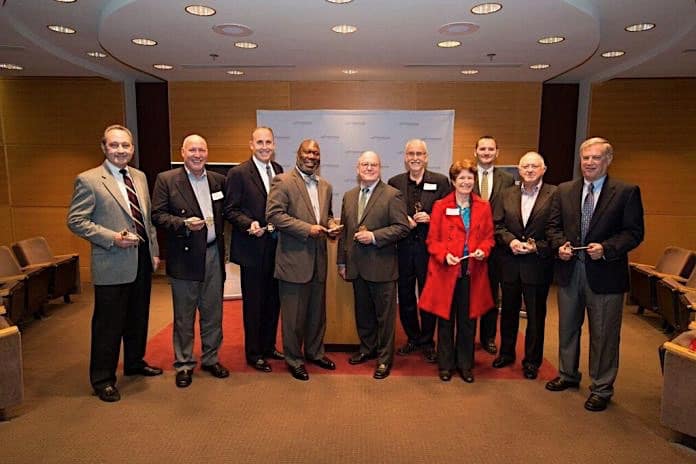 Last week, a ceremony held as part of Texas Gov. Greg Abbott's "Propane School Bus Week" honored the contributions of individuals to the propane school bus industry.
The award recipients included Bob Pachla, president of Powertrain Integration Acquisition (PI) and eight others. The ceremony was to recognize "the 10th anniversary of [their] idea to create a factory-direct school bus for use in Texas and beyond," said State Rep. Tony Dale.
Pachla recalled that it all started with just two school buses.
"The Propane Education Research Council (PERC) got the ball rolling with funding and Blue Bird sent us two Vision buses," he said "We pulled the diesel engines and mechanically integrated a GM 8.1L engine, Allison transmission, and CleanFUEL USA propane fuel system into the chassis. PI also contributed electrical integration and performed testing before the two buses were returned to Blue Bird to kick off the official production program." The ensuing product was "the first OEM spark-ignited, on highway propane engine package in decades. More than 3,000 Blue Bird Vision Propane 8.1L buses were subsequently built.
Related: Texas Recalls Groundbreaking Work on School Bus Propane

In 2009, General Motors announced that it would no longer be producing its medium duty platforms, which meant that the 8.1L engine would no longer be available for school buses. The following year PI set out to develop a medium-duty propane autogas engine for school buses, with support from PERC. The result was the PIthon, an 8.0L V8 engine.
"For the PIthon engine, PI engineers applied lessons learned from the 8.1L and specified a durable GM long block optimized for severe service, and added a modular front engine accessory drive," PI said in a statemen, adding that PI again partnered with CleanFUEL USA
In order to improve the engine package for the school bus industry, PI partnered with Freightliner Custom Chassis Corporation and Thomas Built Buses. After many thorough, stringent tests, the Thomas Saf-T-Liner C2 Propane was released for production in June 2014.