The 26th annual STN EXPO Reno Trade Show was held on July 30, with an informal Networking Extravaganza held the night before. Over 120 vendors displayed their newest products, services and innovations. These are all designed to help student transportation operations become safer and more efficient.
Read more about their exciting offerings below. (Click on any image to enlarge it.)
A Beep at booth 342, a first-time exhibitor at the STN EXPO Reno Trade Show, displayed its Diga-Talk+ two-way radio communication system
A-Z Bus Sales at booth 643 described how electric school buses were "a must-have for the new school year." A Type D electric bus manufactured by Blue Bird and operated by Twin Rivers Unified School District in northern California was displayed.
App-Garden at booth 344 discussed the company's suite of products that are designed to make field trip management easier.
Ari-Hetra at booth 303 could meet the Ari-Hetra team and learn more about the company's dependable line of heavy-duty equipment. That includes the Hybrid Mobile Column school bus lifts, one of which was demonstrated holding a Type C bus several feet off the floor.
Bergstrom at booth 223 displayed its first-fit installed heaters, solar and AC systems for the bus industry.
BusPlanner at booth 245 discussed its full-featured student transportation management system, which can help manage transportation for 3,000 or 300,000 students. Visitors were invited to see how the system provides intuitive interfaces for quick and accurate answers for planning, analytics to measure and prove the effectiveness of your system, topped with powerful optimization and automation tools to continually enhance efficiency.
CI Solutions at booth 107 featured student ID card printing services and systems that take the headache out of printing student ID cards. Representatives discussed the company's goal to make it easier during the busy student registration period, by providing bulk card printing services and easy-to-use ID card printing systems.
EDULOG at booth 615 discussed its parent-requested new tool, the Parent Portal. The company calls it "the most feature-rich and affordable school bus app on the market." This app allows parents to see their child's real-time bus trip to and from school and to receive notifications when the bus is near a stop. Within the same app, parents can monitor all of their children via one secure login. Districts can deploy the app as quickly as GPS hardware can be installed on a bus, no matter which route management system is used.
Fogmaker at booth 521 talked about all things fire suppression, following the recent School Transportation Safety Board recommendation for such systems to be installed or retrofitted onto all of the nation's school buses.
Gatekeeper Systems at booth 547 discussed its SP25 stop-arm camera system, which uses infrared technology to capture tag numbers as far as lane 4, in the toughest of lighting and weather conditions. It not only captures clear images and videos of tag numbers, but also vehicle makes and models, plus images of the driver for enforcement and prosecution.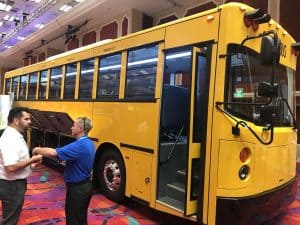 GreenPower Motor Company at booth 649 displayed its new all-electric Type D school bus. Attendees could climb aboard the transit-style vehicle and learn more about the bus' capabilities.
HopSkipDrive at booth 742 allows school districts to schedule guaranteed, nonroutine student trips from caregivers on wheels in a few easy clicks. HopSkipDrive's safety innovations include the most selective driver vetting in the industry, a Safe Ride Support team that watches every single trip in real-time, and a system that monitors CareDrivers for indications of unsafe driving behavior. Representatives reported how HopSkipDrive has won the trust of school districts nationwide for its innovative approach to safety, its 100 percent trip guarantee, and its helpful impact on district communities and under-served populations.
IC Bus at booth 339 hosted a popular customized pancake station, to remind attendees how the bus manufacturer "stacks up against the competition." IC Bus also held a special in-booth competition for school bus technicians, and the winner received a free trip to the IC Bus University in 2020. Also featured was an 8.8-liter engine with both gasoline and propane configurations, that is produced by IC Bus partner Power Solutions International.
Modine at booth 721 displayed its innovative prototype concept for rear engine school bus engine cooling, an evolution of the systems Modine produces for transit and coach buses. Visitors learned about its higher efficiency cooling via state-of-the-art heat exchangers, coupled with precise control of airflow, reduced power draw versus mechanical or hydraulic drives, reduced noise, reduced weight, less mechanical complexity, easier bus assembly and improved reliability.
Pupil Transportation Safety Institute at booth 243 shared how it is developing an online curriculum to meet the requirements of the "theory" portion of this new requirement, plus the ELDT Trainer's Guide, which deals with the Behind The Wheel requirements. It provides a comprehensive plan for setting up the Behind The Wheel closed range course and providing the required training in your own open lot.
Q'Straint/Sure-Lok at booth 203 again sponsored the annual Peter J. Grandolfo Memorial Award of Excellence—which was won by the Nevada state director for pupil transportation, Diana Hollander—and showcased its wheelchair securement systems. Booth visitors also had a free seat in the company's online training course, "Securement 101: Basic Wheelchair Securement Training."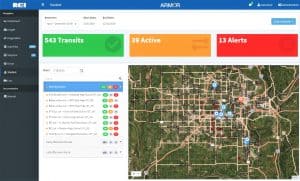 REI at booth 509 delivered live product demonstrations, one of which showcased REI's ARMOR Software Suite for wireless fleet management that features a remote server management service via the new ARMOR Cloud. The service streamlines software updates for customers and eliminates ARMOR server management needs. Visitors also saw the 360 degree views from REI's 3D 360˚ HD Surround View Camera System, along with the industry's widest and tallest interior views that are provided by REI's surveillance systems. REI's new ARMOR Student module for student/bus tracking, and its new Mobile Data Plans for onboard, student Wi-Fi, were notable topics.
Rosco Vision Systems at booth 735 inspired safety with its ever-growing lineup of safety products, including bus camera systems.
Rusoh at booth 114 provide representatives who were ready to discuss and answer any questions about the Rusoh Eliminator fire extinguisher.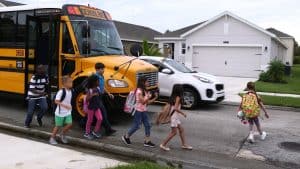 Seon at booth 622 discussed its Predictive Stop Arm, an innovative, patent-pending solution that uses radar technology and predictive analytics to monitor oncoming vehicle traffic, measure vehicle speed and vehicle distance from a school bus. Analytic algorithms process data from radar sensors, and determine whether a vehicle has sufficient time to slow down and stop, or whether a stop arm violation is probable. If the system perceives that students should not cross, students will hear "Danger, Get Back," boom from speakers that are mounted outside the bus, while the bus operator receives a visual alert inside the bus. Booth visitors were also able to request product quotes.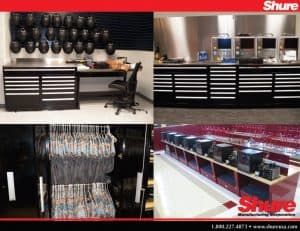 Shure Manufacturing at booth 346 discussed how a mechanic training partner can take solutions further through true customization without the custom price. That can help educational organizations provide a quality educational environment, build settings that prepare students to perform effectively in highly specialized and advanced technical occupations, plus attract and train the vocational and technical trades of tomorrow, today. Shure invited attendees to learn more about its options that achieve the right function, look and budget, to fit their specific situations.
Spectra Drive (formerly known as Pawar Transportation) at both 447 presented its app-based service for transporting special needs children. Spectra Drive is continuing to provide the services that Pawar Transportation has over the past 30 years for special needs, hard-to-serve, out-of-district, McKinney-Vento and ESE children, with bus alternate transportation.
Sunair Products at booth 549 showcased its complete line of air-conditioning compressors, DPFs and DOCs, air brakes, EGR coolers, chemicals, condensers, fans, blowers, driers and electronics for the school bus market. Sunair has been an industry supplier for over 34 years, and now offers product sales direct from the source.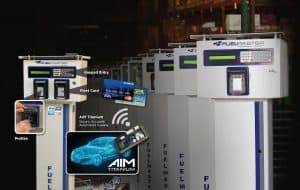 Syntech Systems at booth 130 designs and manufactures FuelMaster fuel management units that provide the hardware and cloud-based software to manage fleets and their access to fuel products in realtime. Syntech's AIM system provides passive fueling transactions while simultaneously capturing vehicle and driver data. The company designs its products for reliability, ease of maintenance, user-friendliness, quick parts replacement and 24/7 operation.
The Lion Electric Co. at booth 321 provides 100 percent purpose-built electric heavy-duty vehicles, such as school buses and mini-buses, that are designed for "Power in Progress." Coming with all French-Canadian ingenuity, Lion vehicles provide the only totally emission-free solution to pollution. Its vehicles feature many additional advantages, such as a quieter ride, lower energy, and maintenance costs, and a safer choice.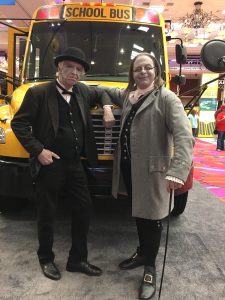 Thomas Built Buses at booth 139 invited attendees to meet its Type C electric bus "Jouley," and learn more about the Detroit DD5 and DD8 engines. Actors portrayed Thomas Edison and Benjamin Franklin, who were available for photo ops to depict its electric bus theme. The company also announced on Monday that it had partnered with Trans Tech to offer the new Minotrek, a new narrow-body Type A school and activity bus. Built with big-bus safety and durability, the Minotrek's aerodynamic design improves fuel economy and reduces transportation costs, all while carrying up to 20 passengers. The Minotrek sits on a 138″ chassis platform and is available with a gasoline or diesel engine.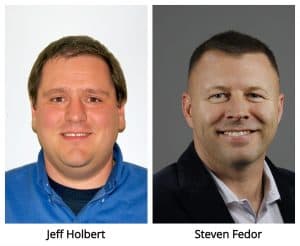 Trans/Air Manufacturing at booth 441 unveiled two new regional sales and technical service managers at the trade show. Jeff Holbert, who has been with Trans/Air for 15 years, and Steven Fedor, who has over 18 years of HVAC experience, are joining David Harden to provide the industry's best sales and technical support to the West Coast. Both of them met attendees and discussed Trans/Air's climate control solutions for school buses.
Transfinder at booth 209 showcased its school transportation software, and reported how much it enjoyed meeting with clients, "the people who make the school transportation industry great."
Trimble MAPS at booth 701 said the most important ride of the day starts and ends with technology. Trimble delivers high-quality mapping and turn-by-turn navigation that are designed for school buses, which supports visibility, efficiency, and ultimately safety, along with real-time ETAs and right-side pickups.
Zūm at booth 349 discussed how it wants to redefine student transportation by bringing innovative technology to connect schools, families and drivers. Its school dashboard, plus mobile apps for parents and drivers, enables real-time tracking of rides, instant alerts, and communication for transparency among everyone. Its drivers are also meticulously vetted, they noted. Trusted by 2000+ schools and districts, Zūm has safely driven 750K students over 5 million miles. Representatives reported how Zūm can augment districts' daily home-to-school, special education, foster homeless youth, athletic/field trip rides and more.
Other manufacturers, suppliers, and dealers also displayed their tried-and-true products and services:
ADOMANI (Booth 421)
Adroit (Booth 111)
ALC Schools (Booth 206)
Allied Powers (Booth 242)
Amerex Corporation (Booth 134)
American Cylinder Head (Booth 145)
American School Bus Council (Booth 146)
AMF-Bruns of America (Booth 113)
AngelTrax (Booth 121)
AT&T Fleet Complete (Booth 118)
Auto-Jet Muffler (Booth 143)
BESI, Inc. (Booth 523)
Bitzer US (Booth 244)
Blue Bird (Booth 539)
Bostech (Booth 138)
BraunAbility (Booth 136)
Bridgestone Americas (Booth 147)
Buck's Wheel and Equipment (Booth 343)
BusMinder (Booth 741)
ByteCurve (Booth 543)
Certified Safety Mfg. (Booth 647)
Child Check-Mate System (Booth 140)
Clean Cities – U.S. Dept. of Energy (Booth 450)
Clean Fuels National (Booth 248)
CMA/DoubleCoin Tires (Booth 708)
Collins Bus (Booth 313)
Cstore1 (Booth 744)
Custom Radio Corporation (Booth 132)
D&D Instruments (Booth 737)
Easy Way Safety Services (Booth 601)
EZ-ON Products (Booth 607)
First Light Safety Products (Booth 624)
Freedman Seating (Booth 540)
FuelMaster/Syntech Systems (Booth 347)
GPS Lockbox (Booth 116)
Heavy Duty Bus Parts (Booth 210)
Here Comes the Bus (Booth 445)
HSM Transportation Solutions (Booth 715)
Insta-Chain (Booth 340)
Kajeet (Booth 443)
Kidde Technologies (Booth 542)
LYTX (Booth 546)
MAGTEC Products (Booth 124)
MISCO Refractometer (Booth 149)
Mobile Create USA (Booth 731)
Motorola Solutions (Booth 706)
National Bus Sales (Booth 621)
NS Corporation (Booth 642)
O'Reilly Auto Parts (Booth 709)
Onspot Automatic Tire Chains (Booth 444)
OPW FMS (Booth 446)
Orbit Software (Booth 122)
Panasonic (Booth 322)
Planet Halo (Booth 644)
ProAir (Booth 126)
Propane Education & Research Council (Booth 515)
Red Dot (Booth 545)
Reflective Image (Booth 739)
Rostra Accessories/Vehicle Safety Manufacturing (Booth 712)
SafeGuard/IMMI (Booth 403)
Safety Vision (Booth 705)
School Bus Logistics (Booth 109)
Secure Transportation (Booth 249)
Shriver Transportation Insurance Agency (Booth 100)
SmallArc/ShuttleTripz (Booth 710)
SMART Tag by Secured Mobility (Booth 106)
Synovia Solutions (Booth 101)
Tiger Mirror Corporation (Booth 144)
TransTraks (Booth 254)
TripSpark Education (Booth 648)
TRP Bus Parts/PACCAR (Booth 611)
Tyler Technologies (Booth 503)
U.S. Gain (Booth 448)
Valeo Thermal Commercial Vehicles North America (Booth 645)
Viafy (Booth 324)
Webasto Thermo & Comfort NA (Booth 108)
Weldon, a Division of Akron Brass (Booth 345)
Zonar (Booth 215)