Amid the tranquil setting of Incline Village in Reno's Lake Tahoe area, Transportation Director Summit participants and sponsor partners discussed how to be smart and cost-effective in their school transportation business dealings.
Erich Rifenburgh opened the day by explaining how negotiations should be confident, credible and justifiable. Paul Lauria followed with a discussion on using data to back up difficult conversations and to handle a changing student transportation landscape. Last came Jim Harris, who led attendees in brainstorming real solutions to hardships like driver shortages and budget pressures in the industry.
Being Prepared and Confident to Negotiate A Win
Rifenburgh said that in his experience, he has found that almost no one has a preparation strategy, which is an essential part of any negotiating process. He advised spending two to three times longer preparing for the negotiation than the actual meeting will take.
The key to a successful negotiation is coming in with confidence. This confidence extends to being proactive in controlling the agenda—then you're driving the bus.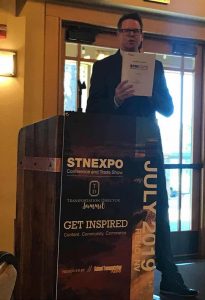 He advocated learning more about the other person by getting beyond company positions and uncovering personal interests. Money may not always motivate them, but once you find out what does, you are in charge of the conversation, he said. He related how he negotiated a deal with Apple and made a presentation based on his firm's knowledge of Apple's dedication to a quality product.
With school districts as buyers, the supplier makes the first offer. However, Rifenburgh advised not letting that initial offer sit too long and gain permanence. Both the buyer and seller come in with a number in mind, and they end up in the middle.
Similar to gambling, a walkaway position is necessary. "What's worse than no deal? A bad deal," Rifenburgh quipped.
In any negotiation, there are shared interests and competing interests, but there are also differing interests, which are more important to one person than the other. Don't be lazy because you both may be able to get what you want, he revealed. He added that it is best to keep the other party at the table until you secure your No. 1 negotiable.
"Don't give away something that means nothing to you until you find out what it means to them," he said. He also cautioned against giving things away because one wants to make an impact or get people to like them. He also discouraged making business deals over cocktail drinks at dinner, since that could easily come back to cost a lot of money.
The Importance of Data in a Changing World
Paul Lauria of Mercury Associates next tackled the changing face of running a student transportation operation. He explained how to deliver news that's necessary but not necessarily welcome, especially in today's atmosphere of transportation being considered a subsidiary service, as well as dealing with shortages of drivers, mechanics, technology and funds.
He shared his own struggles with making decisions that are more data-driven, rather than relying primarily on his years of experience. That is a necessary change for the school bus industry's long-term future as current transportation directors leave the industry. Telematics and the internet of things (IoT) offer entirely new ways to conduct school bus maintenance, inspections, and repairs, as well as daily operations like fueling.
Not to be neglected are changing workforce trends, the most prominent of which is the "brain drain" of experienced pupil transportation workers. "You're going to see a huge loss of knowledge and experience from your operation in the next few years," he cautioned. It is also a challenge, since employees with data experience are in high demand, and the average job length of younger employees is two years.
Doing something a certain way just because that's the way you've always done it, is no longer enough, he said. Now, data is here to track, measure and report on business operations. Some tips he gave were: track costs and understand their consequences, consider outsourcing versus in-house operations, lower the age of the fleet, turn data into actionable information, and create structures and processes to aid incoming management.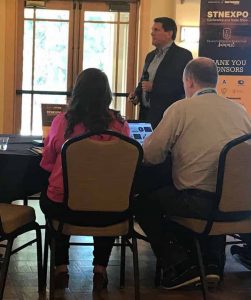 If an organization can afford to operate an old fleet, it can afford to operate a new fleet, Lauria said. Refusing to spend money on new buses ends up costing more money in the long run.
Lauria queried the transportation directors in attendance as to why it is hard to get investment in transportation. They agreed that there is a complication to getting students to and from school, one that most people do not realize even, as they expect the completion of the service. And no matter what data the transportation department comes armed with, decision-makers aren't always open to change.
Information technology helps with gathering information like bus locations, forecasting demand like route planning, capturing real-time data, and measuring performance to improve operations.
"Challenge conventional thinking or no thinking in areas like fleet replacement," he encouraged. If district decision-makers choose to ignore the information, that's on them, but it is the responsibility of the transportation department to at least provide them the information.
Solutions to the Driver Shortage & Budget Cuts
In the afternoon sessions, consultant Jim Harris explained that responding to industry disruptions like new technology and rideshare offerings require a different perspective.
He asked the transportation directors and supplier partners to identify the biggest reasons contributing to the driver shortage. They responded with: medical and health benefits, split shift requirements, pay competition from other districts, training time, workplace culture, student behavior, DOT certifications and drug testing.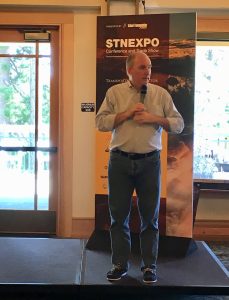 Harris listed possible ways to combat the driver shortage—such as one driver picking up others on their commute in, assistant coaches getting their CDLs, or drivers recruiting new drivers—and then gave attendees a few minutes to brainstorm solutions by thinking outside the box.
One group proposed making a tiered seniority system for bus drivers, like the system that is used for custodians. Another person suggested starting drivers as attendants even as they work through their required training, so they get experience managing kids. A vlog (video blog) was proposed to showcase a bus driver's involvement and impact on the students.
Other solutions to the split shift problem were having drivers take phone calls during their nondriving hours, or hiring custodians or janitors as drivers, so they would be employed throughout the day. Instead of focusing on recruitment, one contractor focuses on retention by creating a community of support and now has less than a 6 percent turnover.
---
Related: National School Bus Driver Shortage
Related: Filling-in Gaps During School Bus Driver Shortages
Related: Indiana School District Turns to Teachers to Help with Driver Shortage
Related: Solutions Proposed to Curb School Bus Driver Shortage
Related: Driver Retention Starts with Appreciation
---
"Understand pain points from the driver's perspective," Harris stressed. "Celebrate the impact they have on students' lives."
Harris next spoke about how many adults are resistant to change and how it takes multiple tries to get something right. Instead of seeing things like a budget crisis as a negative, he advised looking at them as a gift and a chance to look at things in a different light.
Attendees brainstormed root causes and potential fixes for budget pressure. One attendee expressed the frustration felt by many in the room at the insignificant way transportation is treated, especially since "we can shut down the whole school by not showing up."
Kayne Smith of Cypress-Fairbanks ISD in Texas encouraged getting in touch with local legislators so they feel the heat and make changes, since they are already in favor of education. Nicole Portee of Denver Public Schools shared her success with securing bonds and mill levies for the transportation department.
Harris drew from the real-world example of promoting animal organ meats to the U.S. population during World War II, in order to send more of the red meat overseas for soldiers. You can't change emotional barriers with a logical push, he commented. It takes a different perspective, such as making red meat look bad, or playing up the benefits of animal brains or livers as acceptable replacement foods, despite ingrained, cultural perceptions.
"If I reframe transportation as security or as education, it changes things," Harris stated. He gave attendees a few minutes to come up with ways to affect change.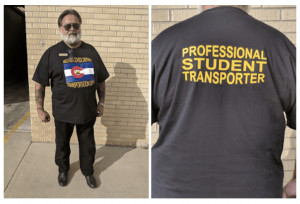 One director advised getting in on the budget conversation before it is simply handed down. To implement air conditioning on the buses, one transportation department got other departments involved. Nacho Alvaredo of Weld County School District RE-4 in Colorado even made his team T-shirts, so they could take pride in their job and not be referred to as "just" bus drivers.
Many would agree that innovation is important, but innovation comes from people. "Are you investing in your people?" Harris asked.