The illegal passing of stopped school buses continues to be a common problem. In order to address it, McKinney Independent School District in Texas is piloting the use of extended, six-foot long stop arms.
According to the district's drivers, motorists are illegally passing their school buses about 20 times a day, accounting for approximately 3,500 incidents by the end of the school year.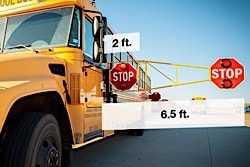 "It's just baffling," said Bruce Austin, a driver for Durham School Services, which provides contracted transportation for McKinney ISD. "You're on pins and needles because you give your students the O.K. to step out, and here comes this car, and they're coming like you're not even sitting there. I don't know if they literally just don't see the lights and the sign or just don't care."
Bus Safety Solutions installed these stop arms in 10 buses that run routes through high-traffic areas. Each unit costs about a thousand dollars. If they prove effective in curbing illegal passing, the district said it will consider equipping additional buses with stop arms.
Austin said that while the extended stop arms may present a challenge on more narrow streets, he has seen a noticeable difference.
"Now, I'm not seeing any cars trying to just literally go by me because they are afraid they might extend out into traffic or run into the arm. So, I think it's just a great idea. I've seen that it's working," he said.
Pete Chancellor, general manager for Durham's McKinney location, also agrees that things are improving.
"With the feedback we've gotten from the drivers, a lot of them see a big difference because the extended arm is so visible. So, we'll continue to increase awareness and get feedback to see how it goes," he said.
But bus driver Sandra Ellis said that while there is improvement, there are still motorists who will go out of their way to go around the bus, even with the longer, more noticeable stop arms.
"It's helping some because they see it sticking out there. You still have some of them that will run it. Some of them will go into the turn lane, in the median to pass it. I even had a big truck go around it, but it's helping some," she said.
For those that continue to overtake the buses, Ellis has a simple request.
"Please, pay attention to our lights. Just give it a few minutes, and we'll let you go by. It's not going to take that long. Please, be cautious. These kids are precious kids," she said.