Washoe County Schools in northwest Nevada near Lake Tahoe has experienced several challenges due to severe weather during their first week back from winter break.
The Reno-area district is accustomed to brutal winter weather, including large amounts of snowfall. But a recent string of storms created a few operational problems, raising concerns for school officials there as well as in neighboring areas.
"The last few weeks have been one for the books," said Todd Duncan, Washoe County School District assistant director, referring to the significant flooding the district just experienced.
Flooding prompted the evacuation of the main bus yard, which houses 150 buses, along with maintenance and fueling facilities and offices. The buses were relocated to a high school parking lot where operations will be temporarily located until the flood damage is repaired.
Student transportation operates out of two locations: Incline Village on the Nevada side of Lake Tahoe and the eastern base of the Sierras.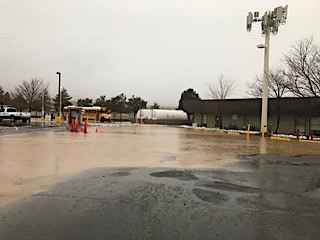 The flooding triggered Washoe County to stay diligent with their winter procedures, especially when there is high chance of snow.
Staff starts monitoring weather conditions at 3:30 a.m. with decisions for cancellations or delays made by 4:50 a.m., so announcements can be delivered before the first buses depart on their morning routes.
"The challenges with having to make the decision so early is that there are times that a storm will change direction or intensity that could result in a better or worse situation," Duncan said.
Incline Village operations have been closed, but Reno schools continue to run on a regular schedule. The main bus yard building is currently undergoing repairs and will not be fully operational until March.