Three school districts have found that extended stop arms help prevent motorists from illegally passing school buses that are stopped to pick up or drop off students.
North Carolina-based company Bus Safety Solutions developed and produces a patented extended stop arm that features two stop signs with red LED lights. VP of Operations Scott Geyer shared that over 600 units have been piloted or installed for regular use in 38 school districts across eight U.S. states.
Transylvania County Schools, a largely rural district located in the company's home state, had installed the extended stop arm on all 35 of its school buses by early 2017.
"It's been a fantastic product for us so far. We have seen fewer stop arm (violations)," Transportation Director Alan Justice confirmed. He estimated that illegal passing incidents had decreased by about 50 percent.
But better behavior from surrounding motorists is not the only benefit of the product. Justice told STN that the extended stop arms have also made his drivers better at their jobs, because they have become more careful when approaching bus stops, deploying the arm, and loading or unloading students.
"It makes for a fantastic stop. It's really slowed down the stop. I think I'm more pleased with that," Justice said. "This is not a 'gotcha' item. We don't want motorists to hit it—what it's for is to make sure that the stop is safe, and it's really done that."
In over a year of use, only one passing motorist has hit the extended stop arm. Justice added that his drivers "absolutely love them," and that his mechanics also see them as useful products.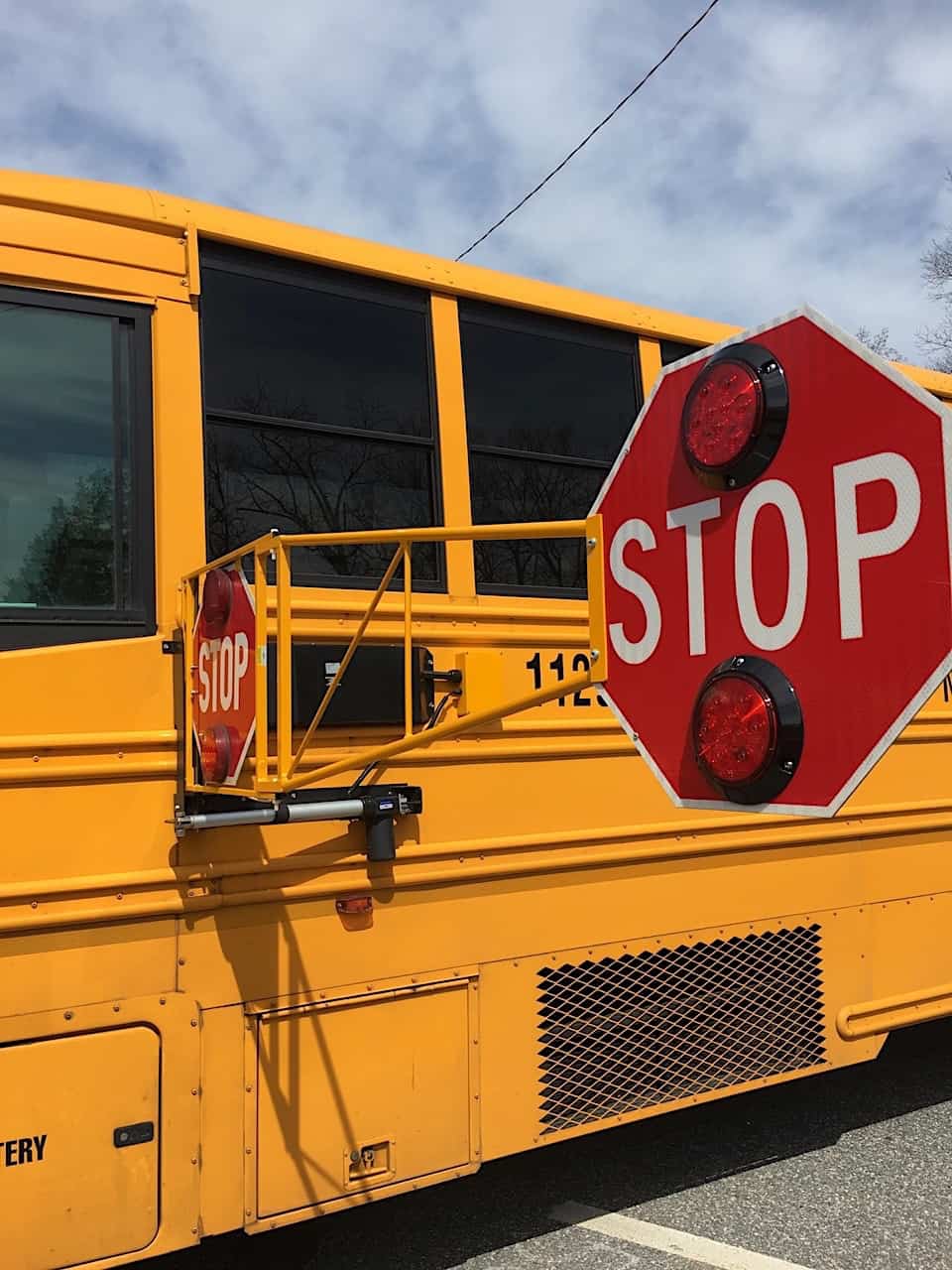 Guilford County Schools, also in North Carolina, was one of the first districts to install the stop arms as a complement to safety products, such as cameras, already installed on its buses. Officials there started with 10 stop arms and recently purchased 100 more. They now have a total of 150—the most school buses in the world with extended stop arms. Geyer shared that the district has worked with Bus Safety Solutions to improve the product for three years now. (Watch a video on the district's pilot project, below.)
The situation was similar in Virginia's Albemarle County Schools, which are responsible for busing students in the sixth largest county in the state. The district recently completed a six-week before-and-after study that was authorized by the state Department of Education, with 10 extended stop arms. After tracking illegal passing incidents for three weeks without the arms and three weeks with them, it was found that the arms lowered such incidents by 55 percent.
Transportation Director Jim Foley next worked with Bus Safety Solutions to make some improvements, including to the length, mounting system and deployment time. The original stop arm extended six feet, but ACS found that a four-foot version worked better on its suburban roads, which often had cars parked along them. Additionally, an electric actuator now deploys in about one second, compared to four seconds for the pneumatic version, which Foley said is the longest he would like the process to take.
While a state legislator wanted to make the extended stop arms mandatory for all school buses in the state, Foley said he that he didn't consider that the best course of action. For instance, he said, they would be a tight fit on narrow, one-way city streets lined with vehicles.
"The ideal application is, let's say, a two-lane road where the speed limit is 45 miles per hour or higher, and you have a student that has to cross the street. We have a bunch of those around here," he explained.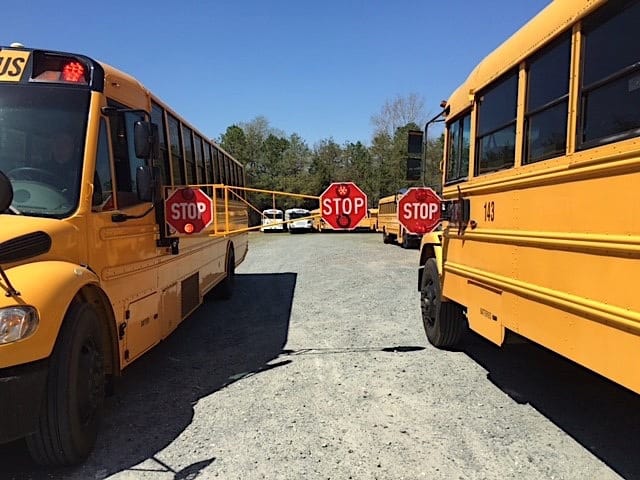 "I'm pretty happy with how it's turned out," declared Foley, who is on his state specifications committee. He stated that he would support the product's addition to approved school bus features. "When we meet next time I'll probably advocate for making it allowable. But I'd just hate to see it mandated, that all buses have it," he added.
He also noted that buses equipped with the extended stop arms need to be parked with more space between them, so when drivers conduct pre- and post-trip inspections, the arms have the necessary space that is needed to operate safely.
Geyer shared that New York, North Carolina and Arkansas. have approved the extended stop arm for optional use on school buses, as has West Virginia, which is also looking to make it mandatory. It can also be used in Texas as that state only has certain minimum specifications and allows districts to add additional safety features, according to Marisa Weisinger, executive secretary of the Texas Association for Pupil Transportation. Pilot programs are underway in South Carolina and Virginia, while two Maine districts have requested units, though there is no state pilot effort. Geyer said that districts in Tennessee and Kentucky have also expressed interest in testing the extended stop arm.
Read more about advanced technology introduced to increase student safety at school bus stops in the May issue of School Transportation News magazine.