A transportation director and two technology experts led a conversation on better utilizing home-to-school transit time and assisting communities through school bus Wi-Fi.
Krystle Pearson, senior education marketing manager for webinar sponsor Kajeet, shared that the average amount of time students spend traveling one-way on a school bus per day is 24 minutes, or almost 50 minutes round trip.
According to Commuting Concerns, an EdChoice survey of U.S. parents on K-12 transportation before and during the COVID-19 pandemic, students spend approximately 146 hours or 24 school days per 180-day school year on the bus – time that could be spent learning.
Pearson shared that over 500 school districts across the U.S. use Kajeet school bus Wi-Fi. She advised districts to look at the options to determine the scope needed for their bus operation.
Success Story
"If you've got the funds and capability, don't hold back because it helps every kid."

-Billy Huish, Transportation Director, Farmington Municipal Schools
Farmington Municipal Schools in New Mexico serves over 11,000 K-12 students at 21 public schools. The average commute time is one hour to one-and-a-half hours each way and many students are without internet access at home.
Transportation Director Billy Huish shared that the district started by equipping a dozen school buses with Wi-Fi primarily for activity trips. Currently, 75 buses are equipped with SmartBus Cradlepoint routers. Students are assigned a tablet or laptop and have racked up a total of 1,743 hours of learning time while riding the bus, an average of three hours and 43 minutes of homework hours each day, per device.
With homework completed by the time they arrive home, children are ready to help around the house, do chores, have dinner, and go to bed on time, making it an easy sell to parents, Huish shared.
"I'm so happy we did it, I'm happy our district supported it," he said. "It's really a win-win for all of us."
In answer to attendee questions on verifying sites students are using, Huish confirmed that social media sites are blocked, and only educational sites are allowed. Administrators are able to see the exact sites visited or blocked, and district officials can set their own custom parameters based on policies, Pearson said.
Getting the Most Out of It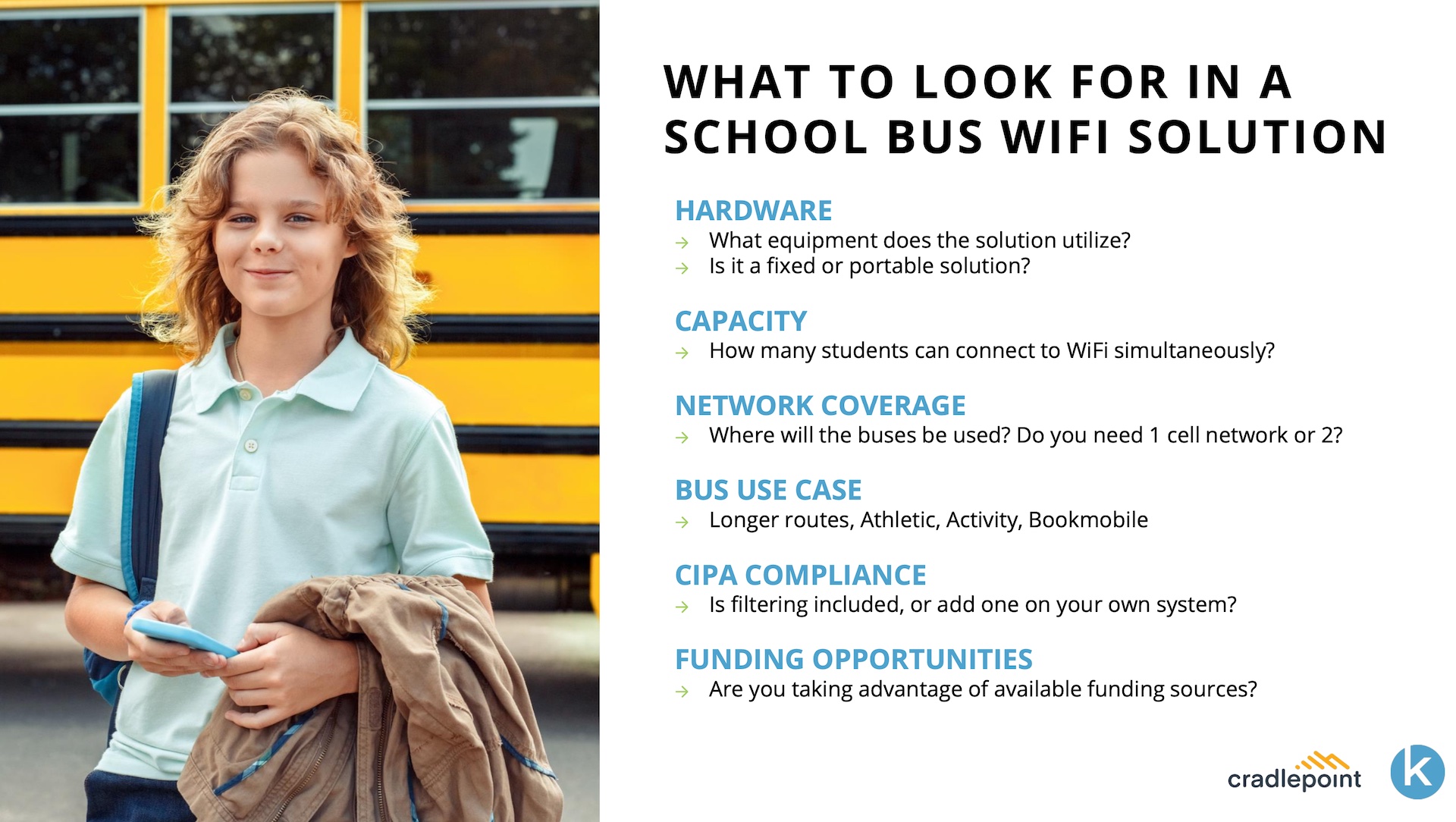 Kajeet extends the classroom and helps improve student behavior and overall safety on the school bus, Pearson said.
Paul Garcia, strategic account manager for technology provider Cradlepoint, noted that onboard Wi-Fi also helps reduce student behavior incidents and thus makes school bus drivers happier.
Huish agreed and confirmed that putting Wi-Fi and devices on special needs routes has also kept those students calmer.
He encouraged looking at the data to see how the system is being used, relating that he was surprised and excited to see elementary students heavily using Wi-Fi.
"If you've got the funds and capability, don't hold back because it helps every kid," Huish explained.
Garcia confirmed that numerous measures are taken for the security of the connection and traffic used by students and teachers, including Zero-Trust Public Access and Data Loss Prevention. He said the solution can be used safely on contracted buses and can also be connected to student ridership tracking or related technologies.
Pearson noted that the bus Wi-Fi can be used to benefit the community such as through mobile health clinics. Garcia added that buses can be parked in locations to provide internet to the community during emergencies.
Funding & Preparation
Current funding sources for school bus Wi-Fi include Title Programs, NTIA Grant Programs, and COVID-19-era Elementary and Secondary School Emergency Relief (ESSER) III funding.
With over half of Farmington Municipal Schools students being eligible for free and reduced meals and 39 percent living on native lands, the district was able to use Title I funding, Huish said.
School bus Wi-Fi may soon become eligible under the E-Rate funding program. The Federal Communication Commission has been gathering public comments and votes on the proposal on Oct. 19
---
Related: Tech Backs E-Rate for School Bus Wi-Fi Despite Political Opposition
Related: FCC's Rosenworcel Renews E-Rate Funding Push for School Bus Wi-Fi
Related: Closing the Digital Divide – With School Bus Wi-Fi Hotspots?
Related: (Recorded Webinar) Decrease Behavior Incidents & Improve Driver Retention with School Bus WiFi
---
Pearson noted the importance of having all significant stakeholders in on the conversations so approvals can be secured appropriately.
Huish advised districts looking at bus Wi-Fi not to be afraid of the new territory and to get the IT department's buy-in early on so they could sell it to other stakeholders.
"With Wi-Fi, we can now prove that we are an extension of the classroom,' Huish noted.
Garcia recommended being forward-thinking and considering 5G rather than 4G, preparing technology based on the chosen internet provider's coverage, and carefully vetting equipment installers.