Independent School District 2142 (ISD 2142), known as St. Louis County Schools, is geographically the largest school district in the state of Minnesota. The district covers 4,200 square miles and its fleet drives over a million miles a year. As a rural district, located approximately 350 miles north of the capital and 50 miles from the Canadian border, staff struggled to find technology that met their needs.
"When you have little roads in the middle of nowhere, not all roads are marked," said Transportation Director Kay Cornelius. "We tried a program a few years ago and it would get lost and route us across water and up in to Canada like I was driving a hovercraft."
Cornelius also recently began managing transportation for neighboring Mountain Iron-Buhl Public Schools (MIBPS), through collaboration with ISD 2142. This year, MIBPS planned to move from a two-tiered routing system to a single tiered, requiring a number of changes. So despite her previous bad experiences, Cornelius decided it was time to try implementing a routing program again.
"My goal in looking into routing programs was, number one, how do we be more efficient and save money. Secondly, we are getting so big, and it was just me to run both of those districts. We're spread out so far that I can't see everything all the time. I wanted to have eyes on the ground, and a routing program would be ideal to do that," Cornelius said.
Ultimately, they selected Traversa, the transportation management solution from Tyler Technologies. Traversa is mobile-friendly, fully web-based, and provides comprehensive functionality for every area of student transportation.
"I liked that Traversa was simple," said Cornelius. "It didn't feel cumbersome as we walked through things. Simple to understand, but it does what we need it to do. I put wheels on the ground every single day. I don't play around in technology programs. I don't have time for that. But with the implementation of Traversa, Tyler has been great."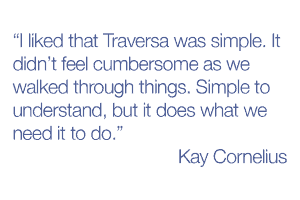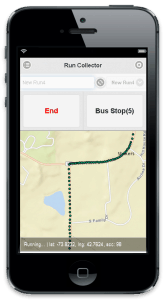 She was interested to try Traversa's Run Collector feature, a part of the core program that has helped other districts easily import routes. Run Collector allows users to geolocate a run with any GPS-enabled mobile device, including their own smart phone, recording the bread crumb trail and a record of each stop. The entire run, which is completely GPS accurate from beginning to end and includes all turn-by-turn data, can then be imported directly into Traversa's routing system.
Cornelius knew she would need to revise the routes in use at MIBPS, and she used Run Collector to help her get a head start on importing their current routes exactly as they were driven. A common way that districts use Traversa's Run Collector is to have an employee sit on a bus during its daily run, with the feature open on their phone, marking the timing and location of each stop. The data collected is from the real world, and includes variables like traffic or slow loading that can be tricky to predict with accuracy.
"I sent one of my drivers with one of their drivers. The driver from their school drove, and my driver used Run Collector through all of it, marking all the stops," explained Cornelius. "He said it was phenomenal."
After the routes were imported, she was able to see exactly how MIBPS drivers were making their runs, where they were stopping, and how long every element took. This empowered her to begin creating new, more efficient routes.

Moreover, her concerns that telematic technology would not work in her remote area were put to rest. "I needed to know that when I got this program it was going to route us in a real way. Run Collector worked through the whole route, which told me that we have the ability to do things with technology when we're in a rural area and maybe don't have great reception," she said.
Cornelius plans to use Traversa to improve efficiency across her program: "With routing, we used to do it on paper. With Traversa I'll cut down on all those man hours. We loaded a school the other day, and it took 11 seconds to load it. If I had to manually load it and type all those things, we'd be looking at four to six hours of data entry. Overall you're looking at the difference between weeks of time, or a couple clicks of a button," she said. "Tyler realizes that when you're in transportation, if it's cumbersome and it takes forever, we're just not going to use it."
Run Collector is only one of four ways to build runs in Traversa, so districts can implement, maintain, and check for accuracy in a way that is right for their unique needs. Learn more about Traversa here.