Safe student transportation is a top priority for school districts and the role technology plays in optimizing it has never been more critical. But technology can't operate in silos. Today's safety systems rely on connecting to one another to drive maximum safety, and future-proof coverage. The better things work together, the more useful and long-lasting.
This is where the Connected Bus comes in.
The Connected Bus is a cloud-connected vehicle that gives school districts fleet operation insight via Wi-Fi/Cellular to improve student safety and route operations. With real-time tracking, onboard cameras for live video streaming, mobile notifications for parents, and access to student ridership data, the Connected Bus is a smarter, safer way for students to get to and from school.
How Connectivity Can Power Up Your Video Systems and Provide Your School District with Actionable Insight
Having a state-of-the-art camera/video system on a school bus already protects students by gathering video evidence. But connecting this system to the internet opens the floodgates to a range of benefits that enhance its effectiveness. How?
It enables real-time, live-streaming of video from inside the bus.
School districts and relevant authorities can monitor situations anywhere at any time and respond to emergencies or violations as soon as they happen.
It facilitates the integration of live GPS routing information.
School districts know where buses are at any time and can provide better routes if needed. Also, parents can know their children's whereabouts via live-tracking and get notified when their children get on/off the bus.

It allows easy and secure access to video evidence via Wi-Fi video offload.
School districts and authorities can access reliable, organized, virtual video evidence on a secure portal without the need for physical media that could be compromised or lost.
It provides access to video health checks.
Evidence Management systems can let school districts know if and when maintenance is required. The district can act before an avoidable issue becomes a problem, streamlining the process of vehicle inspection and maintenance.
Internet connectivity is an essential component of an effective camera system enabling real-time monitoring, remote access, data storage, analytics, and integration with other systems.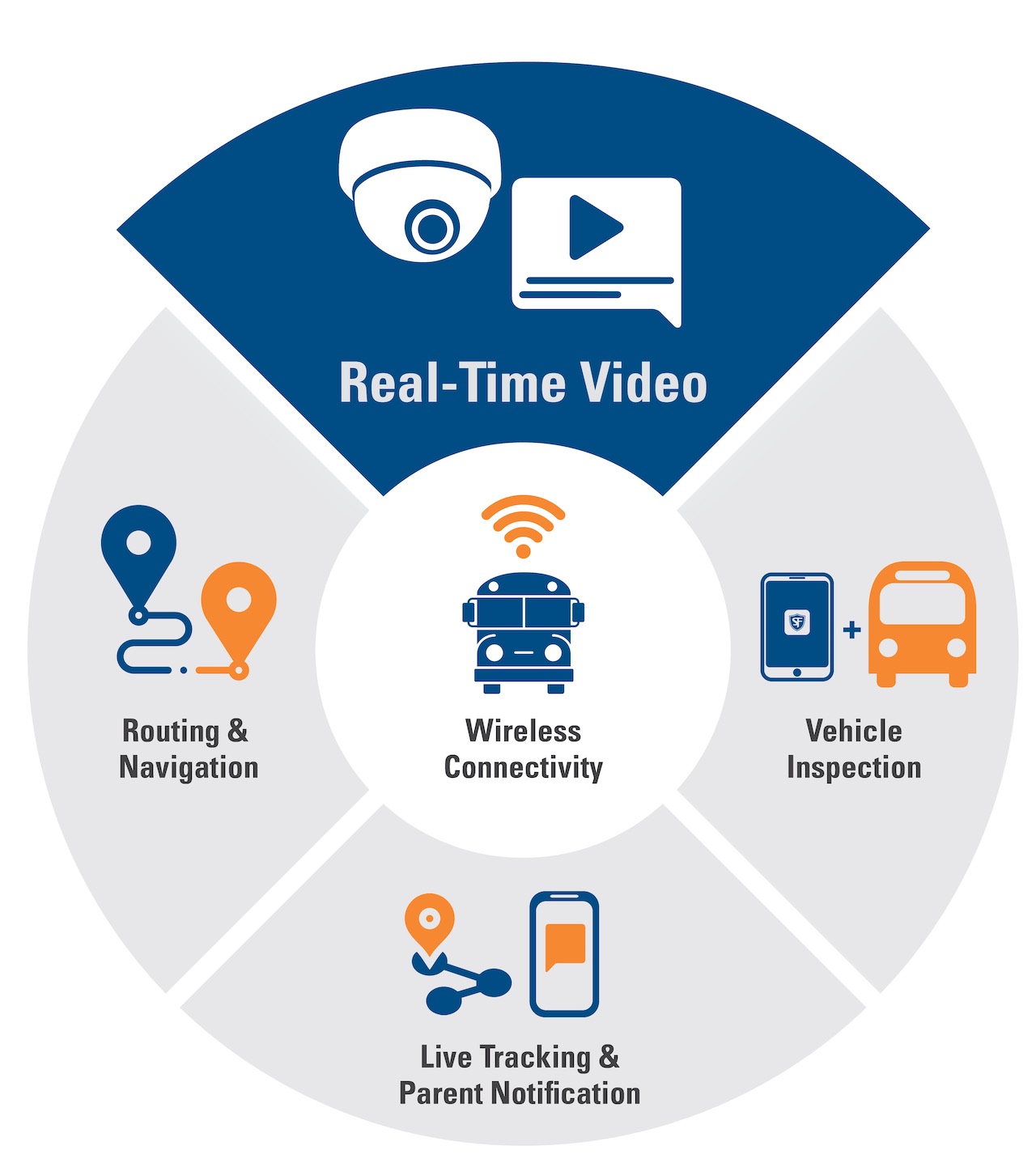 A Scalable Solution
With ever-increasing budget constraints, school districts and managers need to plan wisely for today's and tomorrow's needs. Choose solutions that can provide both immediate benefits and long-term savings – and are scalable enough to evolve and adapt to future requirements.
Connected Bus solutions help school districts plan for the future by allowing them to add new solutions as budget and needs change.
A fully connected bus means safer, more efficient routes, and better communication.
---
Safe Fleet can enable the entire Connected Bus solution and help protect students inside and outside the bus and is the only school bus safety system leader that can maximize previous investments through backward compatibility with existing cameras and recorders. Its four pillars of connectivity: real-time video, enhanced vehicle inspection, live-tracking & parent notification, and routing & navigation, ensure a comprehensive approach to safety.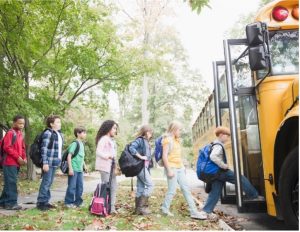 With the Safe Fleet Cloud Connected Bus, parents can rest assured their children are being transported safely and efficiently to and from school. School districts can improve route operations and enhance communication with parents, while also increasing vehicle uptime and reducing the likelihood of accidents.
The Connected Bus is the future of school bus transportation, and it's time for every school district to invest in the technology that ensures the safety and well-being of our children.