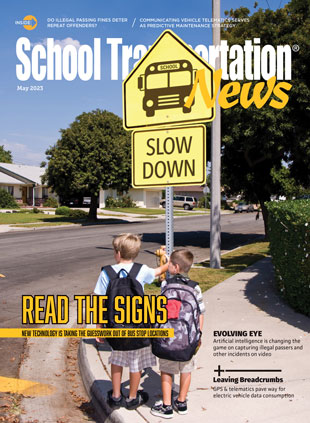 In this month's issue, learn more about why the viral school bus video struck a chord with student transporters, and lessons learned about the daily struggles drivers face.  Read more about the latest in school bus technology including how cameras, GPS tracking, and maintenance software can improve efficiency and student safety.
Also, check out the STN EXPO Indy preview with updated agenda, session topics, vendor list and more!
Read the full May 2023 issue.
Cover Story
Next-Level Communication
Vehicle-to-everything technology is helping to make the roadway safer for not only drivers but also students who are attempting to get to and from school.
Features
Chargeback?
Electric school buses are tapping into the benefits of GPS for more than monitoring where the vehicles are. The technology can show the state of charge and where the next charges might come from.
Smart Video
Whether seeking to capture illegal passers (or misbehaving students on board), video technology is advancing and with it the need for student transporters to manage new processes and equipment.
Special Reports
Diagnosing Engine, Vehicle Faults Before Reaching Emergency Status
Vehicle maintenance software is alerting mechanics and technicians to issues that arise in school buses well before they need to be taken out of service for repairs.
Editor's Take by Ryan Gray
Viral Bus Video Strikes Chord
Thought Leader by Richie Howard
Keeping Kids Safer at Bus Stops By Changing Motorist Behvaior
Publisher's Corner by Tony Corpin
It's Conference Time!