School districts face many challenges in supporting special needs transportation and it's critical to contract with the right partner. To this end, the Request for Proposals (RFP) you issue for alternative transportation is crucial to your success. A purpose-built RFP function as an effective tool to support a thorough due diligence process.
Many school districts struggle in developing RFPs. While they recognize that alternative transportation solutions differ from traditional bus services, they tend to struggle with how to develop an RFP that provides the necessary flexibility.
RFPs have to allow for different approaches that are inherent in alternative transportation solutions, without sacrificing safety, performance, operational visibility and control.

Megan Carey, vice president of business development for American Logistics Company's school division, recently spoke on alternative transportation options at the National Association of Pupil Transportation (NAPT) conference. Below is an overview of the information she shared:
Don't Compromise
It's important to recognize this is still student transportation. Do modify your RFP, removing the bus-focused language, but do not compromise on the following:
Certifications, insurance and background checks.
Ongoing drug and alcohol testing programs (not just pre-employment).
District-specific training.
Compliance with all state, local and district requirements.
Same driver every day.
Key RFP Components
As part of the RFP, ask prospective vendors to respond to and verify:
They have experience with each student type.
Management and drivers have an understanding of specific needs.
They are compliant with all state, local and district requirements.
They have risk management experience.
They have, or work with, professional, trained drivers.
There's a dedicated internal team.
They have an ongoing drug and alcohol testing program.
They conduct driver vetting and background checks.
They have current route management technology, including GPS tracking.
Their reporting capabilities should include sample invoices, no-show reports, and daily student transport logs, plus any other detailed reports that are necessary for operational
insight, and state and federal reimbursements.
Their start-up process, including parent/student/driver introductions.
Their current and/or proposed fleet overview. Ensure they have the right vehicles to support student needs, (i.e. wheelchair access to temperature-controlled vehicles), and can expand and contract the service fleet as needs change.
Maintenance logs and accident protocols.
Build in an "Out" Clause
Include safeguards in case the provider can't deliver. Don't get "locked in." Ensure your contract has a 30-day out-clause if they fail to deliver service. Allow the option to contract with another provider should they not be able to service your account.
Be Sensible about Scoring
This is not about buying a product at the lowest cost; this is about finding the right resource to help serve your most vulnerable student populations. Consider the following RFP scoring:
50 percent for experience, capabilities and compliance.
30 percent for pricing.
20 percent for added value (reporting, start-up process, driver vetting process, etc.).
Be Pointed on Pricing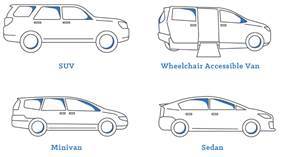 Have vendors demonstrate pricing on a few sample trip/route scenarios, so you can understand all potential charges, to ensure there are no hidden fees. If applicable, ask if they support multi-district collaboration at prorated costs.
Check References
Don't just take their word for it—check their references. The same company's performance can vary in different regions and over time.
Knowing what to include in your alternative transportation RFP will help you qualify and quantify vendors. This will enable you to select the right solution—to keep you within budget, get students to school safely and on time, and keep parents content, while satisfying all regulatory requirements.
ALC Schools manages student transportation programs for more than 300 school districts across the country. Learn more at: www.ALCSchools.com.