This content is brought to you by AMETEK Dynamic Fluid Solutions.
School bus operation costs are something that keeps every district fleet operations manager up at night. Fleets are getting older, warranties aren't keeping up with the aging population and purchasing new buses isn't in the budget.
The formula is a simple one: Bus reliability needs to increase while lifecycle costs decrease. It's all about avoiding vehicle downtime and unbudgeted maintenance costs. And to make the math work, fleet operations managers need look no further than the school bus's cousin—the heavy-duty city bus.
Common Ancestry
The school bus platform shares many similarities to the heavy-duty city bus. The city bus operates in the same harsh environments and has a design life of 15 years, though it also has scheduled operations of 18 hours a day, 365 days a year. So, when addressing the subject of reducing vehicle life-cycle costs, maintenance and operating costs, the heavy-duty city bus is a good standard to compare with a school bus relative to the specific use of technology.
An example of this comparison is the heating system's auxiliary coolant pump that is used on many school buses. Presently, these OEM pumps incorporate a brush motor with a seal. For nearly 25 years, this same pump application in nearly 100 percent of all city buses has used a brushless seal-less pump design. Why does this matter? A brush seal pump has an average design life of approximately 5,000 operating hours, while a brushless seal-less pump can exceed 40,000 hours.
---

Key Motor and Pump Terminology & Features
Brush Motor: Commutates (switching magnetic fields) by carbon brush and rotating copper commutator connection. This can be a failure point.
Brushless Motor (Electronically Controlled DC): Commutates by electronically switching stator fields through rotor position sensing, so there are no wearing contacting electrical connections. Without wearing points, there can be no failing.
Seal Pump: Utilizes a rotating contact seal on fixed carbon face. This can be a failure point.
Seal-less Pump: Magnetically coupled rotor has no contacting or wearing surfaces. Without wearing points, there can be no failing.
---
So, what are the key technology differences between a brush seal pump and a brushless seal-less design that drives this exponential increase in the reliability?
A brushless seal-less pump will have a moderately higher initial purchase price. However, the heavy-duty city bus transit fleets realize that this initial higher cost is paid back several times over in reduced operating and maintenance costs. This life-cycle cost savings is well understood, and nearly 100 percent of all transit fleets specify the use of brushless seal-less technology in vehicle specifications.
---

Key Product Features That Determine Design Life
Motor

Brush Motors = 1,000- to 10,000-hour design life in transit pump applications
Brushless (electronically controlled brushless DC) = 40,000- to 60,000-hour design life because of robust bearing and electronic design

Pump

Seal Pumps = 2,000- to 10,000-hour design life
Seal-less Pumps = 30,000- to 60,000-hour design life with the standard in 100 percent of the heavy-duty city transit bus being greater than 40,000-hours life
---
At AMETEK Dynamic Fluid Solutions, our products have been used on heavy-duty city buses since the early 1990s and have a 40,000- to 60,000-hour design life. And our DurA-Tek® Prime pump is a coolant circulation pump for the school transportation industry. The pump features a magnetically coupled, seal-less design that eliminates leaks, which can improve overall quality, reliability and long life. With a 40,000-hour design life and components that are routinely used in heavy-duty transit applications, the pump head that is utilized on this product is the same as is used on heavy duty city buses.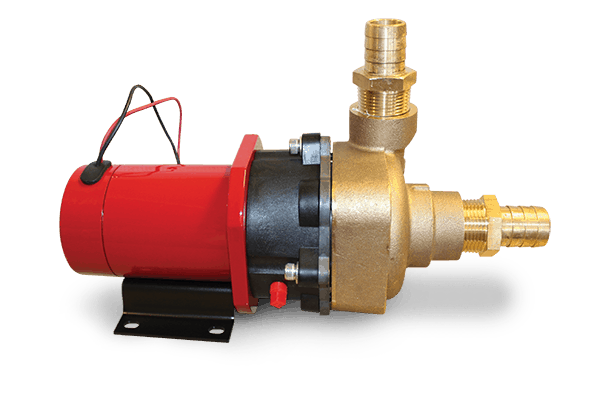 Ideally Suited
It is understood that the average price of a city bus is significantly higher than that of a school bus and readily supports the investment of higher reliability products. However, a significant portion of this cost difference is derived from the lower overall volumes, custom performance design, and contractual requirements that are issued by a transit authority to the city bus OEM. The annual production rates and installed base of existing school bus fleets are much higher than the transit market and less customized for specific contracts.
This required a high-quality pump to be developed at a lower initial purchase cost, while standardizing the design for higher school bus volumes. Although there is still a premium price versus the brush seal pump, the field-proven experience, 40,000-hour design life and an AMETEK warranty of seven years for new bus procurement, guarantees a significant lifecycle cost savings.
What You Can Do
In summary, school districts' bus budgets are requiring increased vehicle life, in order to justify new vehicle purchases. But, if increased reliability is not addressed on existing fleets and new vehicle purchases, the maintenance and operating costs will erode any initial purchase savings, soon costing more than the identified budget savings.
One should look to adjacent market vehicle platforms to determine who has the best-in-class solution to increasing the reliability of school buses. High quality, ultra-long-life brushless seal-less pumps are a good example of this cost-effective technology upgrade.
Learn more at www.ametekdfs.com.