How long could you go without your phone? What part of your life hasn't been dramatically changed by the advent of mobile technology?
Few would initially think about the school bus when considering technology disrupting the transportation industry. Yet Synovia Solutions' wildly successful mobile app, Here Comes The Bus, caught the attention of Avon (Indiana) Community School Corporation as well as producers from CBS News for that very reason.
When it comes to transportation and mobility, few of us can even recall the struggle to navigate our world before the rise of GPS-enabled mobile technology.
From the spread of ridesharing apps that have made catching a ride quick and convenient, to the sudden rise of GPS and app-enabled electric scooters across America's urban landscape, people are finding cheaper and easier ways to move about their daily lives—thanks in large part to mobile devices and GPS technology.
A team from the hit CBS News TV show Innovation Nation visited Synovia's Indianapolis headquarters earlier this year and is slated to feature Synovia and their signature innovation later this year to highlight how a simple yet powerful school bus tracking app is massively improving the school bus experience for hundreds of school districts nationwide.
The show, which runs nationally on Saturday mornings, features innovators who are moving the American economy forward with bold ideas and brilliant execution. It focuses on the founders who turn a good idea into a thriving business.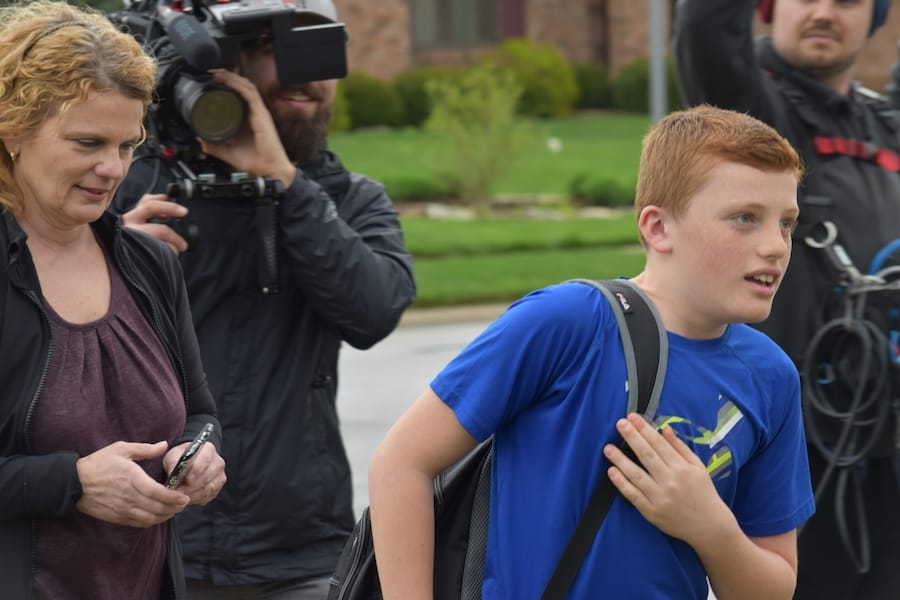 The show's producers took an interest in Synovia following the company's Innovation Award from IHS Markit at the 2019 Consumer Electronics Show.
To illustrate the mobile app at work, Avon Community School Corporation in suburban Indianapolis agreed to demonstrate how their district is using the technology to more intelligently transport many of the district's 9,800 students across its 138 school buses. (Article continues after video.)
THE CHALLENGE
Avon is a longtime Synovia customer and was one of the first districts to adopt Here Comes The Bus. It was facing a dilemma familiar to many school districts when it turned to Synovia for help.
The school district had decided to transition from single stops, and were implementing larger group stops. This, understandably, concerned some of the parents. They didn't want their children to have to walk, and wait, longer than before.
Winter weather in the Midwest can be brutal on good days and downright dangerous on very bad days. To help alleviate their concern, the school decided they needed a better way to communicate bus stop times and pick-up information.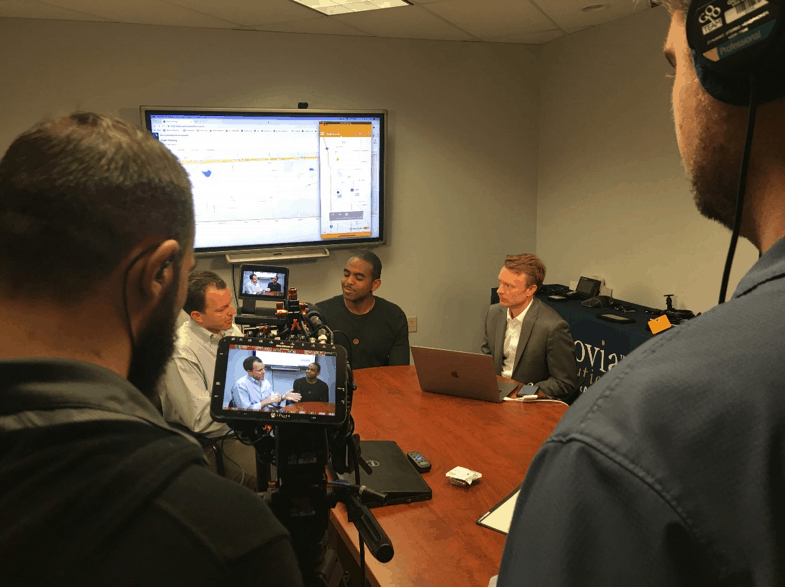 They first had to create more efficient routes, in a way that prioritized the safety of their student riders and saved the district money. It's a difficult balance to strike, but the process was simplified thanks to Synovia's GPS-powered Fleet Intelligence technology.
Ultimately, the school corporation determined that the best way to do this would be to implement a student tracking app, specifically Here Comes The Bus, to ease the transition. It became an ideal partnership in making their routes more efficient while also providing real-time school bus tracking service to the district's families.
THE SOLUTION
The GPS-powered technology that was once the domain of the military and other resource-rich organizations is now commonplace on nearly every mobile device we use to manage our lives. It's hard to even recall the days of printing paper maps or having to stop at a gas station to ask for directions in a new city.
Synovia had been managing its fleet intelligence software solution for hundreds of school districts since its founding in 2001 and was naturally positioned to deliver a game-changing mobile app experience thanks to the trust it has generated with school districts as well as its rich understanding of how school bus fleets are managed.
"We recognize that all of our customers had a universal problem: parents calling the school nearly every morning to inquire about the location of the school bus and when it would arrive to take their students to school," said Thomas Polan, senior vice president of Synovia.
Polan, as well as Brad Bishop, national accounts manager at Synovia, founded the company and were instrumental in the development and successful deployment of the app. Their story of executing a vision to fundamentally change the way districts manage their school bus fleet was the focus of the Innovation Nation segment.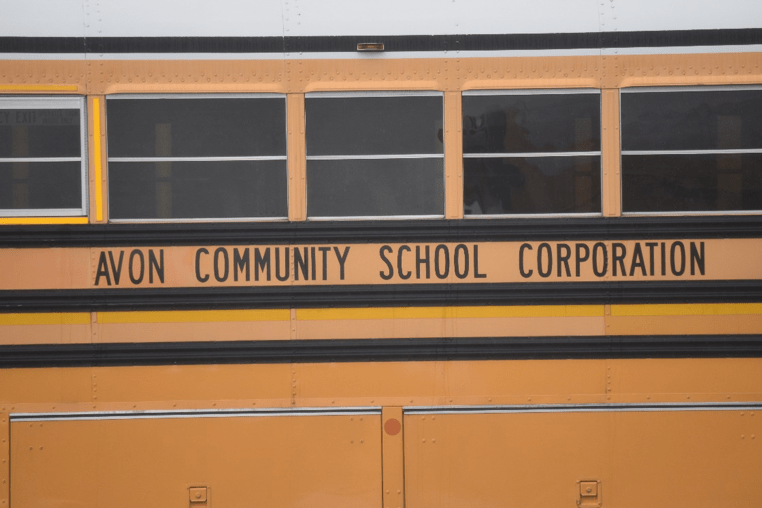 "This opportunity to share our story with a national TV audience really drives home to us how impactful our innovation has become," Bishop said. "We have a passion for helping schools provide better service to their communities and it's what motivated us to develop Here Comes The Bus. Having our story shared on national television exceeds our wildest aspirations."
THE MEDIA EXPOSURE
Avon Schools proved to be the ideal candidate to highlight the technology.
First, they've adopted some of the best practices in visual management to improve the way they manage their fleet in real time. The district installed a projector in their transportation headquarters so they can share their fleet location info in real time with the entire office. This allows them to drill into neighborhoods and street locations with crystal clear detail and dispatch their assets smarter.
They've also trained several members of the staff so there's always someone able to manage the software.
They shared their success story using Here Comes The Bus with the community to generate additional funding to further upgrade their suite of technology. Parents see how the investment has translated to a smoother commute for their children and are more apt to support additional investments.
Innovation Nation was able to capture how Avon leverages the Synovia software to manage its fleet in real time and how a local family uses the app to make catching the bus as simple as a few swipes on your smart device.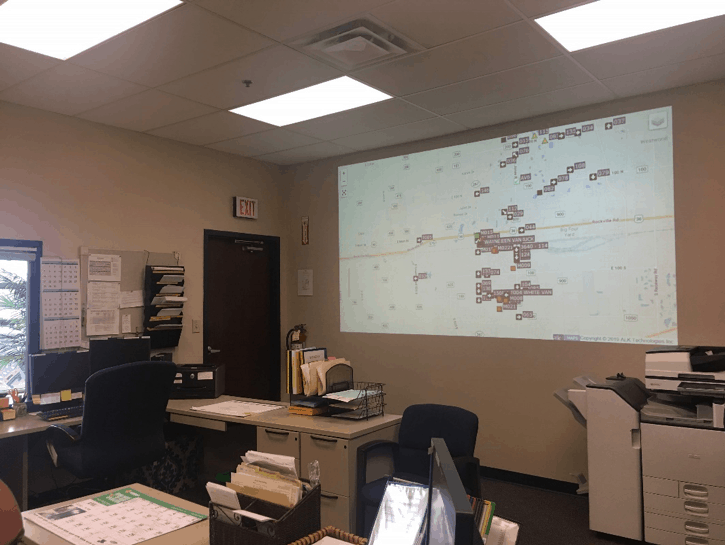 "We're blessed to have customers like Avon who are generous enough to share their story and reinforce the power of our technology to improve people's lives," said Jon King, Synovia's senior vice president. "We continue to innovate every day to improve not only Here Comes The Bus but all of the technology school districts and municipalities rely on to save money and improve the way they do business. The Innovation Nation segment affirms technology can help us solve universal problems while growing a successful business."
THE RESULTS
The feedback for the project has been overwhelmingly positive from the district. Their parents appreciate that they no longer have to send their child out to the stop 10 or 15 minutes ahead of time, especially in the cold or rainy weather.
There's no more guesswork—parents can simply log in, determine where the school bus is and when it will be at their stop, and send the kids out at the appropriate time.
Avon's success with the app was no accident. It's the result of long-term focus and investment in ensuring the software and hardware is optimized to perform as it's designed.
The app will only be as good as the data that goes out to the users. They had to make sure their routes and maps were up to date and correct. Additionally, they were prepared for the support that would be required for launching something as important as a student tracking app. They made their team available to answer questions, and solve problems as they came up.
And it worked: 62% of the student and parent population signed up for the app and are enjoying the convenience and increased safety it provides.
And later this summer the entire country will be able to view CBS' Innovation Nation segment and see how this Midwestern school district has adopted technology to improve the way they serve their community.