Trust is a critical element for the success of any organization, as it is a foundation for building strong and solid relationships. This is especially true for those who are running school bus organizations. Student transporters must work hard to build trust among parents and members of the community. Parents want to entrust their children to their bus driver. They want to know the driver ensures they reach school and home, again, safe and on time. The bus driver is often a teacher, a grandparent, and an aunt or uncle, all in one.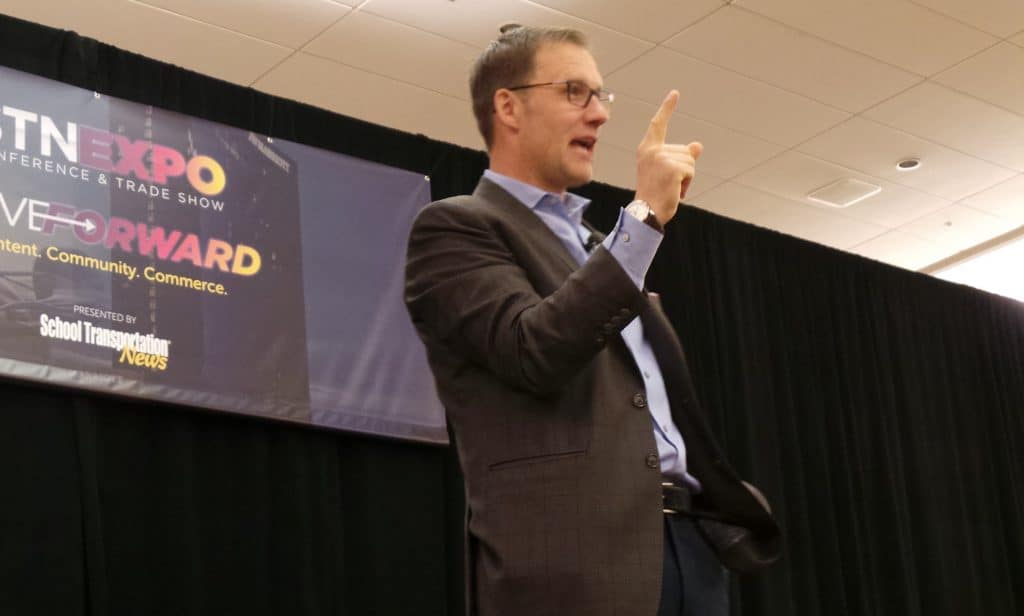 Building strong and solid relationships are also vital elements of implementing a successful team of bus drivers, technicians and support staff. Although leaders work hard to build trust among their organizations, it takes time, commitment and a willingness to listen to others.
It often comes down to caring about and supporting the team, as well as being fair and consistent. Drivers spend a lot of time together between routes, and they get to know each other well. They also talk.
This is especially important in the management of a school bus operation. All bus drivers need to be well trained. But more importantly, they should grow to believe that they will be properly supported when, not if, an issue arises.
Keith Paulson, who is the transportation director for the Anoka-Hennepin School District in Minnesota, said it is important to cultivate a sense of team and to focus on the mission. Paulson said he works to create a culture of camaraderie and caring among staff members. He encourages them to spend time between assignments and get to know each other.
"For me, the number one focus is always on the safety of the students. Nothing else really matters if you don't focus on this," Paulson said, "It doesn't matter how efficient, clean or nice a facility is, unless people know the system is safe."
Paulson added, "We want to make sure our bus drivers are well trained. We try to cultivate a sense of team and focus on the mission, which is providing good service to the students. Bus companies work hard to meet their goals every day. We are taking kids to school, and athletic and activity events."
As is the case in transportation departments nationwide, new driver applicants at Anoka-Hennepin receive basic training on how to drive a school bus and must pass a written test to obtain a CDL. They also learn about student management, and how to connect effectively with young people.
Paulson suggested that the staff members who supervise bus drivers get to know them and what their interests are. "It is about connecting with them and their family. Find out what is going on in their lives and their families. Taking a personal interest in people goes a long way. Money is a factor when people want to drive a bus," he said. "The time of day when a bus driver works is also important. People want to feel valued."
It is important that bus drivers feel supported at work. They are trained on what to do when children misbehave. The buses have video documentation, so senior staff can see what actually occurred. "We know a lot of things can happen on a bus. If there is an incident, we will interview the students. We want to be fair to everybody. Driving a bus can be a hard job and safety is the number one priority," Paulson said.
Drivers also learn how to interact with special needs students. Drivers are encouraged to discuss any and all concerns they may have. "I worked with a bus organization where we had a team of drivers who met once a month. We talked about what was going on with our buses and discussed various issues. It is important to have mentors to help newer bus drivers improve," said Paulson. "We want to help them become better drivers."
Mike Sawyer, the executive director of transportation for the San Marcos Unified School District in California, agreed that team-building activities are important. He treats his employees to an occasional San Diego Padres baseball game or a meal. "Drivers like to eat," he remarked. "When we have a monthly safety meeting, we usually have a potluck luncheon, and sometimes we will have a food truck or some ice cream. These are little things, but they go a long way. We are a big family."
San Marcos transportation employees receive extensive, ongoing training and they have plenty of support. Each bus has four onboard cameras, so if a fight breaks out, video can determine what happened. And if a driver is involved in a crash, they will be treated fairly during an investigation. If there are traffic problems causing a driver to be late, the dispatch system will provide an effective backup. Bus drivers are encouraged to work with dispatch to determine the best route. "We support our employees if they did what they were supposed to be doing," said Sawyer.
People like their jobs at San Marcos, he explained, because of the flexibility driving the bus affords. "We have a lot of students working for us. They will drive for us and then go to school. We have drivers who want to be home during the day and spend more time with their family," he said.
Those who want to work more and earn more money can pick up extra work driving students to sports events and other activities. The drivers receive a pay raise every year and top out at $23.05 an hour. They are covered by a union contract, and also receive paid vacation, paid sick time and two floating holidays. The drivers also receive full health benefits. "There are plenty of opportunities to make extra money," said Sawyer. "We have a lot of drivers with over 20 years of service. We are a big family and we don't have a lot of turnovers."
Ryan Hahn, a former school bus driver, transportation director and now a consultant based in Sonora, California, said it is important to create trust by following through on what you say you will do. He said he has worked in districts where there was a lack of trust among managers and employees. They were promised things they never received. "Do what you say and say what you mean. I worked in a place where employees had been promised a new building for years. A superintendent [finally] made it happen," said Hahn.
Hahn added, "It is important to get feedback from drivers and get ideas from drivers. If you give people a reason why you are implementing something, they will probably be more accepting of it."
Being honest and up-front is a key ingredient to building trust. It is also important to stand up for workers who are doing their jobs and to hold people accountable. For Hahn, it is also helpful to recognize bus drivers for their efforts. "Many times, the transportation department is the last [to be] recognized and the people there don't feel as valued. It is important to stand up for drivers when things go wrong and make sure their voices are heard," said Hahn.
For example, if a parent voices displeasure with a bus driver, the school's administration might want to eliminate the problem by moving the driver to another route, rather than getting to the bottom of the issue. The driver's supervisor should be there to help. "I want to make sure the driver is heard and look for ways to resolve the problem. Ideally, you want everyone to leave feeling good and that the relationship is intact. Maybe the child and the driver will both apologize to each other and this will instill trust," said Hahn.
It is important to help people figure out challenging situations, he added. "We listen to the staff and their ideas. We want to help people and give them opportunities," noted Hahn. "There are a lot of demands placed on drivers and supervisors. It is very stressful. It is important for people to take care of themselves, to avoid getting burned out."
Michael Shields, director of transportation for the Salem-Keizer School District in Oregon, said it is important to be transparent with team members by sharing information. If a parent complains about a driver, he recommends the supervisor gather all of the facts before drawing any conclusions.
"Get the facts and have an open mind about a situation. Some kids will misbehave, so before you jump to conclusions, do some homework. Get both sides of the story," said Shields. If a supervisor and a driver are having difficulties, efforts are made to reconcile the situation. It is important to resolve the situation rather than ignore it.
While accountability is important, Shields said drivers and managers can still have a little fun at work. "We have awards and we give our employees birthday cards. I think it is important to create a sense of friendliness at work," he said. "We have the 'Pickle Award' for the driver who provides great customer service, and the 'Wow' button for someone who goes above and beyond for another person. We had a driver buy a box of groceries for another who was facing a tough month."
It is important to realize that bus drivers are people and they face challenges in their personal lives. Shields said he believes it is important to get to know staff members—not only for the work they do, but also as people. "Get to know their names and put a smile on their face. Share information with people so they feel involved," he advised.
---
Related: EPA Awards Clean School Bus Grants in Several States
Related: EPA Accepting Applications for DERA School Bus Rebates Program
Related: EPA Extends Clean Diesel Tribal Grant Applications Timeline
Related: STN EXPO: Discover School Bus Alt-Fuel Benefits of Clean Cities Programs
Related: EPA Announces DERA Funding Recipients
Related: California Lower-Emission School Bus Program Issues Revisions
Related: Atlanta-Area School District Receives EPA Grant for Propane Buses
Related: EPA to Propose New Standard on NOx Emissions
Related: EPA Grant Brings 4 Blue Bird Electric School Buses to New York District
Related: EPA Announces Latest School Bus Rebate Awards
---