Many industries, including passenger vehicles, homes and commercial businesses are aggressively moving toward LED lighting. LEDs are longer lasting and more compact with greater visibility.
Still, within the school bus industry, discussions on the advantages of LED lighting continue. It should be simple; it should be about safety for the bus drivers, bus passengers, and those in other vehicles. The fact is that LEDs illuminate more quickly than traditional lighting. Even if the difference is measured in milliseconds, LEDs can alert drivers sooner and help prevent collisions.
As a leading LED lighting supplier, SoundOff Commercial Vehicle Solutions (CVS) has been advocating the advantages of LED lighting for over 25 years. We know that LED lighting reduces the total cost of ownership because LED lights use less energy, produce less heat, offer brighter illumination, and have lower maintenance costs in the long run. Industry experts project significant growth in the automotive LED market due to the previously mentioned advantages, averaging over 5 percent compounded annual growth rates.
The advances in LED lighting have revolutionized lighting in most markets. As seen in the automotive markets, LED has paved the path for adaptive lighting and low/high beam lighting with the technology improvements of high-power LEDs and the general decline in LED pricing.
The school bus market is no exception to LED innovation. One such product is the SoundOff CVS Driver Alert Sign. By using LEDs to spell out instructions to an approaching driver (STOPPING, STOP, DO NOT PASS) via the back of the bus, the message is seen from incredible distances and clearly visible in differing weather conditions. By helping approaching cars understand and see how and where to react to the bus, illegal passbys are reduced and children exiting a bus are safer.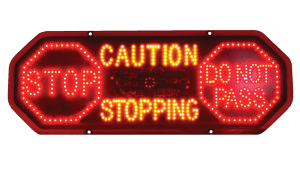 At SoundOff CVS, we are dedicated to bringing the latest products and advanced technologies of LED lighting to the school bus industry. We have the ability to leverage across industries by maximizing the SoundOff Signal Emergency Vehicle and Amber businesses, SoundOff CVS trailer business and our technology partners.
We're illuminating the way forward with smart design and engineering, as well as efficient manufacturing of lighting and controls products. We're here to help with the right solutions for your school bus lighting needs.
For more information, please contact SoundOff CVS VP/General Manager Bill Wakefield at bwakefield@soundoffcvs.com or 610-662-6199.