State-sponsored student transportation software can come with both pros and cons. Having technology provided at low or no cost can be a big help in meeting tight budgets. But if the software doesn't work well, it can make it hard for transportation directors to convince their administration to pay for a better system, leaving them stuck with issues.
Transportation Director Brenda Cravens, who works for Maine School Administrative District (MSAD) 60 in North Berwick, Maine, was struggling with just that problem.
"The challenge," Cravens said, "was getting our student information system to sync with our previous product. The script was never right, so we were doing everything by hand. In the fall, in the summer, you'd get all these new kindergarteners entering. We're talking more than 200 students usually—and that's a lot of data entry to have to do by hand, in addition to all the address changes and other changes. It occupied a lot of time and took a lot of folks to do it."
Finally, the issues built up to the point that it made sense to look for new technology, even if it meant paying for the software. The district already used Tyler Technologies solutions for financial management and student information, so they decided to look at the Traversa transportation solution.
"I heard about Traversa about a year ago at a conference," Cravens said. "I heard that other districts in Maine were using it, so I went and looked at it. In addition to the syncing, I liked the ease of putting a route together. There were many steps with the other product—it was difficult to teach people. With Traversa, it was so simple. I was able to train people just by showing them a couple of times, and then they could do it on their own, whereas with the other product, oh my gosh, it was just so cumbersome."
Gaining back the time previously spent on data entry and route building brought a real return on investment for the district. Cravens said, "It was taking time away from other things I could be doing. Instead of working on a budget, or student issues, or taking care of administration, I'm sitting there doing data entry and fixing bus routes."

Implementation of Traversa was easy for the district. Cravens explained, "The tech department was excited that it was truly web-based, so they didn't have to host anything. It was just so easy. Our trainer was wonderful, he tailored it to each person sitting at the table, he made it so simple. He made it so that the person with the least amount of computer literacy could latch on and take care of their part of the program."
The district also implemented the Traversa Ride 360 mobile app for parents, which got a very positive response from the community. "They really, really love the Ride 360 app," said Cravens.
"When we had our previous system, parents were only able to type an address in [to find their child's bus stop information], and if they wrote any part of that address differently, spelling out 'lane' instead of 'Ln', it wouldn't show up. They really struggled with that. With the Ride 360 app, they were able to connect with their student and get the information they needed. And the times seem to be much more accurate with Traversa than they were with the old system," she said.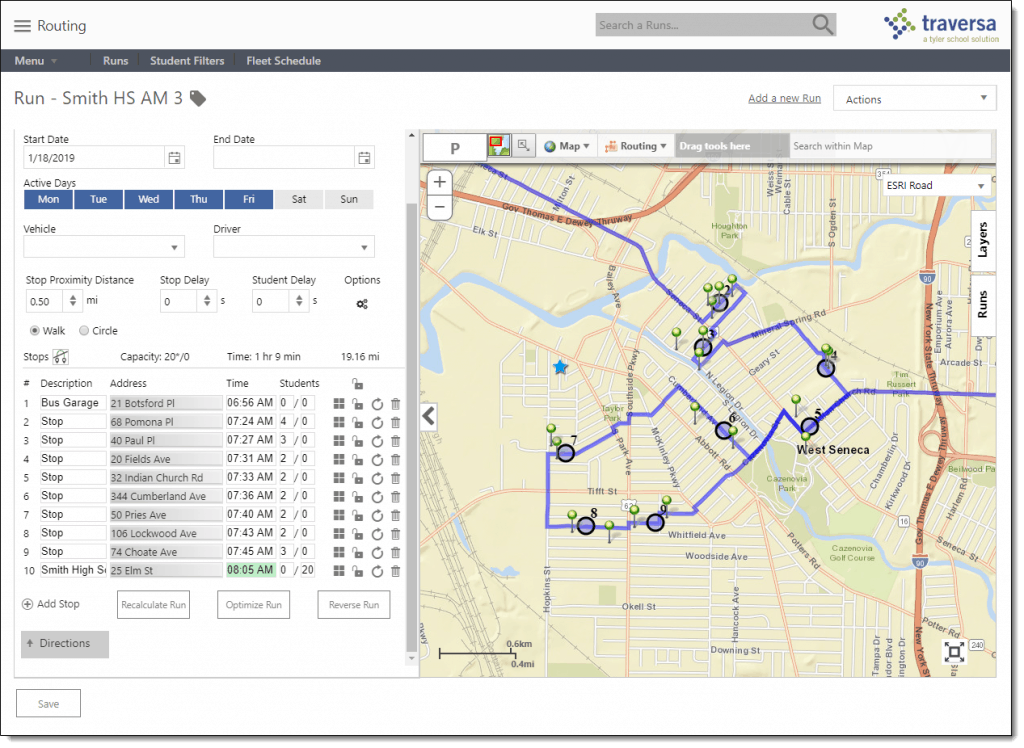 The district is now looking at adding Tyler Drive onboard tablets to their buses, Cravens said. "We wouldn't have to print out a run sheet, it would just be right there on the tablet. And the drivers would get run changes instantly."
"The driver shortage is the biggest issue I think this industry is facing now," she continued. "Having had to sub in on bus routes, I know that having that tablet would be great, that you can look at that route and know where the next stop is. It would help with anxiety the spare drivers may have about where that next stop is. It's a tough gig, not knowing the kids, not knowing the route, trying to read the route sheet in the dark. The tablets could make that a lot easier."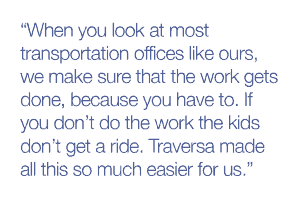 The ease of use is above all the most important thing, according to Cravens. "When you look at most transportation offices like ours, we make sure that the work gets done, because you have to. If you don't do the work, the kids don't get a ride. Traversa made all of this so much easier for us," she stated.
Learn more at www.TylerTech.com.