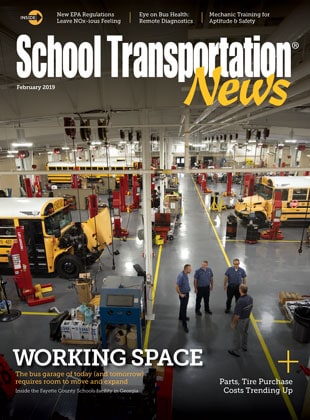 The school bus garage issue focuses on the ideal shop, mechanic training and combating maintenance issues. 
Read the full February 2019 Issue. 
Cover Story 
Garage Evolution 
George Davis and staff in Fayetteville, Georgia share their dream shop, the result of ever-increasing technology on school buses, new maintenance requirements, and a need to increase work efficiency and safety.
Features 
Remote Monitoring of School Buses: A New Standard? 
To combat school bus maintenance issues, student transporters are getting proactive with real-time vehicle health updates.
Support of the Cleaner Trucks Initiative 
The EPA is updating its NOx standards for the first time in over two decades. Some districts worry the update will be the latest expensive engine mandate, while others see further motivation to switch fuel types.
Special Report
In Demand: School bus Mechanic Training 
Modern school bus technicians are facing more and more challenges. With them come a balancing act between additional training and safety best-practices.
Columns
Thought Leader by Robert T. Pudlewski
The Ebb and Flow of Managing School Bus Parts Inventory
Editor's Take by Ryan Gray
In the Market for an Upgrade
Publisher's Corner by Tony Corpin
Let's Learn from our Mistakes
Sections