For the last three years, we here at Safety Vision have been dedicated to growing our business in the pupil transportation industry. As we've delved into the ins and outs of the industry, we have learned first-hand about the needs, concerns, frustrations, and individual challenges each state faces. This has resulted in the exceptional customer experience which three Texas districts can attest to.
Safety Vision has dedicated the last 26 years to improving community safety around the country, and in doing so has become one of the most recognized mobile solution providers in North America. We serve and meet the specific needs of various industries such as Pupil Transportation, Mass Transit, Law Enforcement, Waste, Trucking, Fire, and many more.
Over the last three years, we have recognized the pupil transportation industry's demand for higher reliability in products and stronger vendor-customer relationships. After understanding where other industry providers were lacking, Safety Vision built a team with eight representatives, strategically placed to cover territories across the United States. With a large sales team dedicated to the pupil industry, it allows Safety Vision to provide a higher level of service to our customers—the level of service they deserve. The feedback we received allowed our company to reevaluate internally to improve and develop new solutions that best fit the needs of each individual district.
This is why staff at Socorro ISD in western Texas proclaimed Safety Vision "very dependable" and said they appreciated the "exceptional support from staff after the sale."
We were also able to alleviate problems like budgetary restrictions by creating our Evergreen Program and providing educational grants. Hundreds of districts around the country now rely on Safety Vision for their mobile surveillance needs, as we continue to make quality our top priority.
Billy Taylor, fleet manager for New Caney ISD near Houston, proclaimed Safety Vision an "awesome company to do business with."
Speaking of a recent interaction with Safety Vision, Taylor shared, "Great product—every time we need video it's there! They stand behind their work and you feel appreciated as a customer. Clint Bryer and his team (Ryan, Hunter) are there for you when you need them and are very supportive."
Frank Bowden, an account executive at Safety Vision, has worked at multiple companies in the mobile surveillance industry for the past 11 years. Bowden feels confident in the quality of service and product Safety Vision strives to provide.
"Joining the Safety Vision family was hands down the best company for me to join and represent. As a 'visionary,' a term designated to us by Safety Vision management, we stand ready and willing to do what is necessary to further assist with any school bus safety efforts. Our customers have expectations that our technology will deliver more information securely, accurately, and efficiently. In a time when high-tech is the expectation and not the exception, Safety Vision will fit your needs perfectly," said Bowden.
This is confirmed by Lindale ISD in eastern Texas. "Safety Vision has done an amazing job for our school district. We use them for all our camera needs," shared Director of Transportation Pete Ridge. "One of our main things that we need is troubleshooting after the fact. They are very quick to respond to any problems that we may have. I would highly recommend this company!!!"
Over the last three years, Safety Vision has not only created but perfected the Observer 4112 HVR for school buses. A highly reliable HD recorder that never fails to perform, the Observer 4112 HVR also delivers convenient video offloading and live streaming. Download the Specification Sheet to learn more.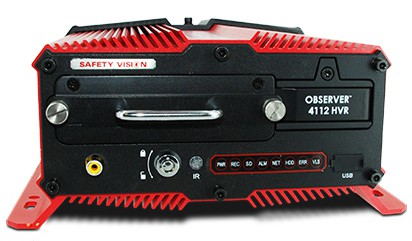 Our easily managed software and advanced line of monitors, recorders, and cameras give your school bus the security it needs with the reliability users want. If you're looking for an "excellent product from a great company," Socorro ISD "highly recommend(s)" Safety Vision.
"This is not one of those companies that forget about you after they have your money. I highly recommend Safety Vision for your video needs!" Taylor summarized.
To request an in-person meeting or web-based presentation, reach out to us today via email or call 800.880.8855.