Student safety. It is the end-all-and-be-all of transportation management. Which is exactly why more districts are investing in technology that helps them to manage student ridership, and know exactly which students boarded and disembarked which vehicle, when, and where. Moreover, today's parents have grown up with technology that provides them instant access to data, and they expect no less from their child's transportation program.
Many districts across both the U.S. and Canada are successfully meeting these challenges with student tracking tools from Tyler Technologies. As part of a recent online panel, three Tyler clients spoke about their experience with student ridership, ways that districts can convince their administration to both implement and enforce tracking tools, and where the industry is going in the future.
Click here to access the on-demand recording of their presentation.
Our panelists had a lot to say. Here are a few of the insights they provide in their presentation.
Joyce Glenn, Transportation Supervisor for Fountain-Fort Carson School District 8 in Fountain, Colorado: Over 25 years, I've seen this industry go from door-to-door stops and keeping the bus close, then to group stops, kids walking to stops, as a way to address smaller budgets. Now we're getting back to parents wanting the pick-ups to be closer, and parents wanting more information about their child's safety. Now it seems like we have to be on our toes more. We have their children and they want to know more.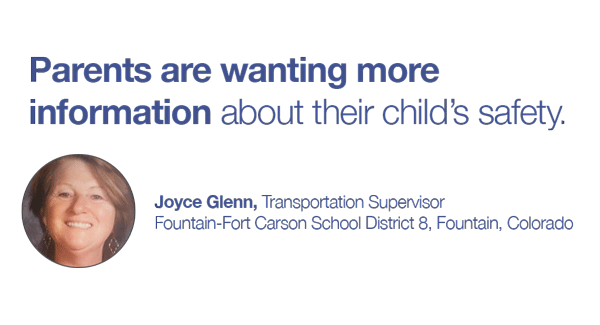 Kelsey Isberg, Transportation Department Administrative Assistant for Durango School District R-9 in Durango, Colorado: Especially with cold winters, and kids in rural areas, I see more requests for door-to-door in winter. And an expectation that we always know where their student is. Parents expect immediate gratification for the question "where is my kid."
David Frushour, Transportation Director for Peru Community Schools in Peru, Indiana: With students experiencing homelessness, or foster students, or even students coming to our district through open enrollment, we are often traveling well outside of the district. We met the challenge of out-of-district students with student tracking. We have GPS trackers on every bus, so we know where it is, what speed it's going. I never lose a bus. We know who's on the bus, if they did get on, or if they're at an after-school activity. It's eased a lot of anxiety with our parents, especially those already in tough situations.
Kelsey: It's too much to expect bus drivers to know every kid and their exact schedule, and make sure every student is getting off at the right stop. Especially sub drivers, where they don't even know the route, and then at the stop. They have to watch the road so carefully as kids get off the bus, especially with traffic and people running stop arms. We've added the Tyler Drive tablet to our buses, which has features that help with that. It's going to help the drivers follow their route, tell them which students should be at each stop, and track that with the scanning.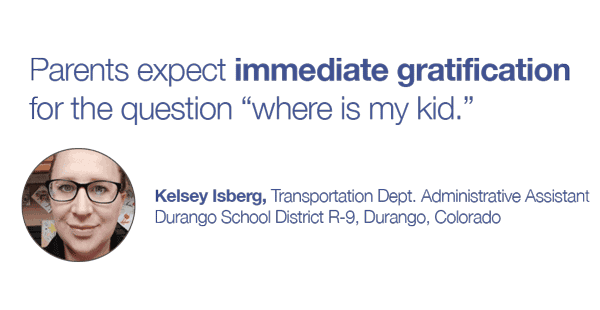 Joyce: With society now, both parents are working. They're not home when the kid gets on or off the bus. Especially if the kid is walking a few blocks, it's not as safe as it used to be. We'd have "lost students" last year because it's a sub driver and a kid gets off at their friend's house. Now we're getting parents onto Versatrans My Stop and pushing them to use it consistently, so they can see their child's scan information and know where they got off.
Dave: It can be tough to get all the kids to scan their cards consistently at first, and hard to get the drivers to enforce it. But you teach and you teach, you have your meetings, and everybody we have here is on board with what we do now. Now they say, "I love it. It protects me." We've had student tracking for five or six years now. The K-2 ages love it. We call it their "bus ticket" and they thought that was great. Those kids are now sixth graders and it's just second nature to them to scan when they get on and off the bus. So it does get easier to make it consistent.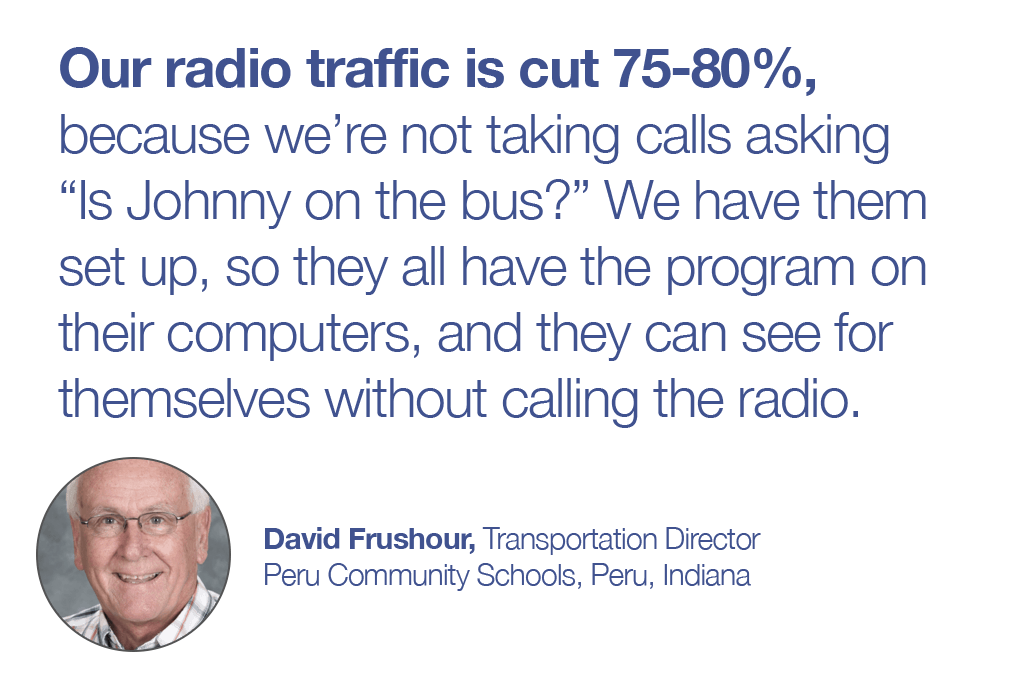 Joyce: And it's better to know 85 percent or 90 percent of the information than none. But what's selling it for me is the parents able to see the information on the Versatrans My Stop app. Our phone calls from parents went to nothing after adding this.
Dave: One thing I really like about that program is that the radio traffic is cut 75 to 80 percent, because we're not taking calls from the secretaries saying "Is Johnny on the bus." We have them set up so they all have the program on their computers, and they can see for themselves without calling the radio.
Joyce: I did have a story I wanted to make sure I told. We started in August getting these cards out. We had to really educate and get the news out. It all paid off. We had a child, a kindergartener, who got on a bus and scanned. The driver didn't know her, and when he stopped at a park, she got off the bus. We got the call, "where is my child," and we were immediately able to find exactly where she got off. We went into action in seconds to have that bus turn around and find that kid, and there she was, playing in the playground. You could have heard all of us cheering in the office. We don't feel we could have been that successful without this program. We were sold right there.