How Training and Compassion Drive First Student's Approach to Transporting Students with Disabilities
When it comes to transporting students with disabilities, First Student drivers and attendants are in a class of their own. These individuals are specifically chosen for their compassion and their dedication to caring for all students, no matter their abilities. Once they're carefully selected, they undergo a comprehensive training program that encompasses many facets of transporting students with disabilities.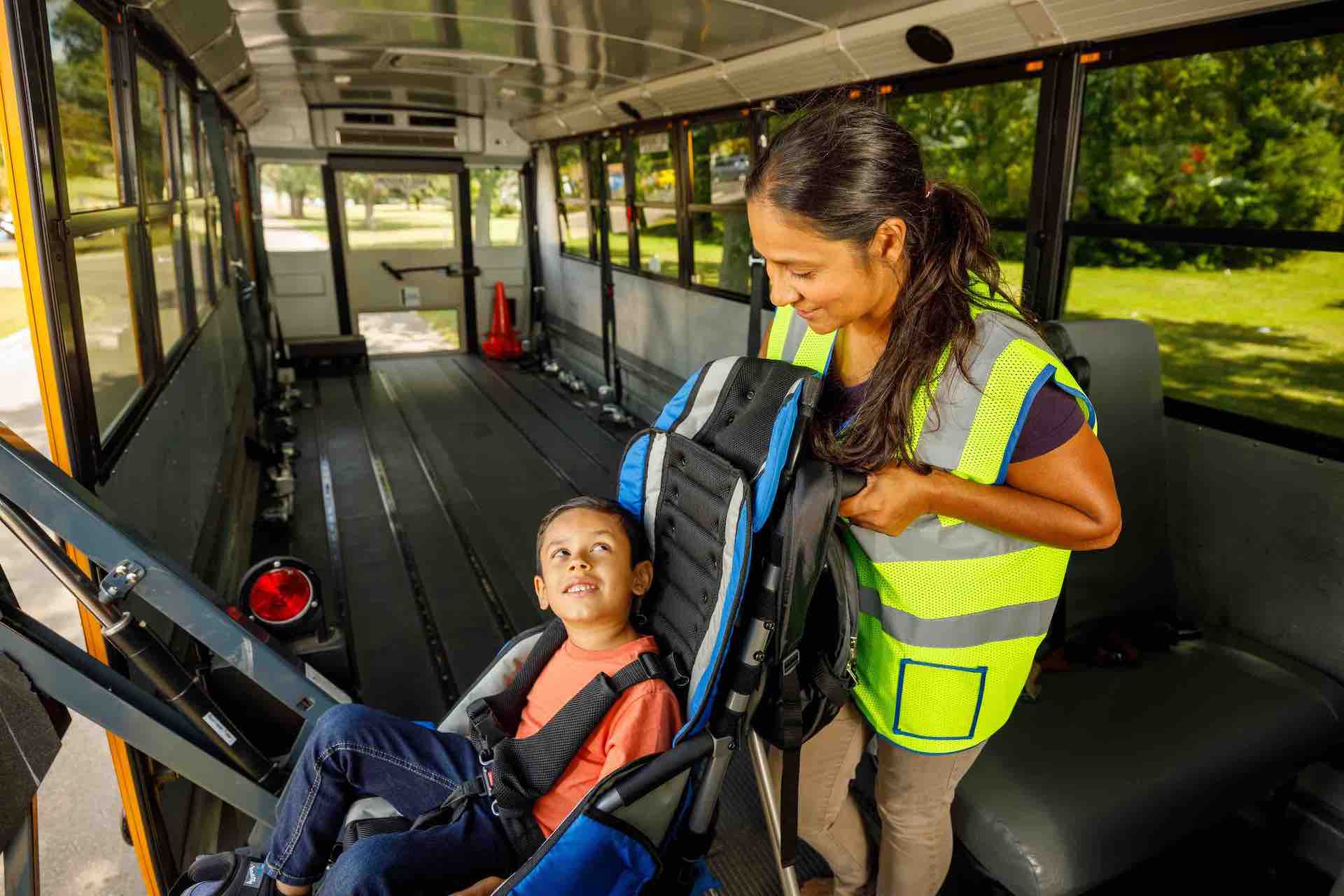 It's a First Student training program thoughtfully and deliberately implemented to address a large and growing demographic. The population of students served under the Individuals with Disabilities Education Act (IDEA) has grown at a rate significantly higher than the general education population. Students served under IDEA currently account for approximately 13 percent of the total education population.
First Student drivers, who transport 12,000 students with disabilities each day, are prepared for this, bringing a wealth of knowledge and highly tuned skills to the job. The training program includes cross-disability training, which readies driving teams for potential accommodations that current or future students may need. The training equips these teams with more tools to aid them in properly and safely caring for students with developmental disabilities, as well as with constantly updated safety strategies for transporting children with physical disabilities.
Thanks to continual professional development such as workshops, on-the-job training, and hands-on exercises, First Student drivers and attendants are equipped with knowledge and skills in a variety of areas. They're able to manage behavioral challenges, provide for individual needs relating to verbal and nonverbal communication styles, secure wheelchairs and other needed equipment properly, and communicate effectively with parents. Due to First Student's compassionate approach, these professionals build bonds with students that can last far beyond the school year.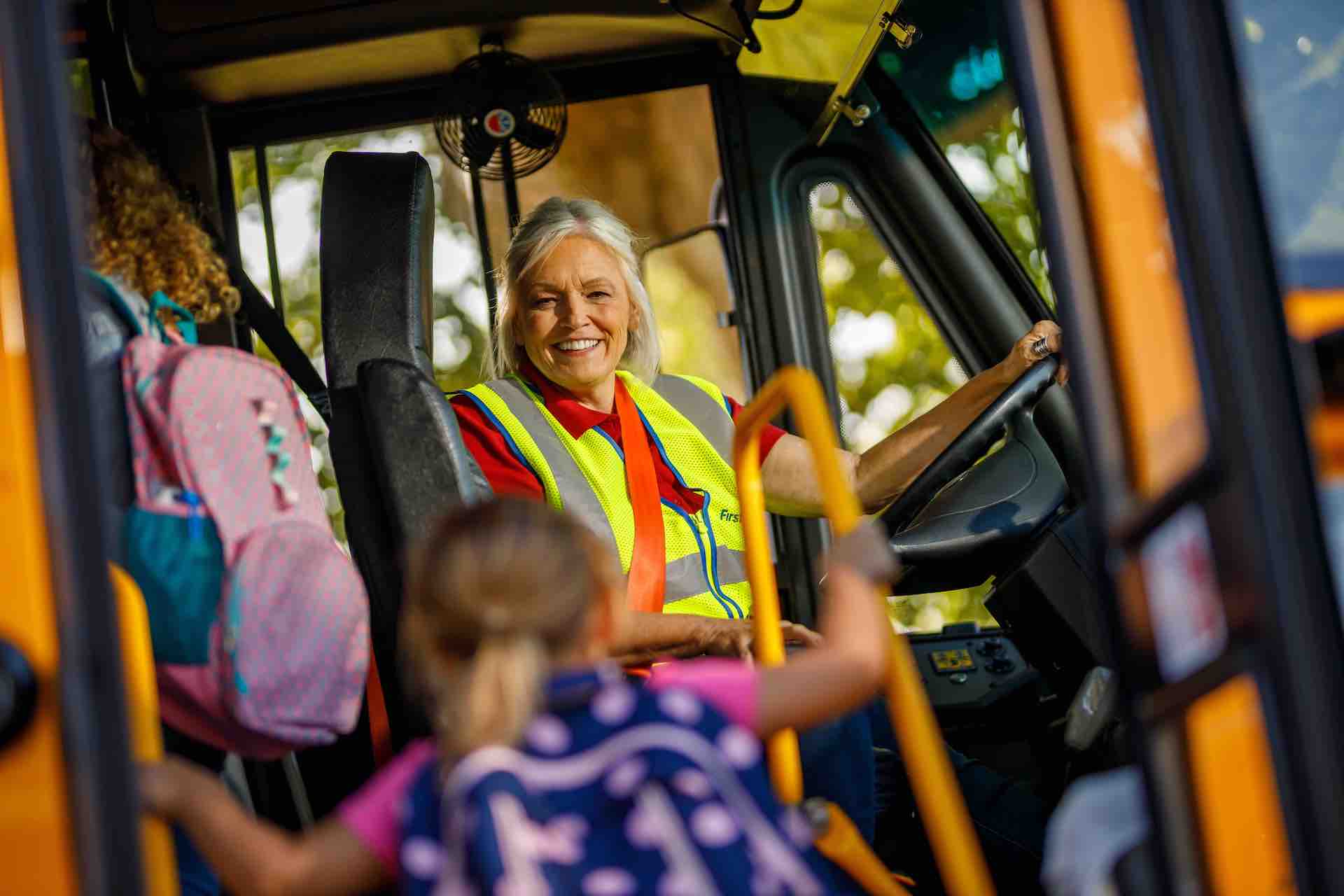 A Successful Model for Special Needs Transportation in Milwaukee
For more than 30 years, First Student has partnered with Milwaukee Public Schools (MPS). Each day in Milwaukee, First Student transports between 1,200 to 1,500 students with physical and developmental disabilities across 159 of the more than 500 routes the company operates. First Student drivers and attendants spend extra time in training and on the job to give children with disabilities the attention, time and care they need to ensure their ride is safe, comfortable, and stress-free.
David Willis, First Student's Milwaukee location manager, has been in the industry transporting individuals with physical and developmental disabilities for 37 years. "What keeps me interested in this work is the same thing I most enjoyed when I first started: the children's excitement from the moment they see you at their doorstep until you put them onto the bus. It's the best part of your day," he says.
"I'm appreciative of the fact that my daughter is transported by a driver that I trust and has become a friend to our family."

-Parent, Central Point School District, Oregon
The relationships between drivers, students, and parents are extremely important to Willis. It's why he so thoughtfully chooses his driving team, because he knows the roles the team members play in children's lives are so significant. Some MPS bus drivers maintain the same route for several years, proudly watching their student riders grow up into high school graduates. They show patience, courtesy, and understanding to student riders and their parents. And they constantly work at enhancing their skills and care.
During open sessions at monthly safety meetings, they share testimonials and request support from others if a behavioral issue emerges. According to Willis, "We learn so much from sitting down with our drivers and attendants and listening to the unique situations on their buses. Some may have discovered what works well for them and will share their thoughts with another individual in their position who needs advice. First Student will also reach out to the district for expertise to identify solutions with bus personnel."
First Student remains diligent about ensuring compliance with new state standards and developing new best practices. The resources used to carefully select and expertly train bus staff show First Student's partners that they have an unsurpassed network of support. Because of this, Willis and his team can concentrate on the children.
"We focus on our passengers," Willis observes. "Our drivers and attendants have such a compassionate attitude toward the children they transport. No matter what happens, they go the extra mile to take care of them as their own."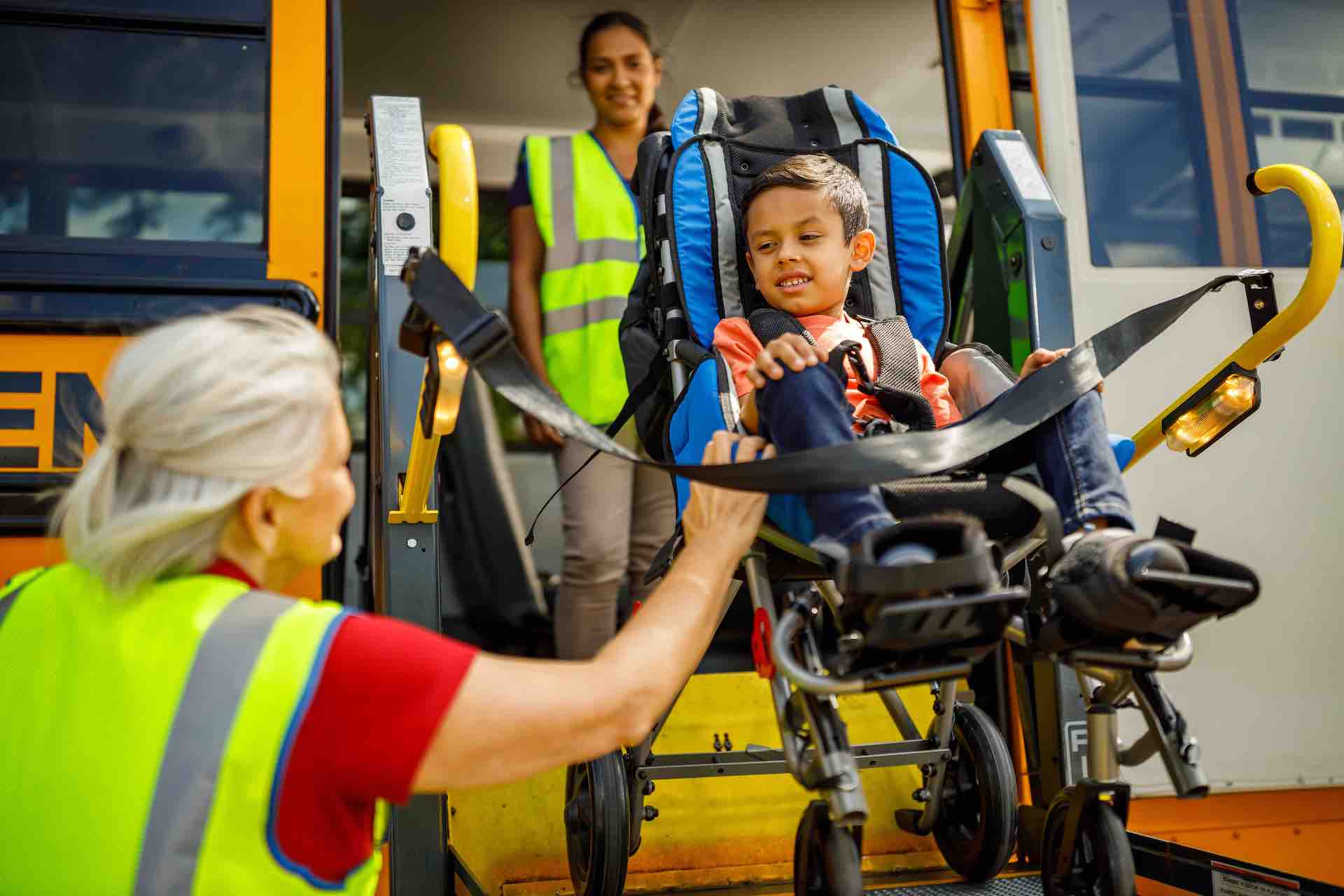 Success in the Field
This compassionate attitude is found in First Student's bus staff in communities throughout North America, and it's exemplified by a driver for Oregon's Central Point School District. She's built a close relationship with one of her students with a disability, earning the trust of the student and her family.
"I'm appreciative of the fact that my daughter is transported by a driver that I trust and has become a friend to our family," says the student's mother. "She keeps me informed of my daughter's daily activities or events coming up at school. She has good interactions with her teachers, and she relays that information to our family. My daughter has limited communication skills, so it's important to have the driver relay information to us on a daily basis."
This compassionate attitude has also earned First Student drivers and attendants much-deserved accolades. In 2012, Minnetonka Public Schools in Minnesota recognized First Student Driver Ford Thompson with its Charlie Parnell Memorial Award. The award honors a school professional who goes above and beyond to enhance the lives of students with disabilities.
It's this respect and compassion coupled with comprehensive training that helps define First Student drivers and attendants and, in turn, strengthen the entire student transportation industry.
What Can First Student do for You?
Let us show you how contracting with First Student can provide peace of mind. We offer more than 100 years of transportation expertise. From route optimizations and specialized management teams to full turn-key operations, we have the experience for every situation. Our locally-hired teams are professionally trained.
You focus on driving your students' imaginations, we'll focus on driving them safely. Contact us at firststudentinc.com/contact to learn more.