As school bus safety needs continue to grow, more and more districts are searching for proper solutions to ensure student safety. One problem surrounds the entering and exiting of school buses transporting students throughout the school year.
Transportation Director Jerry Wynne shared of his North Carolina district that "Beaufort County Schools (BCS) is always seeking to add cameras to our buses for safety purposes."
"Cameras provide firsthand knowledge of any situation involving a school bus, both internal and external. As the installation of external cameras continues to grow, so does public awareness within our school district. The judicial punitive system demands more respect for school buses while on their route providing safe road crossing for students," he explained.
The Problem
At Safety Vision, as we continue to work towards solutions, we have drawn information supplied by the North Carolina School Bus Safety website and have examined this information on a micro level while trying to imagine the widespread impact throughout the country. To lend perspective:
Nearly 24% of all buses experience a stop-arm violation each day
A majority of passing violations (between 67-69%) come from the opposite direction
An astounding 96-97% of passing violations occur in the driver side of the bus
Approximately 55-57% of these violations take place in the afternoon
About 71% of passing violations happen on two-lane roads due to the volume of pick-ups and drop-offs on this type of roadway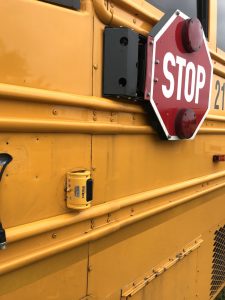 Prior to the advancement of safety technology being introduced to school bus drivers, these same drivers acted as the only line of defense between oncoming traffic and students.
In order to report a violation, school bus drivers would need to gather the time, location, the violator's license plate number, and attempt to get a description of the car; this was also combined with the fact that, in most states, the school bus driver would also need to positively identify the motorist who committed the passing violation.
This proved to be a very difficult task. Because of this, the stop-arm camera solution was developed.
The Violations 
Using a series of road diagrams, we will demonstrate what is a violation and what is not a violation. Most diagrams should be very straight forward but the laws from state to state can change on the illustrations with multiple states.

Example 1 is a simple two-lane road. This also accounts for neighborhood streets and apartment complexes that don't have visible double yellow lines. The overwhelming number of stops are on this road configuration and coincidentally so are most of the violations (71% mentioned above). Naturally, most stops take place in a roadway fitting this description and it is the most consistent roadway from one demographic area to the next.

Example 2 is a two-lane road with a middle turn lane. In this road condition, like a standard two-lane road, it is illegal to pass a stopped school bus from any direction. Many motorists that pass a stopped school bus heading the opposite direction are not aware of the law in this scenario. There is not a great deal of data on how many stops and violations take place on this road condition, but data suggest from earlier years that <27% of violations happen on roadways that are over two lanes.

Example 3 is a standard four-lane road with double yellow lines, without median or barrier, and like the previous road conditions all motorists, traveling the same or opposite direction, are required to stop. Not all districts and/or counties are going to have a large volume of pick-up or drop-off areas on this road configuration but in some cases, these stops cannot be avoided. It is widely known, even without current statistics, that these stops experience a greater frequency of violations.

The last road scenario, example 4, is the divided highway. Here only vehicles heading the same direction are required to stop for a stopped school bus. Once again, limited data is provided to understand the frequency of violations on this roadway condition.
The Solution
As a technology provider, we at Safety Vision must consider what the obstacles are, what the desired results are, and how to package it affordably. In Wynne's words, "driver training, standardize hand procedures, cameras and law enforcement are a comprehensive package to safe bus boarding and deboarding." The Safety Vision camera systems used by BCS, he said, provide all those elements for school administrators, parents, staff, and law enforcement.
Safety Vision also understands that, like anything else, the technology might have limitations and applying a best practice approach is desirable. From our experience, school bus drivers had a hard time capturing license plates in four-lane roads when the vehicle was traveling in the furthest lane. These violators were always traveling in the opposite direction but when another stop-arm camera was added, we were able to resolve the identification issue.
Wynne stated that Safety Vision's systems are "very reliable while simple to operate, providing multiple views for whatever the situation demands."
"Safety Vision is very responsive [to] any issues from training and support for software and hardware," he added. Browse Safety Vision's products and see how we can help you increase student safety both on and off the bus.