Steve Lake has been leading Southwest Allen County School District in Indiana's transportation department for more than five years but has been with this district in a number of capacities for nearly 35 years, as a teacher, coach and even principal.
He is extremely analytical and jokes, "To me, everything is a science project."
"Our motto here is 'Point A to Point B as safely and efficiently as possible.' We post that motto everywhere," Lake said. "The safety part is up to us as humans. But the efficiency part we count on our software to give us good data, to see how efficient we are. Transfinder does that for us."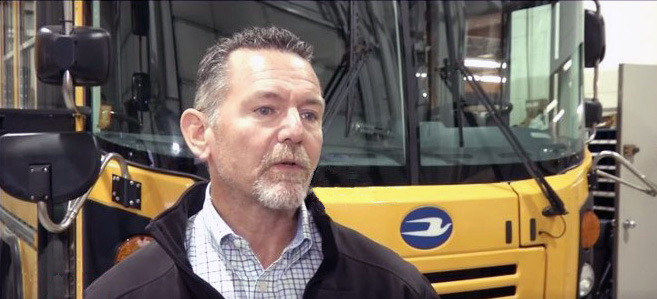 When he came into his role as transportation supervisor five years ago, he looked at what the Southwest Allen County School District was using for all its transportation needs. What he found was unsettling.
"When I came in, [the previous routing provider] didn't make sense," Lake stated. "There were too many things missing. The communication between [the previous company] and us was not good. I didn't know who our sales rep was, I didn't know who the contact was for any help. It was a struggle."
Not one to waste time, Lake said, "I just decided this was ridiculous. So, I shopped around."
Nothing compared with Transfinder's suite of solutions and he is not looking back.
One key factor in selecting Transfinder was its extreme map accuracy and the ability to precisely place students at each stop that was far superior to other products on the market.
That same attention to detail in other Transfinder solutions is critical to Lake and his team.
"We use everything we can use. We put in all our bus data in [Routefinder]: What we paid for the bus, all the VIN numbers, all that data. I tell my secretaries, 'We're going to put in accurate, clean data. Garbage in, garbage out,'" Lake said.
Armed with that data, he can create reports and grade his buses. Using data his team inputs into Routefinder, Lake decided the district's special needs transportation efforts were inefficient. Large buses were traveling all over the district to pick up a handful of kids.
"I was pulling a lot of that information from Transfinder technology," he said. "I'm looking at it and I'm saying, 'OK, I've only got so many kids on them and when I plug it into my formula, those buses are not efficient.'"
It led him to buy three smaller Class A vehicles (and order three more) that are twice as fuel efficient (7 miles per gallon versus 13 mpg) and cost half as much as a typical bus ($60,000 versus $140,000). There is also the added benefit that drivers do not need a CDL license.
"All those efficiency aspects were part of the sales pitch," Lake said, as he ran data from the past five years and was able to project five years out on what the savings would be.
When he showed his drivers the financial impact his changes would have, they couldn't argue with the numbers.
"My job is to run a business here," Lake said. "I'm sorry but let's look at the taxpayer dollars here. There was no argument and they knew it."
Lake said twice a year he is invited to present to the board.
"When I present to the school board, they don't want to hear, "I think this" or "I think that." They want to see raw numbers," he said. "We live in a pretty affluent district. Our taxpayers want to know how we're spending their money and how efficient it is." Crunching numbers using Routefinder helped Lake make the case to purchase propane-powered buses, for example.
"I did tons of research," he said. "I'm pulling out of Transfinder to get that data so I could get to the board and not look like a fool when they asked me questions."
That trust in Transfinder is leading him to want to go all in with Transfinder's suite of solutions. It's why he's turning to Transfinder to assist with the district moving from a two-tiered system (two start and end times) to a three-tiered system. He's been impressed with Transfinder's support in this initiative.
Lake said he's got some decisions to make this year.
"I'm kind of a 'one stop, one shop' kind of guy," he said, adding that he is considering Transfinder's parent app Stopfinder, driver app Wayfinder and other Transfinder tools to handle all of the district's needs.
"We're going all tablets – scanning kids on and scanning kids off," he added. "The drivers are logging in and logging out in the morning so we can do hourly paychecks. We're doing all of our COVID log-in entries on the tablets, all our pre-trek, post-trek on tablets. We're using it all the way."
As much as Lake loves Transfinder's solutions, he said the company's "secret sauce" is the customer service.
"Transfinder's customer service is the number 1 reason why I love that company," he said. "The customer service is incredible. If I call somebody, it's not long I get a call back and they've got a solution for me or are willing to help me in some way. That is incredibly critical."
For more information, visit www.Transfinder.com.