At a time when school transportation budgets are stretched thin and public school funding challenges are well publicized, an ambitious plan to outfit an entire fleet of buses with an array of new smart technologies may seem out of reach. However, thanks to a new offering from Verra Mobility (formerly American Traffic Solutions), that vision is now a reality.
The Request for Proposals
In the fall of 2017, the San Antonio Independent School District (SAISD) released a Request for Proposals (RFP) for a list of innovative school bus technologies that included a stop arm camera system, an interior and exterior camera system with real-time viewing functionality, a global positioning system, student ridership visibility, an app-based parent notification system, and secure on-bus Wi-Fi to extend classroom learning onto every school bus.
Verra Mobility—a leader in red-light, speed and school bus stop arm safety camera enforcement—designed CrossingGuard+, a solution that leveraged Verra Mobility's technology expertise, in partnership with existing SAISD vendors and school bus camera providers.
Intertwined with new innovations, SAISD's program soon became a fleet of smart and safe buses. And the best part? These technologies came at no up-front cost to the district. Literally, millions of dollars in hardware and software were provided on the promise of future revenue from the district's stop arm safety camera program.
How It Works
The CrossingGuard+ smart and safe school bus program is possible because of a law that allows school districts to deploy school bus stop arm safety cameras on their bus fleet. The fines that are collected from lawbreakers (drivers who endanger children by passing a school bus when the stop arm is extended) are used to offset the investment in technology.
Each month, Verra Mobility invoices the school district for a portion of the collected fine revenue. Any revenue that remains after the vendor is paid, is then used to reimburse law enforcement for its role in reviewing and issuing captured violations. Any further funds are used for other school safety initiatives.
In addition to the stop arm safety camera program, buses are equipped with a five-camera interior and exterior system with live-viewing capabilities from REI; a student ridership, bus tracking package and parental notification app; global positioning system from Zonar Systems; and Verra Mobility's purpose-built student Wi-Fi solution with a robust data package.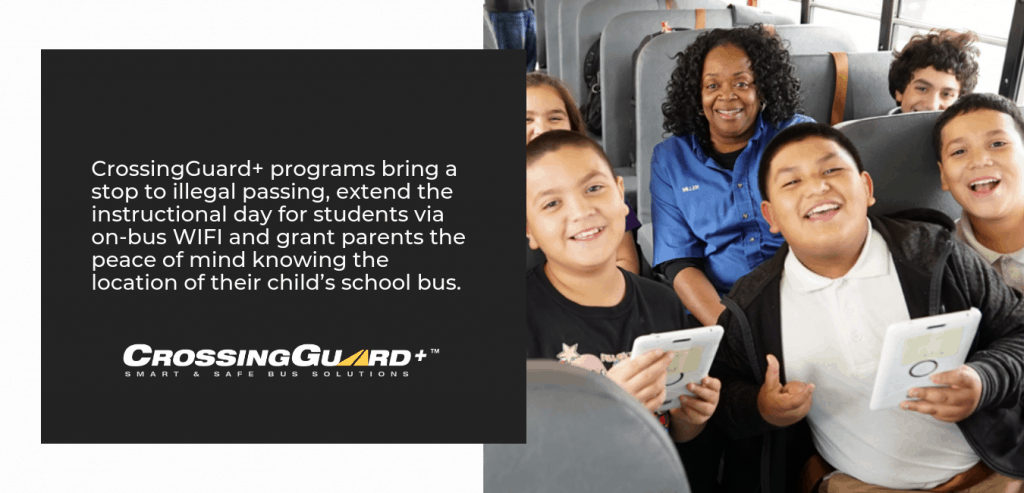 Other Districts
For now, Verra Mobility's CrossingGuard+ smart and safe bus solution is offered primarily to school districts in Texas, Georgia, Maryland, Virginia, Washington and other states where the use of school bus stop arm safety cameras has been approved. In other locations, student ridership, on-bus student Wi-Fi and interior camera systems can be purchased separately.
David Roberts, president and CEO of Verra Mobility, added, "Meeting our customers at their highest point of need is a hallmark of our organization. As a smart mobility provider, we are committed to always finding new ways to help solve complex problems. This collaboration is a perfect example. We look forward to sharing this technology package with other school districts throughout the country as we work to help build the smart and safe bus of the future."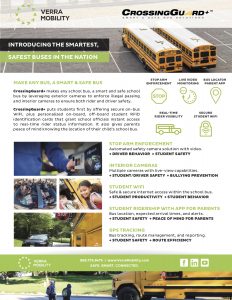 To learn more about Verra Mobility and the CrossingGuard+ smart and safe school bus program, download the product sheet to the left or contact us.