Standard operating procedures—or the utter lack of them—for reviewing video vary widely from district to district, which was confirmed by STN's latest reader survey (see Trends in the digital edition of March 2019).
---
Related: Southeastern States Conference Focuses on Safety and Technology
Related: Tri-City Communications Installation Contract for Akron Schools Bus Video
Related: Illinois School District Helps State Police Catch Stop-Arm Violators
Related: Here Comes the Bus Debuts Less-Costly Version for Small School Districts
---
While many districts said they chose to install video unprompted by a particular incident, the survey also shows that some schools implemented a plan only after being surprised by footage that aired on the local news, thanks to a student's cell phone.
Other districts said they were shocked when an ongoing and undetected bullying situation was brought to light by angry parents. Worse yet can be accusations of drivers or attendants abusing children in their care.
With hours and hours of video that is collected every school day, how should school districts form a policy for video review, especially on buses that transport students with disabilities? Charles Hood, executive director of the National Association of State Directors of Pupil Transportation Services (NASDPTS), said videos can be considered to be student records, and there is a related issue of confidentiality.
The National Transportation Safety Board (NTSB) Safety Recommendation H-15-2 that was addressed to NASDPTS, the National Association for Pupil Transportation and the National School Transportation Association among others, sought to encourage their members to ensure that any onboard video system provides visibility of the driver and of each occupant's seating location, visibility forward of the vehicle, optimized frame rate, and low-light recording capability.
Unfortunately, NTSB included neither guidelines nor suggestions as to how frequently all of this video should be reviewed.
Now What Do We Do?
Denver Public Schools created a video policy as a result of the new technology that is now installed on the district's school buses, said Executive Director of Transportation Nicole Portee. With cameras on the buses, she said she feels the community and schools expect a sound video policy.
"The cameras are not there to catch every single thing that may occur," she stressed. "They are an aid to provide additional information in the event of an incident. With over 300 buses, we don't have people available to watch video all day."
Denver's transportation department responded with training that includes the responsibility of each bus driver, up to Portee herself, regarding video usage, she explained. "We educate our employees in a team environment on how to use the video system, especially the panic button, because it is there to protect them, as well as our students," she added.
Portee also commented on the increasing frequency of districts that address the driver shortage, by employing outside vendors, such as taxi cab companies to complete routes. "If these vendors want a school district's business, then they need to provide the same level of service as our yellow buses, with regards to video and GPS," said Portee, who is speaking on this issue at the TSD Conference in Frisco, Texas this month.
Denver Public Schools transport special needs students with general education students. "These are students who are integrated in the classroom, that all live in the same community," said Portee. "Transportation doesn't designate different buses for the special needs students. We allow them to feel like a part of the population of students that is being transported."
Doing What's Best for Their Students
Hamilton Southeastern Schools northeast of Indianapolis uses 45 special needs buses. "Video is a huge part of our day," said Zach McKinney, transportation supervisor. "We didn't implement our plan in response to an incident; we just want to do what's best for our students."
McKinney reported that he and his assistant are the only transportation employees that have the computer software to watch bus video. "We will have the driver and attendant come in to watch. Our trainer may also review it, to see if there is something that we might add to our training program," he explained. "But we keep confidentiality intact."
McKinney acknowledged that he has used video to review safety issues, such as proper wheelchair securement. But to address the privacy issue, McKinney and his staff recreate the incident and use a wheelchair to demonstrate the right way. "We don't show the onboard video with the student to all of our drivers," he added.
Debbie Rike, the transportation supervisor for Collierville Schools east of Memphis, Tennessee, has a policy for viewing a video that involves more staff. "It's a team effort," she said. "We contract with Durham, and their seven managers are required to view at least one video daily," she said. "Some of the viewing decisions come from complaints from parents or the general public, school concerns, or the timing of the route. We also have a bus report system in place for anyone to report anonymously. We investigate each and every report."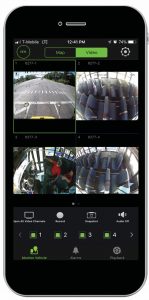 Vendor Advice
Mike Guzallis, a sales engineer with school bus video provider REI, said decisions on adding video systems to school buses should include the ability of the driver to easily flag an incident via a panic button. For example, REI offers a sensor harness that is traditionally tied to the reds or the stop arm that can also be tied to the wheelchair lift to flag video. This, Guzallis added, helps transportation managers ensure their drivers are securing wheelchairs properly. "And with wireless, all of that information, and GPS data, is automatically downloaded.
"What can also make life easier for transportation managers is if a parent calls and complains about something at the bus stop, but doesn't know what time it occurred," he continued. "The GPS info has all of that. The manager can then simply click on that point and automatically download that section, without having to sift through a half-hour of video."
He said high-definition cameras present their own challenges.
"Everybody is pitching high-definition cameras," Guzallis added. "The great thing about them is that they have wider angles that capture more and have six-times better resolution. The flip-side is that they need six- times more storage space."
To combat this, he said REI records on two streams, one high-definition and one sub-stream. The sub-stream can provide weeks, if not months, worth of video. It can also record ridership trends, such as bullying or abuse, or if something is an isolated incident.
Then there is the optimal placement of the equipment to deal with. "Proper positioning of the cameras is also important with special needs students," says Drew Batten, a sales manager with REI. "A camera on the outside that shows loading and unloading to verify that the student was handled properly, is something a lot of districts are doing, along with the driver having a camera that shows a 360-degree view around the bus."
Factors for Inspecting the Video
Safety Vision advises districts to inspect camera systems at least once a week, depending on the system's age, frequency of incidents on the buses, and if wireless downloads are available or not. Districts with wireless download capability have greatly increased efficiency, instead of requiring staff to "pull it when you need it."
Safety Vision wireless downloading also offers a health status report that can be emailed to whoever might need the information.
For districts without wireless, the panic button is a valuable resource. Not only does it give drivers the ability to mark important events in the video, but it also has eight LED indicator lights that will light up as red if there is a problem with the system, such as no SD card or hard drive in the recorder, or no power, for instance.
Is the Camera Actually Recording?
Robert Scott, vice president of sales and marketing for 247 Security, said regular video review checks to make sure the cameras are operating properly also reveal driver habits, such as bus checkouts.
He agreed that the reality for most districts is they simply don't have the time or the personnel for weekly checks of all bus cameras. But having a system like 247's Touchdown, which automatically sends video to the server at the time the bus is shut down, tells the office how many marked events there are. This greatly reduces the task of video review. The office can also request video clips to be uploaded for certain time periods, and the GPS data will be uploaded as well.
"A school bus is a harsh environment for a computer, but 247 Security's reputation for reliability stems from a unique system of storing video," said Scott. "Most districts want to store 30-days of video. Using both DHD (hard drive) and solid-state technology to store information on the hard drive is efficient."
Scott said another important issue to consider is that solid-state drives are prone to file corruption. Any problem requires the drive to be reformatted, which erases all data.
In addition, "hard drives are susceptible to vibration. By recording in solid-state and then sending that information to the DHD when the bus is shut down, we eliminate that problem," Scott reported. "It is also how we can offer a 10-year warranty on the DHD. Hard drives are mechanical—they are always spinning—which shortens their life span. But with our system, they only spin a couple of minutes at the end of each run, so they last longer."
Editor's Note: Reprinted from the 2019 March ssue of School Transportation News.
---
Related: EPA Awards Clean School Bus Grants in Several States
Related: EPA Accepting Applications for DERA School Bus Rebates Program
Related: EPA Extends Clean Diesel Tribal Grant Applications Timeline
Related: STN EXPO: Discover School Bus Alt-Fuel Benefits of Clean Cities Programs
Related: EPA Announces DERA Funding Recipients
Related: California Lower-Emission School Bus Program Issues Revisions
Related: Atlanta-Area School District Receives EPA Grant for Propane Buses
Related: EPA to Propose New Standard on NOx Emissions
Related: EPA Grant Brings 4 Blue Bird Electric School Buses to New York District
Related: EPA Announces Latest School Bus Rebate Awards
---