Crystal Blowe can't imagine doing her job without Transfinder, whether it's the technology, the support or the DIY portal known as Transfinder Community.
She joined the Essex County Public Schools in Tappahannock, Virginia, "smack in the middle of COVID." Before taking the job, Blowe made getting routing software a condition of her employment.
"There was no routing software here and that was a deciding factor. I really didn't know how to operate without it," she said. "Even with a small location here." The district has 1,300 students and transports about 1,000 students daily.
She remembers her first days on the job at Essex County.
"When I came in we were pen and paper here. The phone would ring off the hook in the afternoon," she said, recalling countless calls that went something like this: "What bus does so-and-so ride? My child doesn't know."
Blowe had left a position as a consultant with the state Department of Education, a job that gave her a bigger view of the industry as she traveled around the state. In her travels, she found that there is still a sizeable number of schools, like Essex that are routing students manually.
"There are still several that will post bus stops in the newspaper," Blowe said. "I don't get it."
She started her career in school transportation at Gloucester County where she worked for 18 years. Blowe worked her way up through the ranks at Gloucester, starting as a substitute bus driver, then dispatch, routing and finally supervisor. From that experience, she knew routing was too complex to be done manually.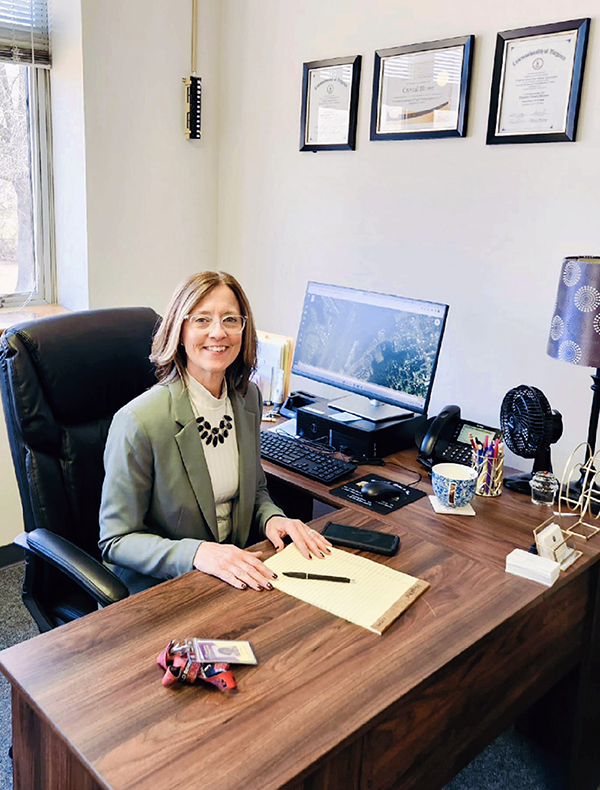 When coming on board at Essex, she had her eye on Transfinder technology. She had been following Transfinder's progress and had multiple conversations with a representative over the years as well as in-person meetings with Transfinder employees at trade shows and conferences.
"So, I had been looking at Transfinder but I wanted to have an open mind," Blowe said. "We went through the process." The district looked at multiple companies in the industry.
"I did a little homework," she said. "I went to my neighbors. I went to the directors. Why re-invent the wheel? I reached out to my friends in this position and I got really good feedback on Transfinder."
She whittled her list from five companies to three and began to more rigorously research the top three contenders.
In the end, the decision became very clear.
"It just came down to Transfinder being the best fit for us," she said. One bonus was the simplicity of Transfinder's Routefinder PLUS connecting with PowerSchool.
"I truly love Transfinder," Blowe said. "Everything about my experience has been great. I love the fact that we're connected with PowerSchool, that I get the updates every night." That includes address changes and new students coming into the district.
"That's a really big time savings for me," said Blowe, who is also the district's router. "I don't have to manually put the new students into the routing program." Assigning the student to a route is quick, she added. "Maybe two clicks and we're done."
PLUS also made it easy for her to eliminate three routes as the district went from 25 routes to 22.
From routing to crafting letters for parents that detail their children's bus transportation information, Blowe has been pleased with PLUS.
"I printed out the letters to parents and took them with me to the Open House – sorted alphabetically and by grade level. I got great feedback there. They really liked how neat it was, how professional."
Blowe said being browser-based allows her to work from home when necessary.
"I've been able to communicate with the subs," she said. "I can download one of the routes and send it as an attachment. That's very simple."
Blowe said it doesn't matter the size of the district, the transportation of schoolchildren is complex and expectations are high. "Even with a small location, me coming into a new area, new to the kids, the idea of trying to track students (manually) – it's very scary," she said. It's why the district has added more technology to the mix, such as Viewfinder, which makes it easy to monitor the day-to-day operations of the transportation department and easy access to student route information.
Administrative assistants at the district's three buildings – there's an elementary school, an intermediate school and a high school that includes eighth grade – have Viewfinder at their fingertips to assist parents.
"They don't have to try to reach me, they can just log in and get what they need right there," she said. "We've gotten great feedback on that. It has really cut down on the phone calls for me. It's a huge contribution to how my day goes. If I'm having to type all this stuff in and make all the meetings and take the phone calls, it really would almost be impossible."
Blowe also taps into Transfinder Community, which is loaded with instructional videos, guides and even a forum where other users help each other with best practices.
"Community is wonderful," she said. "Especially when I was brand new. Everything is right there. You know, you take a two-day training but there's no way you can remember everything or take good enough notes. So you can log in anytime from anywhere and watch the tutorials on it. It's really good information."
Blowe said the customer service she receives from Transfinder has been "very helpful."
"I love routing and I feel confident in my routing," she said. "But there's only a certain level of that, right? Like, the whole IT part. It's over my head." When she calls Transfinder, the support representative helps make things "very simple for me."
"He identified the problem and very quickly got me back up and running," Blowe said.
She understands the challenges small districts like hers have finding money in the budget for transportation management technology.
"But we're all getting to the point where it's hard to do without it," Blowe said. "It's hard. We're trying to do more with less. Like me, I'm the router, supervisor and dispatch most days when my dispatcher is on the road. So, without this tool, hmmm, it would be awful thin."
In fact, Blowe said, she can make a case that the technology has actually saved the district money and increased safety.
"If you really look at Transfinder, not only have I absorbed three routes, but look at the schools, look at the cut down on staff time there trying to reach out to transportation," she said. "If we really, really got down to the penny, there's huge savings for doing it. Huge savings."