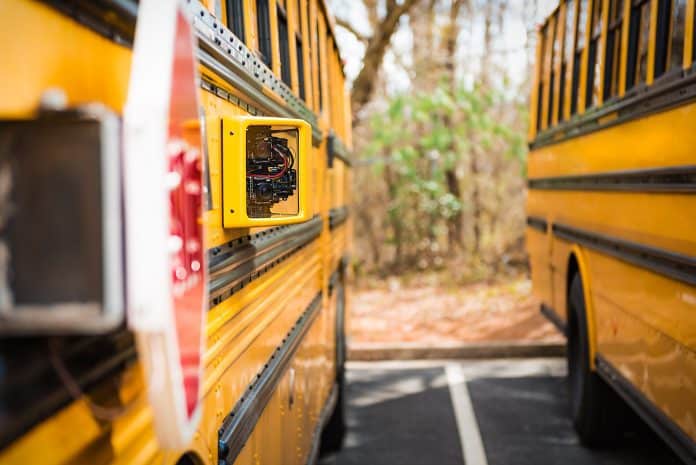 The dissolution of the Dallas County School District has been described as the biggest shut- down of a government agency in modern Texas history. And it all started with a plan to equip school buses with stop-arm cameras aimed at ticketing motorists who illegally pass while students are loading and unloading.
Beginning in 2008, Force Multiplier Solutions advertised that its BusGuard and Ongo Live products could provide school districts with mobile camera systems using real-time data, video and audio.
In 2010, Dallas County Schools (DCSD), a government agency that was established over a century ago to provide educational services such as transportation to about a dozen local independent school districts, signed a contract with Force Multiplier to purchase 150 bus stop-arm cameras. The new equipment promised to catch drivers who ran the red octagon, hold them accountable, and fine them, which would hopefully reduce the number of future violations.
Unbeknownst to taxpayers, parents, and even the district's own board members, DCSD Superintendent Dr. Rick Sorrells would dump millions of dollars into the bus-arm program over the next six years. While Sorrells drove the district into unmanageable debt, he also admitted to receiving $3 million in bribes, campaign contributions, and kickbacks from Force Multiplier Solutions' owner, Robert Leonard.
State legislators long-intent on shuttering DCSD finally succeeded by introducing a ballot measure to do just that last November. Rather than bail out DCSD, 58 percent of voters chose to end the agency after nearly 125 years in existence.
The Dissolution Committee for the former Board of Trustees of DCSD filed a civil lawsuit on July 27 in the Dallas County District Court, seeking to reclaim $125 million from the perps who admitted to defrauding the district, through the bus stop-arm camera program and via a shady service center sale.
In addition to suing the former company at the top of the scheme, Force Multiplier Solutions, the dissolution committee is suing Leonard and Sorrells. Both of them pleaded guilty to criminal charges earlier this year, as well as to charges of creating a host of shell corporations that were used to quietly move funds between them.
When he pleaded guilty in April, Sorrells forfeited more than $12,000 in cash, a 2014 Maserati GHI and a 2012 Porsche Cayenne. Also relinquished was a custom-made, 14k-gold bracelet set with 51 princess cut diamonds that weighed 10.53 carats and was valued at more than $16,000.
Then there was another problem. In order to cover mounting bus-arm camera debt, Sorrells sold four DCSD bus service centers in February 2015 that had previously been owned free and clear by taxpayers. An affiliate of Force Multiplier Solutions bought the centers for $25 million—and DCSD leased the properties back at almost double their worth.
That deal was brokered by named defendant Anrock Realty Services. Not only did Anrock Realty Services share an address with Force Multiplier Solutions, but owner Slater Smartwood also ran Elf Marketing and Elf Investments, which channeled $2 million to Sorrells and received $198,000 from DCSD for consulting services.
Smartwood also pleaded guilty in February 2018 to money laundering.
While Sorrells' attorneys did not respond to inquiries for comment, the plaintiff's attorney gladly filled in the blanks.
"What did Dallas County Schools do with the $25 million it received from selling this real estate? It put that money right back into its general fund, which had been depleted through the purchase of these stop-arm cameras," said attorney Stephanie Curtis of the Dallas-based firm Curtis Castillo, which represents the dissolution committee.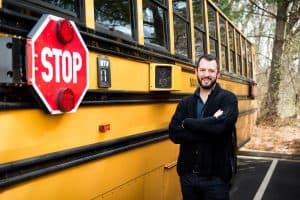 Still, the debt incurred by Sorrells ran larger than what the bus depot sale proceeds could cover.
"The debt rendered Dallas County Schools completely insolvent and caused it to not have adequate funding to continue what it had done since 1894," said Curtis.
While it had been decades since DCSD last housed students in physical classrooms, it provided important services to the independent school districts of Dallas. These services included transportation since 1927, as well as online instruction, student mental health services and technology solutions.
"What's important to understand, is that a majority of the cameras purchased remained in a warehouse in unopened boxes and were never utilized," Curtis added. "They were purchased due to the bribes that came in, and sadly convinced Dr. Sorrells to make some poor decisions with taxpayers' money."
Upon the dissolution, DCSD's school buses were split up among school districts that had previously relied on its transportation services, one of which was the Dallas Independent School District.
With a total population of 155,000 urban students, Dallas ISD Superintendent Dr. Michael Hinojosa had about six months to figure out how to transport 40,000 of them—who were previously transported by DCSD—across the district's 230 campuses.
As reported in the April issue of School Transportation News, Dallas ISD tapped Kayne Smith, formerly the director of transportation for Beaumont ISD near Houston, to oversee the transition. He and Scott Layne, assistant superintendent of operations, inherited 1,000 school buses, but still had to scramble to fill the driver seats and figure out routing.
In July, Dallas ISD officially took over transportation from DCSD. But one month later at the start of the school year, 100 school bus drivers failed to show up for work.
"Unemployment is extremely low in Dallas, and so there's not a great [number] of people who are willing, able and qualified to drive buses," Hinojosa said. "Also, there are a lot of systems that have to be transferred in a short period of time."
He explained that consolidating several bus service centers across the city proved to be a complex problem, as did routing and dispatching. Then there was the procurement of new digital radios, health insurance, and the onboarding of one thousand new employees. "So trying to do a turnkey operation under the gun in six months that is very high-profile certainly created its set of challenges," Hinojosa added.
However, Smith resigned his post after less than one year on the job to return to his family in the Houston area. Last month, he was named the new director of transportation for Cypress-Fairbanks ISD, succeeding William Powell who earlier this summer was named the district's assistant superintendent of support services.
Meanwhile, last year a group of Canadian investors who were licensed owners of BusGuard technology for use in Canada, decided to purchase the Force Multiplier Solutions intellectual property in a competitive bid, with the goal of making it available across North America. BusPatrol America CEO Jean Souliere said it was only after his new company finalized its acquisition, that it became aware there was a federal criminal investigation against Force Multiplier.
"We owned a license for Canada the same way [Dallas County Schools] owned a license for Texas," Souliere explained. "We were a client for Force Multiplier the same way everyone else was. We were just a client who chose to buy the IP. We wired money to buy the products and then 24 hours later we hear on the news there's an FBI raid."
With the acquisition a done deal, BusPatrol had a decision to make: Focus on the Canadian market, or step in and help Dallas school districts through the resulting transportation crisis?
"The more cautious approach would have been this is not your mess, not your problem—stay out. But there was a problem with that, which I wasn't comfortable with," said Souliere. "The problem was all of the students who are relying on this technology to keep them safe, I would have been responsible for taking that away from them, and that's not part of our culture."
Using its BusGuard technology, BusPatrol America began servicing existing safety contracts not only in Texas, but nationwide. Then it hired a new president, David Poirier, a retired U.S. Army officer who led the capture of Saddam Hussein in 2003. More recently, he was a consultant to Force Multiplier and a licensee operating a stand-alone BusGuard operation in the northeast U.S.
This move kept the Dallas cameras running.
"We entered into an agreement with BusPatrol that does not involve Robert Leonard or Force Multiplier Solutions in any way," Curtis said. "That agreement allows us to purchase the cameras back from Dallas County Schools, allowing Dallas County Schools to raise money to pay off legitimate creditors, and then it also gave BusPatrol the opportunity to purchase the exclusive license to run the stop-arm camera program in the state of Texas."
In the wake of the bad press about DCSD over the past year and a half, which included the government agency acting as a Force Multiplier agent statewide, in violation of its original charter, a number of Texas school districts have chosen to steer clear of stop-arm cameras, at least for the time being. Several districts that were contacted for this story declined to elaborate.
While Hinojosa said Dallas ISD continues working with BusPatrol America on interior bus camera systems, he added his district opted to move away from exterior bus-arm cameras. "There were so many different issues, we just decided that we had enough to do to try and not take that on," Hinojosa added.
But if the stop-arm cameras have a bad name, it stems from bad actors, Curtis said, not from any fault of the technology itself.
"The bad actions of the people involved should not taint what is otherwise a very safe program. Right now as we speak, the cameras that were installed are being used by the independent school districts for safety purposes," said Curtis, who likened the technology to home security cameras.
The dissolution committee's civil lawsuit seeks a threefold return on $125 million in calculated damages caused by Force Multiplier Solutions. Proceeds are supposed to continue to pay off DCSD debts, but those funds may also be distributed back to taxpayers through the independent school districts that formerly contracted with it.
The lawsuit credits investigative reporting by Scott Friedman of KXASTV5 with uncovering the stop-arm camera conspiracy, and publishing 90 articles "detailing the insider dealings that lead to DCSD's debilitating debt."
"We [hope to] show others who are out there in a position of power—judicial, legislative or otherwise—that [abuses of] power will not be tolerated in the state of Texas, it will not be tolerated by the taxpayers, it will not be tolerated by the citizens, and it certainly should not be tolerated when children's safety is at the heart of that behavior," Curtis added.
Editor's Note: Reprinted from the October 2018 issue of School Transportation News.