Several years ago, the main school transportation provider in the Dallas area added stop-arm cameras to its school buses, to keep students safer and bring in revenue from traffic tickets. Taxpayers ended up paying millions of dollars for the cameras—but the technology brought in little revenue.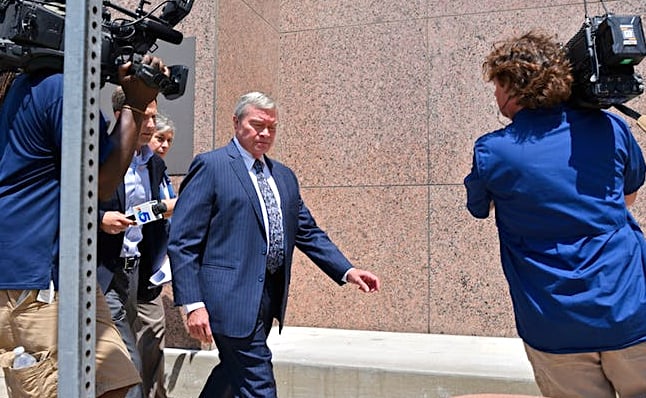 Dallas County Schools, the bus transportation provider formed nearly 100 years ago from a state charter, continued to buy the cameras because the vendor, the former Force Multiplier Solutions, lined the pockets of multiple public officials. And as a result of an FBI and Internal Revenue Service investigation, those involved in the scheme are now serving prison sentences.
Robert Leonard, Jr., CEO of the now-defunct Force Multiplier, paid several bribes to benefit his company, including $450,000 in multiple cash payments, trips, and other gifts to Dallas City Councilman Dwaine Caraway. In exchange, Caraway cast votes on the council [motions] in favor of the cameras.
"They needed an ordinance to ticket drivers who were caught passing the camera," said Special Agent Erik Tighe, who investigated the case out of the FBI's Dallas Field Office. "Caraway was instrumental in making that ordinance happen. He accepted bribes to continue the program."
Tighe and the investigative team used a combination of human sources and financial analysis to unravel the network of bribes.
Caraway pleaded guilty to wire fraud and tax evasion charges and was sentenced this past April to a 56-month federal prison term. Leonard, meanwhile, pleaded guilty to wire fraud charges and was sentenced in May to seven years in prison.
Ultimately, the taxpayer-funded transportation provider paid the camera manufacturer $70 million for the cameras. Force Multiplier continued to pay, even though the cameras were bringing in less revenue from illegal school bus passing violations than they cost.
According to court documents, the program caused "significant and ultimately debilitating debt" for the transportation provider, which eventually closed due to that debt, forcing schools to find another transportation option for students.
"They just kept using taxpayer funds as a piggy bank," Tighe said. "It had a huge impact on the community. Thousands of people were affected by this corruption."
Dallas County Schools, which collected property taxes to purchase stop-arm cameras for its fleet of about 2,000 buses, was shuttered in November 2017, saddled with approximately $103 million in debt.
Bribe Payers, Recipients Sentenced to Federal Prison
Force Multiplier's Leonard was sentenced on May 15 to seven years in federal prison. He was ordered to pay $125 million in restitution for his role in a bribery scheme that took down multiple public officials. [It also] precipitated the collapse of Dallas County Schools, announced U.S. Attorney for the Northern District of Texas Erin Nealy Cox.
Leonard, of New Orleans, also pleaded guilty on Aug. 9 to conspiracy to commit honest services wire fraud.
"In peddling bribes and kickbacks, Leonard undermined Dallas' trust in its public officials. And in bringing him to justice, we hope to restore citizens' faith in the system," said U.S. Attorney Nealy Cox. "As I've said repeatedly over the past year and a half, the U.S. Attorney's Office will be relentless in its pursuit of anyone involved in bribing public officials—from bribe recipients to bribe facilitators to bribe payers. The citizens of Dallas deserve integrity from City Hall."
In plea papers, Leonard, now 71, admitted that he paid local officials—including then-Mayor Pro Tem Dwaine Caraway and former DCS Superintendent Rick Sorrells—more than $3.5 million, in order to secure DCS contracts for his company's stop-arm camera technology.
In an attempt to conceal the illicit payments, the majority of the bribe money was funneled through ELF Investments, a sham consulting firm run by Leonard's business associate, Slater Swartwood. The remainder was funneled through law firms or doled out in the form of credit card debt repayments, student loan payments, custom-made suits, fully funded trips, casino chips, fake loans, funeral expenses and cash payments.
---
Related: Dallas County Superintendent to Plead Guilty to Federal Wire Fraud
Related: Dallas County Schools to Close, School Bus Service Unchanged for Now
Related: Former CEO of School Bus Video Firm Pleads Guilty to Fraud
Related: Dallas Lawsuit Seeks to Recover $125 Million Lost to Stop-Arm Video Scheme
Related: Dallas-Area Districts Prepare to Select School Bus Contractor
Related: Ex-Dallas County Superintendent Receives 7-Year Prison Sentence in Bribery Case
---
A criminal indictment against former DCS Board President Larry Duncan revealed Leonard also gave Duncan a quarter of a million dollars in campaign contributions—money the DCS Board President diverted from his re-election bid and instead used to cover personal expenses.
Councilmembers Duncan, Caraway, Sorrells, and Swartwood, all pleaded guilty to criminal wrongdoing in the case.
Chief U.S. District Judge Barbara M.G. Lynn sentenced Caraway to 56 months in federal prison. Duncan received a sentence of six months of home confinement. Last month, Sorrells was sentenced to seven years in federal prison, and Swartwood was sentenced to 18 months.
Caraway also pleaded guilty on Aug. 9, 2018, to one count of conspiracy to commit honest services wire fraud and one count of tax evasion. He resigned his seat on the Dallas City Council later that same day.
According to plea papers, Councilmember Caraway, now 66, admitted that he accepted about $450,000 in bribes from Leonard.
In return for these kickbacks, Caraway voted to promote and continue Dallas County Schools' stop-arm camera program, which relied on equipment sold by Force Multiplier, which has since gone out of business. Caraway also promoted Leonard's planned real estate development in South Dallas.
The majority of bribes from Leonard to Caraway—which the former mayor pro tem admitted to omitting on his tax returns—were funneled through a sham consulting firm run by Slater Swartwood, a Leonard business associate. The remainder was doled out in the form of custom-made suits, fully funded trips, casino chips, fake loans, funeral expenses and cash payments.
"Over the past year and a half, the Northern District of Texas has been relentless in rooting out public corruption, and we will continue to prioritize corruption cases," said U.S. Attorney Nealy Cox. "This case should serve as a warning to public officials across North Texas: If you betray the trust of your constituents, we will prosecute you. We'll prosecute the bribe payers. And we'll prosecute those who attempt to conceal bribe payments. Anyone who fosters a kickback culture, prioritizing financial interest ahead of constituent rights, will be prosecuted to the fullest extent of the law."