While electric buses are gaining traction for their contributions to reduced emissions, an equally important aspect of transitioning to a green fleet is the experiences of the drivers who are behind the wheel.
A Sept. 26 webinar hosted by the Alliance for Electric School Buses and World Resource Institute's (WRI) Electric School Bus Initiative facilitated a discussion with three school bus drivers who have transitioned to driving electric school buses. Brittany Barrett, senior manager of e-mobility and school district technical assistance at WRI, moderated the discussion.
Barrett opened the webinar by discussing the Electric School Bus Initiative and included the negative effects of diesel emissions on student and driver health, and how federal funding has played a role in the rising number of electric school buses on the roads. Carolina Chacon, coalition manager at the Alliance for Electric School Buses, discussed some of the training and infrastructure concerns that districts encounter when transitioning to an electric fleet. She stated that there are many benefits of driving an electric bus, such as no tailpipe emissions, quieter rides, faster acceleration, and regenerative braking. She also noted the importance of school districts developing training programs so that bus drivers are both comfortable with and adept at using the technology.
Trish Rea, a bus driver and trainer at Three Rivers Community Schools in Michigan, joined the webinar from inside an electric school bus so viewers could get a live demonstration of the quiet startup. She stated that her favorite part of her job is hearing the stories that her students tell her every day.
Carmen Pena-Duran at Modesto City Schools in Northern California said she was inspired to start a career as a school bus driver because her father was a city bus driver. She has experience transporting general education students as well as students with special needs.
"I'm the first person and last person that the students see, so I like to be a positive influence. A lot of our kids don't have that, so I love making a difference," she shared.
Margarita Villalobos, an electric school bus pilot driver at the Salt Lake City School District in Utah, said that school bus driving appealed to her as a part-time job opportunity. Over her 16-year career, she said she has enjoyed being a part of her student's lives and seeing them grow up.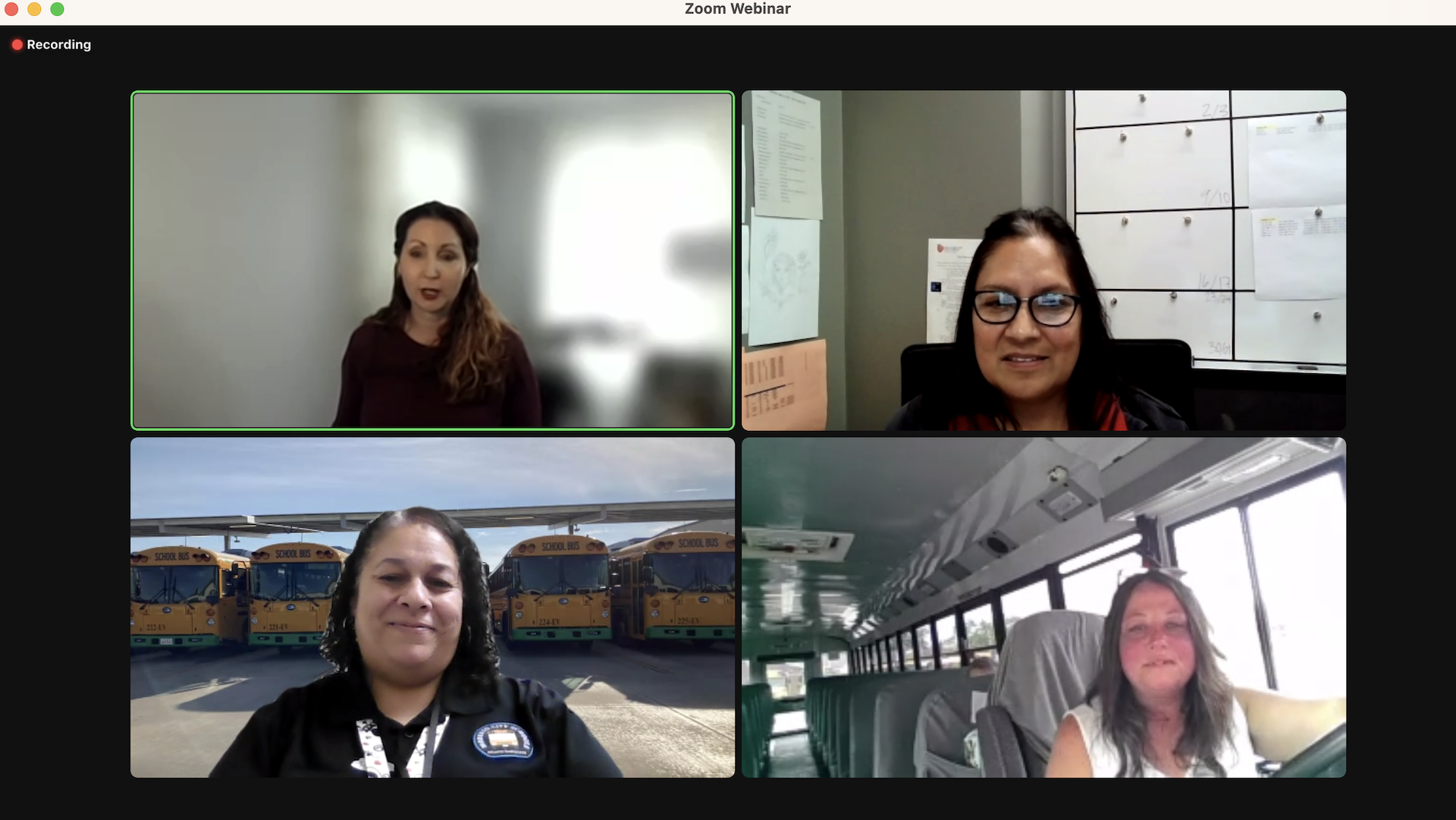 The bus drivers all spoke about the differences that surprised them when they started driving electric buses. Rea drives a Type C Lion Electric bus, while Pena-Duran drives a Type D Blue Bird and Villalobos a Type C Blue Bird.
Rea explained that the quiet ride often prompts people to ask if the bus is even running. She continued that after driving an electric bus for four years, the decrease in fumes from a diesel engine has made her "feel better than I ever have." Rea stated she has a roughly 90-mile route, and that the ride has been noticeably smoother.
Pena-Duran, who suffers from asthma, said she also noticed the benefits of no tailpipe emissions while she drives. She also noted that braking is much easier on her knees. Noting the quiet interior, she continued, "The kids are quieter, and it makes for a happy ride."
Villalobos said she appreciates not having to wear gloves like she must do when she's checking the oil and other parts of a diesel engine. She praised the control of electric buses going downhill, adding that when she releases the acceleration it feels like a much safer speed.
When asked about learning to use regenerative braking, Villalobos said a technician showed the drivers how to efficiently use the system and maximize the number of miles between charges. Pena-Duran mentioned that their district holds competitions to determine how many miles each driver can drive before needing to recharge the battery. She stated that she currently holds the record at 121 miles, earning her the nickname, "The Charging Queen."
Pena-Duran explained that she was initially hesitant to start driving an electric bus, saying that she had been driving the same model for 10 years. However, when given a choice between switching to an electric bus and keeping her old route or driving a new route with a diesel bus, she made the jump.
"It was the best decision I ever made," Pena-Duran shared."It was a win-win for me, and I love driving my electric school bus."
Rea stated that she was apprehensive because she couldn't find much research on what her experience driving an electric bus would be like, but it came down to getting behind the wheel and experiencing the differences for herself.
"I'm glad that I was the one brave enough to do it," she said, adding that she encourages districts to not be afraid to buy electric buses. "Someone will come forward and be the pioneer for your school district."
Rea also addressed how electric buses performed in colder Michigan weather. When the temperature drops below 20 degrees during the day, she said she plugs in the bus to maintain the current internal temperature. She said she is always amazed by how her electric bus handles ice, snow, bridges, and any other inclement weather.
Pena-Duran addressed the opposite situation as she drives in triple-digit weather in Northern California. "One of the things I do love about the electric buses is that we have air conditioners," she said. "With our idling laws, we can now keep the buses running in the school zones, whereas we couldn't before and [it would] be so hot. But now the kids are comfortable."
She continued that the air conditioning system is better than in diesel buses, because previously in diesel she was limited to either low or high settings. But the electric bus has temperature control to adjust to the weather outside. All three drivers stated that they were warm inside their buses even on the coldest of days.
Rea addressed how learning to maximize the battery efficiency is helpful for stop-and-go traffic, Villalobos added that she has seen her bus perform well in areas with heavy construction. All three drivers said they have never run out of battery on their routes. Rea noted that once, when her battery dropped to 3 percent charge remaining, the vehicle went into "limp mode" and wouldn't accelerate over 30 miles per hour. But she said that having a charging schedule allows for her to end the day with 20-40 percent charge left.
Rea and Villalobos said that the local fire departments came to the districts so that they could learn more about the bus, in the event of an emergency. They both said that there were no other pressing safety concerns when starting to drive an electric bus.
When asked, "What is one thing you would tell districts who are considering purchasing electric buses?" Villalobos said, "Give it a chance. A lot of people don't want to try it, but once you start driving it, you'll love it."
"I would tell them to do it, it's a game changer and a win-win," said Pena-Duran. "The students are happy, the bus driver is happy, and it just makes for a perfect day. I love my bus. You will not regret it."
---
Related: Electric School Bus Consumer Education 
Related: Changing the Perception of Being a School Bus Driver
Related: California Governor Signs Bill Requiring Zero-Emissions School Bus Purchases by 2035