After a total of four decades spent working for Thomas Built Buses in one way or another, Ken Hedgecock is hanging up his jersey, so to speak. More aptly, he is trading it in for a new one that serves the school bus industry.
The former high school boys basketball coach, teacher, school principal and longtime vice president of sales, marketing and service at Thomas Buses, officially retires from the school bus manufacturer on Dec. 31. He is opening what he calls the next chapter for both himself personally and the company that has played a vital role in his life since he was 2 years old.
Before fire suppression system provider Fogmaker North America, a USSC Group brand, announced Hedgecock as its new national sales manager on Wednesday, he reflected on his career with School Transportation News in Columbus, Ohio in November.
To say Thomas Buses holds a dear place in Hedgecock's heart is an understatement. Beyond his 33 years of full-time service, the manufacturer has played a vital role in his entire life, almost literally.
Hedgecock's father went to work at the OEM plant in the family's hometown of High Point, North Carolina, in 1958 when his son was only 2 years old. By the time the younger Hedgecock graduated high school, he began a summer job working in the company's refinished paint booth that he would hold for the next 12 years, through college and teaching jobs.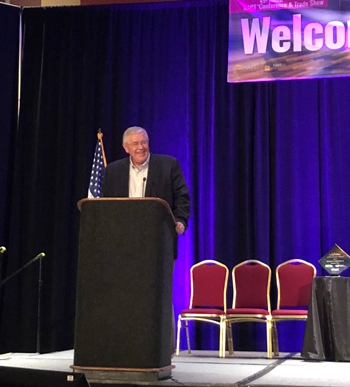 By 1987, when Hedgecock was an assistant principal at a nearby high school, already also having taught several years of Spanish—not with a Southern accent, he pointed out—and coaching junior varsity and varsity basketball, Thomas Buses offered him a full-time position.
"I really, really struggled with making the change, because I really felt like I was called to be an educator," he recalled. "[I] still strongly feel like that was my calling. I just kind of, pun intended, shifted gears to another element of education. Transportation is very, very much a part of the school day. The sooner the general public knows that, and our educational colleagues know that, the better off the industry will be, and most importantly, the kids will be."
Being a teacher at heart, the opportunity at Thomas Buses to work in marketing and service fit him to a tee. Hedgecock said his job was to educate the customers on not only the company's school buses, but more importantly, it's people.
"When all is said and done, it's about the people. Product is important, don't get me wrong. Service is important. The service is provided by people. The products are made by people. It's a people business," he explained. "I feel like my primary responsibility over the last 15 years is to make sure that I communicate clearly that we are there to provide valuable products, valuable service."
The Golden Rule
Hedgecock said the most challenging aspect of his days (and nights and weekends) with Thomas Buses was when school bus orders were late, or worse yet, could not be fulfilled.
"The most difficult thing in this business is when you have to pick up the phone and tell a customer that you're not going to meet the delivery commitment you made to them. It happens all too often. There are so many things beyond our control from a sales and marketing standpoint," he shared. "I always tried to treat our customers just like I would want to be treated if I was in their shoes. More than not the answer was yes. Sometimes the answer has to be no. If you do it with respect and integrity, customers will understand that."
He said he and the company tackled issues by doing all they could to ensure customers were equipped and able to weather the resulting "crunch."
"We've done a number of things over the years, working with dealers to provide spares, paid customers to bring buses they were about to retire up to spec. I never tried to approach it as an excuse. Here are the facts," he explained. "I would want to know as soon as I possibly could to make plans so the kids can get to school. I learned a saying from a customer a long time ago, 'Bad news does not get better with age.'"
However, Hedgecock said he feels he has improved with age. "Experience is an excellent but tough teacher," he added. "When you think you've seen it all, you're about to be surprised. That's when you learn."
And he has done plenty of learning in addition to teaching over the past several decades. But now it's time to pass the baton at Thomas Buses to Jed Routh, who was named Hedgecock's successor.
Routh joined Thomas Buses in 2003, but his and Hedgecock's relationship goes back to 1983. Hedgecock not only taught Routh in high school. He also coached him on the basketball court for three seasons. He said Routh, who for the past decade has been the company's product planning manager, shares an educator's approach to the job. And after a total of 16 years working at Thomas Buses, Routh already believes in the mission of the yellow school bus, and the company's values of integrity and respect.
"I'm very confident that Jed will take our products, our services and our relationships to the next level," Hedgecock advocated. "He's a lot smarter than I am. I know. I taught him. He's the right man at the right time."
---
Related: National School Bus Associations Honor Hedgecock with Lifetime Achievement Award
---
As for Hedgecock, he now takes his service-first principles to Fogmaker, where he will oversee the entire customer experience. The company is heavily targeting the school bus industry, after the National Transportation Safety Board in May recommended that all school buses—new and old—be equipped with fire suppression systems.
Hedgecock said he looks forward to educating school administrators on how fire suppression systems can enhance the safety that school buses already provide. But more so, he realizes his goal of staying "yellow," as in the figurative color of blood that courses through his veins.
"There are people in this industry that I count not just as incredible coworkers and great customers but dear, dear friends. I don't want to lose that," he concluded. "I consider it a blessing to wake up every single day and go to work in pupil transportation, because I know I'm going to make a difference in some kid's life."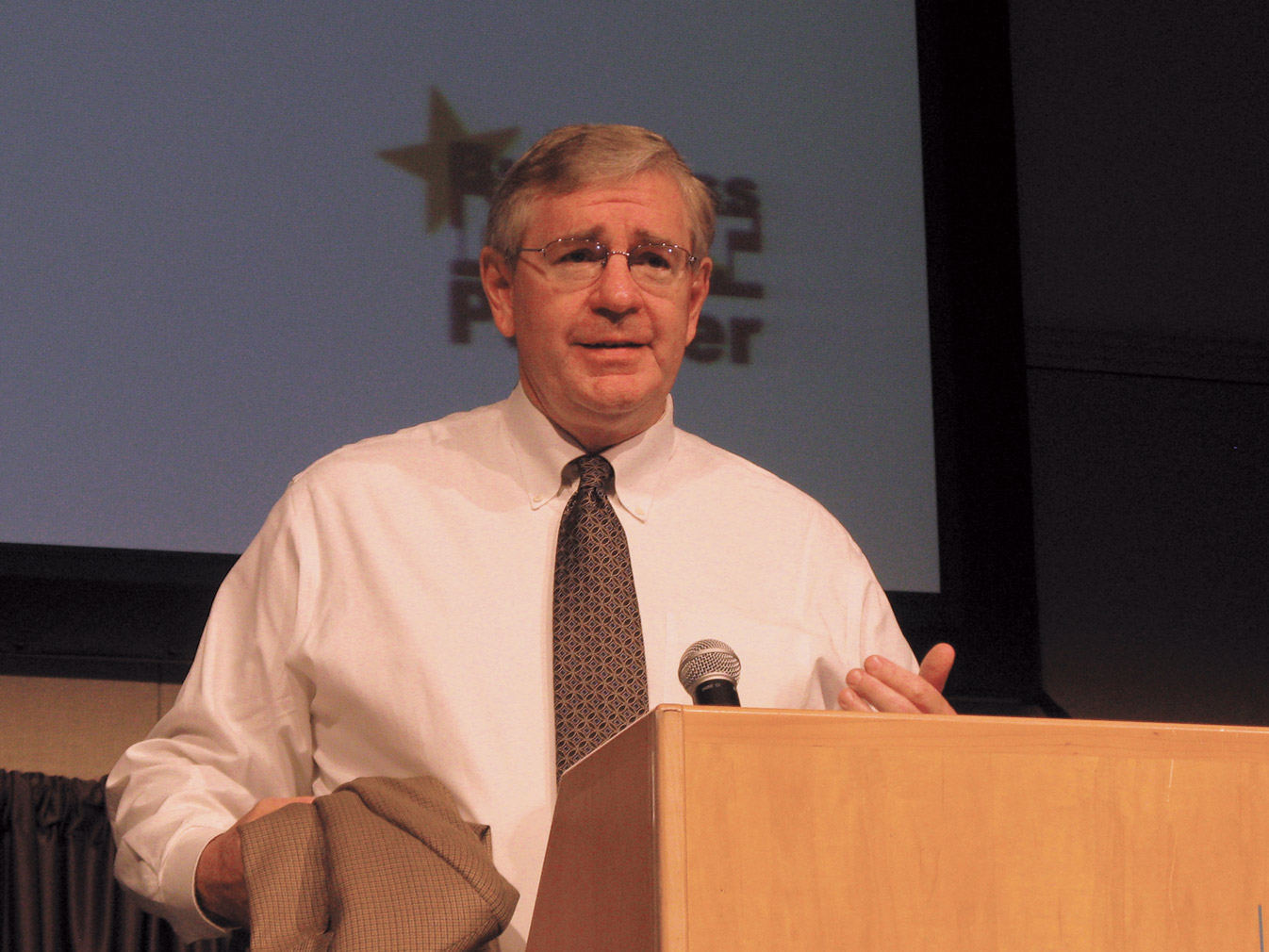 ---
Read Hedgecock's thoughts on many issues, ranging from the driver shortage to technological advances to the role manufacturers play in removing risk.
STN: Has school bus manufacturing gotten more difficult despite technological advances?
Hedgecock: Manufacturing has gone to just in time and just in sequence. What that means is, you're not stocking hundreds and hundreds of parts and putting them on the shelf and waiting for there to be a need for it. You're putting the part on that you need, the day that it comes in and the day it is needed on the line. There's no room for error in any way shape or form. That's made manufacturing much more difficult. Because if there are any hiccups, you're not building that bus that day. Or you're missing a part and it has to go offline. The other thing is that technology has made manufacturing more production from a standpoint of robotics, but robots break, too. That technology is a little more sensitive, I guess you could say, from a maintenance standpoint. You have to stay on top of it. When it lets you down, it lets you down in a big way. If the structural adhesive robot breaks down on us at the C2 plant, we don't build buses that day.
It requires a big investment. … That's where Daimler is such a value to us as a school bus manufacturer. Daimler's technology, R&D, logistics, just what Daimler brings to the table, provides us a competitive advantage in the marketplace. I don't think there is any doubt that there would never have been a [flagship Saf-T-Liner] C2 product or C2 plant without Daimler.
STN: What have been the biggest advances during your career in terms of technology?
Hedgecock: I think the buzz word in today's age is connectivity, but I think it goes beyond connectivity. I think it's just the ability to do so much more, so much faster than we used to. That's a double-edged sword, from my perspective. … That level of expectation has not only impacted the sales, service and marketing, the dissemination of information, it's also impacted our customer's expectations. They expect so much more out of the vehicles and out of the OEMs from the standpoint of technology and response. We live in the age of immediate gratification.
The key thing is advanced driver assistance systems (ADAS). This industry has always had the perspective of, if it ain't broke, don't fix it, because we're very, very good at what we do. I sense there is a desire not to just be good but to be perfect. We have to be perfect … Zero, zip, nada, none [fatalities] … It's very hard to achieve, but that should be what we strive for. I'm excited that I sense that change in our industry, to try new things. There are so many things we can do to help that drive do their job. I'm so excited about what ADAS is going to bring to student transportation.
STN: How much responsibility do OEMs have in removing risk?
Hedgecock: Manufacturers have to take the point on it. We need to be the tip of the spear when it comes to technology. We need to make sure we're listening to our customers on how it's applied.
STN: How do manufacturers walk the line between offering technological advances and being cost-conscientious for customers?
Hedgecock: It comes down to resources. [School districts] either don't have technology resources, or human resources or financial resources. That's where the national associations can be of service, to help smaller districts from a training perspective, technology perspective, and research perspective. There's a role for those associations to take a lead on that with assistance from the OEMs. The biggest challenge is resources. The root of that is for the most part that pupil transportation is not seen as part of the educational process. It's a support function. It needs to be seen as part of the educational day. Until it's seen as a part of the educational day, we're going to continue to struggle for resources.
STN: What would you do to change the perception?
Hedgecock: I think the thing that I would do is that I would reach out to other educators. I would do my very best to form an alliance with them and not fight each other for resources, but band together to fight for resources.
STN: What more can the industry do?
Hedgecock: We've tried to do that recently with the American School Bus Council. We have a booth at the Association of School Business Officials, we have a booth at the National School Board Association and we have a booth at PTA. We're at least trying to get our messages out there by having a presence at these trade shows. What we've failed to do from an ASBC perspective, and it's not because we haven't tried, is to find a partner from a business perspective that will actually be our resource from a financial perspective to really help us get that message out there. And we really need to get that message out to Mom and Dad. … What I am encouraged about is I see no waning in the passion from my colleagues in this industry. They love what they do, because they love the kids they do it for. I think as a result of that, there have been very, very creative ways to combat the lack of resources.
I think the only thing in the industry we're not in lockstep with is seatbelts. That battle is still going on. We can't even get the federal government to take a stance on it. That's overcome-able.
STN: Speaking of seatbelts, is there a tipping point for manufacturers to make them standard equipment?
Hedgecock: The tipping point obviously is where there is a liability issue, and that hasn't happened yet. There have been numerous lawsuits where you didn't have seatbelts on buses, you could have put seatbelts on buses … but it's not a federal mandate. The biggest thing from an OEM perspective on seatbelts is we'd alienate our customers if they were standard. It is such a divisive issue. So, we make them available like other options.
STN: How would you solve the driver shortage?
Hedgecock: You have to pay them. You have to raise the status of that profession to that of true professionals. They need to be respected as part of the educational process. They are trained very, very well, but they need to be full-time. There is no more precious cargo on the road than somebody's child. With the term professional comes compensation. That's how capitalism works. The more attractive you can make the working conditions, the more likely you can increase the concept of professionals and hopefully draw more people to it. The driver's compartment is their office. When you improve the ergonomics, the technology, they are going to do a better job and feel more comfortable.
STN: Thank you.