COLUMBUS, Ohio — Ken Hedgecock was honored on Monday for 33 years of leadership and career accomplishments at school bus manufacturer Thomas Built Buses, with a school bus industry Lifetime Achievement Award.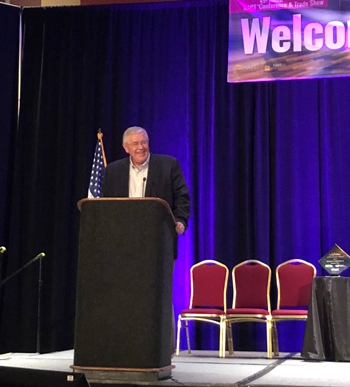 The National Association for Pupil Transportation, National Association of State Directors of Pupil Transportation Services and National School Transportation Association jointly announced the Lifetime Achievement Award during a general session on Monday during the NAPT Summit. Barry Sudduth, NAPT's president, said it is the highest award the three national associations can jointly bestow.
"We, therefore, want to publicly celebrate his tremendous contributions to the industry," Sudduth proclaimed.
Hedgecock, Thomas Built's vice president of sales, marketing and service, is retiring on Dec. 31, 2019.
"I should be thanking you rather than the other way around," he told the audience after accepting the award. "It's truly a blessing to get up every day and do something you know makes a difference."
He joined Thomas Built full time in 1987. Previously, Hedgecock worked summer jobs at the High Point, North Carolina plant. His father began working at Thomas Built when the younger Hedgecock was 2 years old.
However, Hedgecock started his career as a teacher and basketball coach. He was an assistant principal at a high school when Thomas Built hired him full time.
"I'm so, so grateful to be a member of the Thomas team as well," he added.