We've all been there. We make a suggestion that we're certain will make things better. Instead of being greeted with support or acceptance we're met with waffling, or worse yet, resistance. Whether it's stated or not, the message is clear – "Please move on to other issues." Frequently it sounds something like this: "Thank you for your suggestion. We'll take it under consideration."
I recently attended an IEP meeting where I was invited to review a student's progress towards transportation independence. This junior high student with special needs was to be learning "stranger danger" so that she would be able to travel to the neighborhood bus stop safely. Eventually, the goal was that she would be capable of getting to school as her non-disabled peers do. This student was very "high-functioning" and just needed to learn some safety habits. It would not have been unreasonable to expect her to not require special education transportation at all by her sophomore year in high school.
The student currently walks 50 yards or so from a transitional bus stop to where the grandmother is waiting in front of her house. What wasn't stated, but was hinted at frequently at the meeting, is that the current arrangement is working just fine. We don't need to change it. In fact, when I raised the concept of moving her bus stop a little further away there was a great deal of pushback. Apparently, taking such a logical next step might be potentially risky. It seems that the teacher hadn't been teaching any mobility skills. The parents hadn't been pushing for it because the current arrangement was really convenient. In fact, one of the therapists at the meeting suggested we really don't need to change anything until the student turns 16 and the law requires us to create a transition plan.
The issue facing me was: Do I have the courage/guts to keep pushing for what is clearly the right thing for the student when the teacher, therapists and even the parent didn't want to go in that direction? After all, my suggestion would mean extra work for several of us – including me. In this case I felt strongly enough about the issue to not be quiet. At the insistence of the director of special ed and the director of transportation (me) we will be creating and teaching a series of lessons aimed at improving this student's mobility skills. With this "encouragement" the team got on board. At the next IEP meeting I look forward to helping this very capable student achieve the next step in independence.
Sometimes advocating for students requires the courage to keep pushing. However, you might risk alienating your friends and co-workers when you do so. The question is: "Do you have the guts to keep pushing anyway?"
---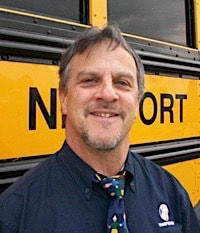 Pete Meslin is the director of transportation at Newport-Mesa Unified School District in Orange County, Calif., and a national speaker on student transportation issues. He is a past chair of the STN EXPO and frequently contributes to the magazine. He blogs with Peggy A. Burns, an STN contributor, attorney and owner of Education Compliance Group.