SEATTLE, Wash. — In celebration of National School Bus Safety Week, held by the National Association for Pupil Transportation (NAPT), Zonar, the leader in smart fleet management technology, is reviewing the history of school buses and how technology has been used to ensure the safety of passengers and drivers while on the road.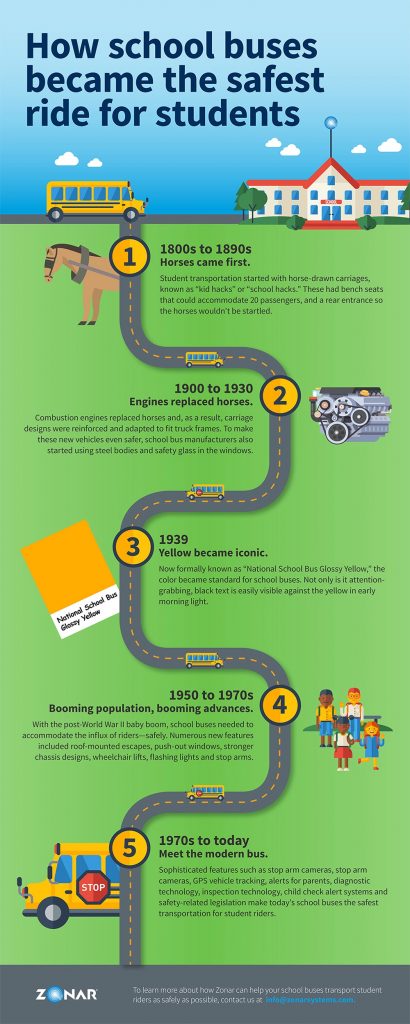 According to the Environmental Protection Agency, school buses transport approximately 23.5 million students more than 4 billion miles each year. The vehicles remain the safest form of student transportation to and from their homes.
"This year's theme is 'My School Bus, The Safest Form of Student Transportation,' which is a wonderful way to recognize the safety advancements and regulations being created to ensure the safety of our most precious passengers—our children," said H. Kevin Mest, senior vice president of passenger services at Zonar. "Zonar is committed to helping school officials, manufacturers and parents implement and be aware of best practices and latest features that work together to protect everyone on the road."
Zonar creates solutions that collect and analyze data from a wide variety of vehicles, including trucks, school buses and construction equipment. This information empowers drivers and fleet managers with the data and analysis needed to better navigate any route and safely manage passengers.
Zonar technology is on nearly 200,000 school buses nationwide, helping school districts bolster and improve the safety of school bus passengers, and providing parents peace-of-mind by ensuring they know where their children are while on the road. Zonar has strategic partnerships to enhance its pupil portfolio, such as: Child Check-Mate to provide schools with a child safety alert system and Verra Mobility for school bus stop arm safety cameras.
About Zonar
Founded in 2001, Zonar has pioneered smart fleet management solutions throughout vocational, pupil, mass transit and commercial trucking industries. Zonar's mission is to enhance the safety, performance, and success of our customers, by transforming the delivery of innovative insights for commercial fleets worldwide. Zonar achieves this by helping fleets of all sizes maximize the use of their assets with solutions dedicated to improving compliance, efficiency, maintenance, ridership visibility, safety and tracking.
Cloud-based services with open APIs drive Zonar's smart fleet solutions by making it easy for fleet owners and managers to stay connected to their fleets and drivers and operators to dispatch. Headquartered in Seattle and majority-owned by technology company Continental, Zonar also has a Technology Development Center in downtown Seattle, a regional office in Cincinnati, and a distribution center outside of Atlanta. www.zonarsystems.com