ROCKFORD, Ill. — Bergstrom, Inc., a leading designer and manufacturer of cab climate systems for commercial trucks, off-highway machines, military vehicles, specialty vehicles and niche automotive markets, has been recognized as one of the outstanding suppliers for systems and assemblies by the school bus manufacturer Blue Bird Corporation.
The award was announced in October at Blue Bird's annual supplier conference in Macon, Georgia. It recognizes the commitment to quality, innovation, service and cost management.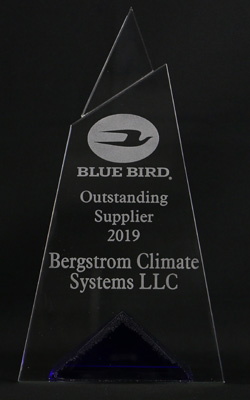 "What an amazing honor to receive this from such a key customer," said Gus Anton, president, Global Commercial HVAC, Bergstrom, Inc. "We value Blue Bird as a partner, and we've established great communication between all levels of both organizations with a focus on continuing to increase the value-add we can provide to Blue Bird. It is truly a great customer/supplier relationship.
"This award is a tribute to the many Bergstrom employees who support Blue Bird," continued Anton. "Without their dedication and selfless service, I know that achieving this award would not be possible."
Bergstrom was one of only nine suppliers to be recognized as an outstanding supplier from a supply base exceeding 400 companies that provide various products and services to Blue Bird. Blue Bird utilizes a cross-functional approach when nominating and selecting suppliers for such recognition. Attributes taken into consideration include quality performance, on-time delivery, cost-management activities, innovation, and support of Blue Bird's Parts & Service (aftermarket) segment.
"We have always been pleased with Bergstrom's continuous support and innovation across all disciplines to create a collaborative environment to improve existing products we already buy, along with exploring new technologies and opportunities," said Jay Rojek, executive director of purchasing at Blue Bird. "Their team continually demonstrates their wealth of knowledge to support our continuous improvement initiatives. We are thankful for the partnership we have with Bergstrom."
Bergstrom won the award in 2016, and the company was recognized as one of a few suppliers that has won the award multiple times.
"It's such an honor to be recognized," said Anton. "We are very humbled and thankful. Our primary goal is to support our partners and customers with excellent service and the latest technology, so this award again exemplifies the great relationship we enjoy with Blue Bird."
Bergstrom began producing heaters for school buses in 1952 and has grown into the largest supplier of school bus heaters in the U.S. Recent developments include the new Cool Zone system, which Bergstrom created using industry expertise in commercial vehicle HVAC systems to engineer a high performance, OEM-quality air conditioning system for the school bus market. Each school bus air conditioning system is customizable and can consist of any combination of bus HVAC systems.
About Bergstrom, Inc.
Bergstrom, Inc. is the leading designer and manufacturer of cab climate systems for heavy-duty commercial trucks, off-highway machines and specialty vehicles. By combining progressive engineering talent, lean manufacturing principles and a global footprint, Bergstrom offers a unique blend of commercial vehicle marketplace focus and customer value. www.bergstrominc.com