CINCINNATI, Ohio — A First Student maintenance manager was named one of the best in the school bus industry several days ago. Frank Naelitz has made the Auto Care Association's annual list of World Class Technicians.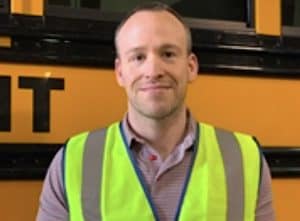 Naelitz is responsible for maintaining a fleet of more than 125 school buses that provide safe and reliable transportation services for the Elyria City School District and Euclid City Schools in Ohio. Naelitz has 14 years of experience in the transportation industry.
Of the nearly 900,000 automotive technicians working in the U.S., 45 qualified for the 2019 World Class Technician Award. Only 2,000 technicians have earned the respected status since its inception more than 30 years ago. The program is held in partnership with the National Institute for Automotive Service Excellence (ASE). The Auto Care Association and ASE provide the designation to technicians who test and obtain ASE certification in 22 specialty areas.
"First Student is committed to ensuring excellence in our maintenance operations," said First Student Regional Maintenance Manager Frank Gagliano. "Being designated a World Class Technician is an extraordinary accomplishment, requiring years of hands-on work and learning. We are proud Frank has joined this elite group. He truly represents the best our industry has to offer."
The First Student locations Naelitz oversees in Elyria and Euclid are ASE Blue Seal shops, which is the highest certification given by the organization. The achievement recognizes a commitment to recruiting top technicians, supporting their ongoing training and providing the best equipment for vehicle maintenance.