CINCINNATI, Ohio — The National Safety Council (NSC) has presented Darryl Hill, senior vice president of safety for First Student, with its 2019 Distinguished Service to Safety Award, the highest NSC honor thas is given to an individual safety professional.
The award recognizes outstanding service in the field of safety and health. Six individuals received the award this year. Recipients must show a sustained impact on safety at the local, national or international levels that resulted in increased injury prevention.
The Distinguished Service to Safety Award was presented at the opening session of NSC's Congress & Expo in San Diego, California.
"I am honored to accept this prestigious honor from the National Safety Council," said Hill. "Safety is at the core of everything we do, and the safety and security of our passengers is a tremendous responsibility that we take very seriously. As an industry leader in transportation, First Student has been a pioneer when it comes to developing, designing, and implementing safety training and technology, and I am proud to be a driving force in this effort."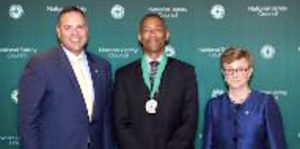 Hill has more than three decades of safety experience. His background spans diverse organizations that include information technology, manufacturing, engineering and healthcare. At First Student, the company's hiring, training and ongoing development programs for drivers and monitors help deliver the safest ride in the school transportation industry.
In addition to his professional accomplishments, Hill has held leadership positions within the safety industry, including serving as president of the American Society of Safety Engineers. He is also an editor and contributing author of "Construction Safety Management and Engineering."
About First Student, Inc.
As the leading school transportation solutions provider in North America, First Student strives to provide the best start and finish to every school day. First Student completes five million student journeys each day, moving more passengers than all U.S. airlines combined. With a team of highly-trained drivers and the industry's strongest safety record, First Student delivers reliable, quality services including full-service transportation and management, special-needs transportation, route optimization, and scheduling, maintenance, and charter services for 1,100 school district contracts. www.firststudentinc.com