HIGH POINT, N.C. — On Nov. 28, Thomas Built Buses celebrated the start of production and delivery of the first Saf-T-Liner C2 school bus that is equipped with the new Detroit DD5 engine. This delivery comes one month after Thomas Built officially sold its 2018 allocation of DD5 engines.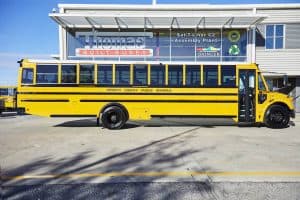 Onsite at Thomas Built Buses to accept the keys to the Saf-T-Liner C2 was Josh Davis, director of pupil transportation for Henrico County Public Schools in Henrico, Virginia, along with Floyd Merryman, president and CEO of Sonny Merryman, Inc.
"We've always loved the Saf-T-Liner C2, and we heard great things about the new Detroit DD5 engines," said Davis. "From greater efficiency to lower maintenance and cleaner emissions, we can't wait to try this new engine in our school district."
The Detroit DD5 engine is a 5.1L engine that is adapted specifically for the Thomas Built Buses Saf-T-Liner C2. School districts can expect increased fuel economy, which equates to more than just money saved on fuel. The less diesel and DEF consumed means the after-treatment system does not have as much to process, leading to fewer regens and improved reliability, as well as the longest service intervals in its class.
The DD5, which was designed from a clean sheet, meets all of the current emission requirements and has a head start on the ones to come. The DD5 engine also comes equipped with Detroit Connect Virtual Technician remote diagnostic service.
The Market is Excited About the Debut
"The market is excited about the debut of the Detroit DD5 engine, and we were eager to officially start production and put the keys in the hands of our first DD5 customer," said Caley Edgerly, president and CEO of Thomas Built Buses. "I think Josh and his team are going to be pleased by how efficient, powerful, reliable and clean this new diesel engine is. I look forward to touching base with them in a few months to see how well the DD5 is performing."
Customers can order the DD5 for 2019 delivery by contacting their local Thomas Built dealer.
About Thomas Built Buses
Founded in 1916, Thomas Built Buses is a leading manufacturer of school buses in North America. Since the first Thomas Built bus rolled off the assembly line, the company has been committed to delivering the smartest and most innovative buses in North America. Learn more at thomasbuiltbuses.com or at facebook.com/thomasbuiltbuses.
Thomas Built Buses, Inc., headquartered in High Point, N.C., is a subsidiary of Daimler Trucks North America, LLC., the largest heavy-duty truck manufacturer in North America and a leading manufacturer of class 4-8 vehicles. Daimler Trucks North America produces and markets commercial vehicles under the Freightliner, Western Star and Thomas Built Buses nameplates. Daimler Trucks North America is a Daimler company.