HIGH POINT, NC — Thomas Built Buses, in partnership with MITO Corp. and CUB Group, debuted a prototype of its new pedestrian detection technology at the STN EXPO in Reno on July 17, 2018.
"I am excited about our debut of the first school bus pedestrian detection system in collaboration with our technology partners MITO and CUB. We've worked really hard to get it right," said Leslie Kilgore, VP of engineering for Thomas Built Buses.
"Most accidents that involve a school bus actually happen outside the bus," he said, "when children run into the road, step too close to the bus, or even kneel down to get something that has fallen under the bus. As diligent as bus drivers may be, sometimes they just can't see a child around certain areas of the outside of the bus. That's the problem we are hoping to solve. With our new pedestrian detection system, we hope to avoid unnecessary pedestrian accidents in the front, back and sides of our buses, even within blind spots. Working with the CUB Group and MITO Corporation, the technology is 90 percent there, and we are excited to show the industry this vital new safety feature."
Part of the BusWise Technologies, the new pedestrian detection feature will be comprised of LED ground lights on the cross-view mirrors, as well as multiple radar units on the 77GHz frequency band, which will be installed around a Thomas Built bus. These higher frequency radars, which are used for autonomous vehicles and high-resolution meteorological observations, allow more precise detection and measurement of a pedestrian or object within 10 feet of the front, back or side of the school bus—the entire traditional danger zone is visible. When a pedestrian is detected, the system will alert the driver on an in-cabin tablet, as well as through caution lights on the cross-view mirrors.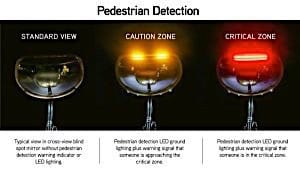 "We are fortunate to have partners like Thomas Built Buses that share the values of protecting the lives of school children," said Dan Maloney, president of MITO Corporation. "Along with our partners at CUB, our team strives to continually provide the finest and most thorough technology available to mitigate a tremendous issue facing the school transportation industry."
"CUB is extremely excited to work with the industry leader, Thomas Built Buses, on such an important feature," said Augustin Leung, VP of the ADAS Division of CUB Group-North America. "Saving lives and mitigating accidents is a key focus to CUB, since we are an industry leader in ADAS and driver safety devices."
Thomas Built Buses will show the pedestrian detection system at other upcoming shows and will announce a production date in the near future, officials said.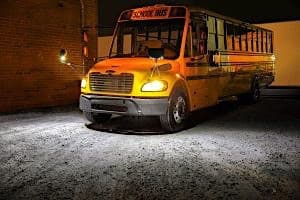 About Thomas Built Buses
Founded in 1916, Thomas Built Buses is a leading manufacturer of school buses in North America. Since the first Thomas Built bus rolled off the assembly line, the company has been committed to delivering the smartest and most innovative buses in North America. Learn more at thomasbuiltbuses.com or at facebook.com/thomasbuiltbuses.
Thomas Built Buses, Inc., headquartered in High Point, N.C., is a subsidiary of Daimler Trucks North America LLC, the largest heavy-duty truck manufacturer in North America and a leading manufacturer of class 4-8 vehicles. Daimler Trucks North America produces and markets commercial vehicles under the Freightliner, Western Star and Thomas Built Buses nameplates. Daimler Trucks North America is a Daimler company.