PELHAM, Ala. — Transportation South, Inc., Alabama's largest school bus provider, recently hosted the eighth annual "Love the Bus" celebration on Tuesday, Feb. 14, which honored Alabama's best school bus drivers as voted by the students, parents and teachers they serve. Sue Takacs, a veteran Morgan County Schools bus driver, was announced as the 2017 Alabama "Love the Bus" Driver of the Year.
Takacs' nomination was submitted by Hank Summerford, the Transportation Supervisor of Morgan County Schools. An excerpt of the nomination included:
"Mrs. Sue is a wonderful person and goes above and beyond the call of duty as a bus driver. She is always enthusiastic, cooperative, and the consummate professional. She is always taking care of her children like a 'mother hen' therefore the entire community loves Mrs. Sue. She makes sure they have everything they need, and if they don't, she finds the resources to get every student on her bus what they do need. She bakes goodies all the time for our mechanics in the shop when it's her day for maintenance on her bus. She takes care of everyone she comes in contact with; that's just who she is."
Approximately 34 bus drivers were nominated statewide, and over 150 people attended the event. Each school system in Alabama nominated at least one driver, with some of the larger systems nominating more. Chad Carpenter, Alabama State Department of Education Program Administrator, spoke about the incredible track record of the school bus industry as a whole and within the state of Alabama.
Other bus drivers honored as finalists included the following: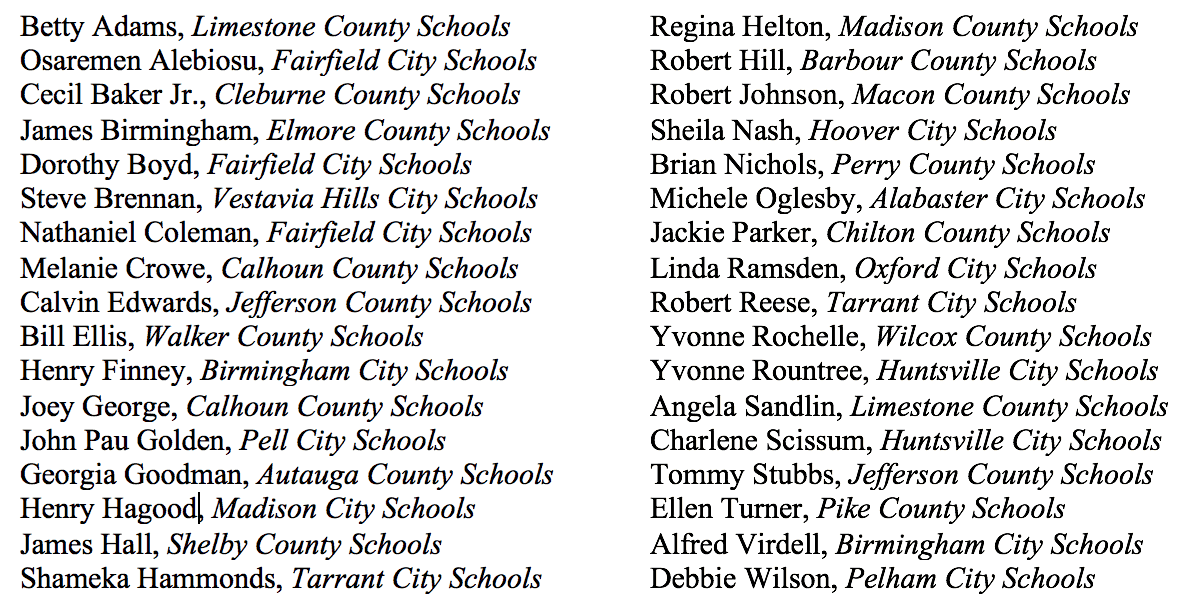 Founded in 2007 by the American School Bus Council (ASBC), the "Love the Bus" program is celebrated on Valentine's Day and throughout February in school districts across the country as a way to raise awareness and appreciation for the hundreds of thousands of school bus drivers who safely transport more than 26 million school children to and from school each day.
"There are thousands of great drivers, but we also have many drivers that have a real heart for their jobs," said Bucky Law, president of Transportation South. "They realize that in a lot of cases when a student gets on the bus, their face might be the first smiling face they see all day long, and in the afternoon when they drop that student off, it might be the last. All of these drivers are like that, or they wouldn't be here today. We are so proud to honor Ms. Takacs with this great honor as the 2017 Alabama "Love the Bus" Driver of the Year."
School Bus Facts:
There are approximately 480,000 school buses in the U.S.
School bus transportation is the largest and safest transportation system in the country
A child is 13 times safer in a school bus than the average of other transportation methods
The nation's school bus system eliminates the need for an estimated 17.3 million cars on the roads each morning and saves approximately 2.3 billion gallons of gas annually
Drivers receive specialized classroom and behind-the-wheel training in driving a school bus, student loading/unloading procedures, student evacuation, student behavior and security management and emergency medical procedures
About Transportation South
Transportation South, Inc. and its sister company, Mid-South Bus Center (Murfreesboro, Tenn.), offers an exceptional selection of new and used buses and vans for schools, churches, retirement communities, daycares, hotels and more. The companies offer post-sales support and service that is unmatched in the bus business. Founded in 1972, Transportation South and Mid-South Bus Center deliver more than 1,000 buses each year. www.thebuscenter.com
About the American School Bus Council
The American School Bus Council (ASBC) represents a unified voice of the school transportation industry, including state transportation officials, public and private transportation providers and the manufacturing segment—all representing more than 480,000 yellow school buses transporting 26 million children to and from school each day. ASBC is committed to supporting and providing safe, effective, efficient and healthy transportation for our nation's schoolchildren. www.americanschoolbuscouncil.org