UMA recognized the industry's best and brightest professionals during its annual Leadership Awards on Tuesday evening. UMA President & CEO Vic Parra, who was recognized later in the evening with a touching tribute and standing ovation prior to his upcoming retirement, said this evening was his favorite each year.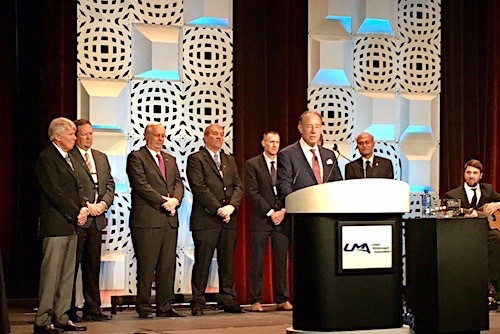 UMA President and CEO Vic Parra at the podium during his speech.
"Tonight, we recognize accomplishments in our industry. We celebrate their successes and our successes—individually and collectively," he said to begin the event.
Chairman of the Board Dale Krapf served as emcee for the ceremony. In addition to the awards, there was fine food and drinks, music and drawings for $500 and $1,000 prizes.
One of the highlights of the evening was the tribute to Parra, who is retiring in March after 19 years at the helm of UMA. Members made a video wishing Parra well in this next stage in life, calling him a tireless advocate and a good friend. "God bless all of you, and I will miss you, too," Parra said.
The evening then concluded with the popular Cigars & Cordials.
UMA Leadership Awards winners and others recognized are as follows:
UMA Maintenance Competition Winners
2nd Runner Up: Pete Haunold, Holland America Princess, Alaska Yukon
1st Runner Up: Eric Hale, Holland America Princess, Alaska Yukon
2017 Grand Champion: Tim Brown, Huskey Trailways, Festus, Missouri
UMA International Driver Competition Winners
2nd Runner Up: Dennis Luman, Red Carpet Charters
1st Runner Up: Ronny Shade, Krapf's Coaches
2017 Grand Champion: Stephen Davis, AT&T Charters
Drivers Earning Master Driver Designation
Rory Birge, Happy Trails Charters, Inc.
Anthony W. Griffith, A.W. Griffith Transportation Consulting, LLC
Dennis Luman, Red Carpet Charters
Ronny Shade, Krapf's Coaches
UMA Green Highway Award (Sponsored by MCI)
Small Fleet Operator: CIT Signature Transportation, Ames, Iowa
Large Fleet Operator: Village Tours, Wichita, Kansas