Editor's Note: This profile is part of an ongoing series on women who have made a significant impact on the school transportation industry.
Pamela McDonald did not always see herself in school transportation. Instead, she had her sights set on fighting crime and arresting criminals. Thirty-four years later, she said she is happy with her career choice.
In 1985, McDonald became a bus driver at Orange Unified School District in California (OUSD) and, 34 years later, she continues to work at OUSD as the director of transportation.
Looking back in time, McDonald was attending college in 1985 and studying law enforcement. In between classes, she was earning a little above minimum wage,  $2.65 an hour, at a local fitness club. At work, she met a bus driver for Orange Unified School District in Southern California. If she was hired, he pointed out, she could make $7.50 an hour.
"I was like, what? To drive a school bus?" McDonald recalled. "I'm 19 years old and I'm thinking I could move out of my mom's and dad's house. Back in the day, that's all we cared about."
McDonald soon learned how to drive a school bus and eventually did get her own place. She was still attending college to become a police officer, but after five years at the district as a bus driver, a dispatcher position opened up. Her path toward leading the district's transportation operations was set.
By 1995, she was asked to step in as the interim transportation manager, and a year later she was hired permanently.
"And the police office career went bye-bye," McDonald said. "I was making the same amount of money as police officers, and I didn't have to work nights, weekends or have bullets shot at me."
While McDonald did obtain her associate degree in police science, she kept getting promoted at Orange Unified and couldn't say no to the continuing opportunities.
"Like most of us start out, we don't think this yellow bus is going to be our career," McDonald continued. "I was just doing it as a job to get money, move out of my parent's house and continue going to school for my career. I got my AA in police science, but I kept getting promoted here and kept working here. And now, I'm still here and hoping to retire soon."
Currently, McDonald serves as the director of transportation and mechanical services for Orange Unified. She also oversees the district's white fleet, in addition to all student transportation operations. Her duties include directing the parent-pay program, bus passes, training department, dispatch office and vehicle maintenance services.
"Once you start bleeding yellow, it's in your system. You get to know other people who bleed yellow and you start becoming one big family," McDonald said. "It's not just the state of California, its people in other states, too."
McDonald said she loves that so many people in the school bus industry are passionate about their jobs. When they don't share the passion, she said they don't stay in the industry very long.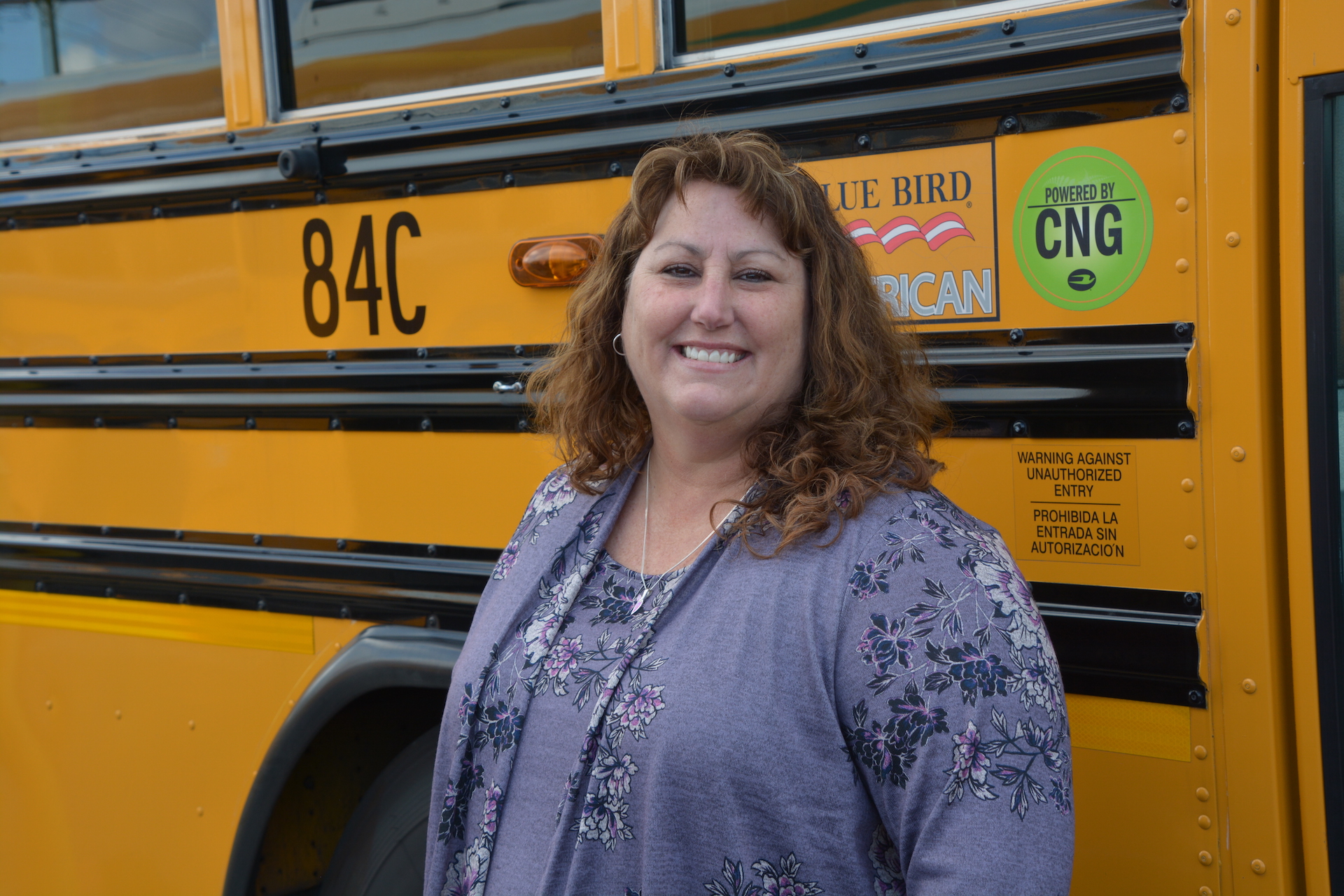 McDonald has spent her entire career with Orange Unified, something she is very proud of. Before McDonald became the director, during her first eight years at the district, she had 11 different directors. For her to still be the director after 23 years is another great accomplishment.
McDonald is also proud of her work and involvement with the California Association of School Transportation Officials (CASTO). She was its president from 2009 to 2011 and then again in 2018. She has also been involved with the California Association of School Business Officials (CASBO) since 1995, for which she serves as chair of the state transportation professional council.
While she remains very busy, often juggling oversight of district operations with frequent CASTO and CASBO trips to the state capital in Sacramento, McDonald said she is looking forward to winding down.
"I just need to try and find someone [to become the next director]. There are some good people out there, and I just need them to step up and take over,"  she said.
Over the past three decades, she has had her share of challenges.
"When I became a director in 1995, I was young, and it was a man's world. It was hard to get my foot in the door in some areas, because—I hate to say it—I was a young female," McDonald said. "I just kept pushing and not giving up. That's how I think I have become so involved in CASBO and CASTO."
Another hardship for McDonald was having to fire drivers. As a director, one has to be able to lay their head on the pillow at the end of the day and know they have done the best they can do, she explained. However, when you lose that trust in an employee, you have to part ways.
"Nobody likes to fire anybody," McDonald said. "But it has to be done."
In 2014, her district experienced a terrible school bus crash. A school bus driver had a medical emergency behind the wheel and passed out while driving down a hill. The school bus slid off the road into trees and students were injured. According to McDonald, the driver had a medical issue that allegedly was not disclosed when the medical exam was conducted. The National Transportation Safety Board investigated because the bus was equipped with lap/shoulder seatbelts, per state law, and onboard video captured footage of how students who were bucked up were protected.
"It was a very sad situation," McDonald explained. "You worry at night, is it going to happen again? Are you doing everything you can? I go to a lot of conferences; if my district doesn't pay, I'll pay myself. I have paid a lot of years out of my own pocket to go to conferences, to find out if we are doing the best job we can here. That weighs on you, because you want to do the best job you can."