The quest to create a midsized, conventional school bus with maximum fueling flexibility has reached fruition after two years of development, and the new Starcraft Quest XL bus is set to be unveiled at the STN EXPO in Reno, Nev., on Monday, July 28.
Joe Angeli, school bus sales manager at Creative Bus, told STN the Type B bus is built on a highly proven Ford F59 chassis and is initially available in gasoline and CNG models. Propane and electric-powered options are scheduled to debut next spring.
"The Ford chassis, which is used for trucks, panel vans, RVs and commercial buses is at the heart of the Starcraft Quest XL's versatility. In addition to the standard 6.8L Ford gasoline engine, prep packages for CNG and LPG are available. Many UPS and FedEx delivery trucks are built on the same chassis. Electrification, the Starcraft Quest eXL, will be coming soon, as well," noted Angeli.
The "revolutionary" bus platform combines the tried and true with something new, he said — and it is the only school bus in its class with a gasoline engine. The Quest XL comes in two seating configurations, 47 passengers or 41 with a wheelchair passenger via an installed lift.
"We feel so fortunate to be in a position to have this product and its variable fuel nature. It's a great opportunity and it's two outstanding companies," he continued. "One of the beautiful things about this particular platform is that Ford is everywhere. Across the country, there's always a Ford shop around to get things repaired if need be."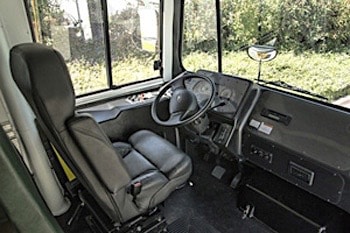 Angeli emphasized Starcraft has been an "amazing" partner, bringing together Ford, the chassis manufacturer and Green Alternative Systems (GAS) to collaborate on the project. GAS engineered the CNG fuel system installation, and is now engineering the propane installation.
"Due to the diligent efforts of all involved, the project came together much faster than anyone expected," he said. "We've been working with them for several years to figure out how to get into the alternative market with school buses. They used their connections to come up with a platform that we could build a bus on, not just a minibus, but something bigger, something (for) the midsized market. When they did it, they did it really well."
Creative Bus Sales has implemented a "soft launch" of the bus the past several months, showing the Quest XL bus at the CASTO Mechanic's Workshop in South Lake Tahoe in June and distributing a flyer at the Southeastern States Pupil Transportation Conference in Daytona Beach, Fla., last month.