Amid a historic tie-breaking vote in the Senate to confirm Betsy DeVos as U.S. secretary of education, the Council for Exceptional Children issued a statement calling for protecting a free and appropriate education for all students, especially those with special needs.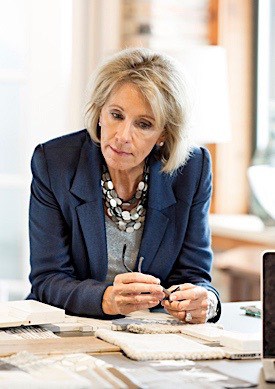 On Tuesday, following DeVos' confirmation, CEC President Mikki Garcia said the organization will seek "to ensure her understanding of the tenets of the Individuals with Disabilities Act and the critical role that special educators and early interventionists play in supporting children and youth with disabilities and their families."
She added that CEC members expect DeVos to uphold and enforce IDEA, and not divert public IDEA funds to support private and charter schools, of which DeVos is an outspoken proponent. Instead, Garcia said the U.S. Department of Education must guarantee civil rights of all students with disabilities as well as those of their families are not violated.
"Now is not the time to turn back the clock on over 6.7 million children and youth with disabilities," she added.
The American Association of School Administrators issued a more reserved statement that said it "welcomes the opportunity to continue to work with Congress and the administration—including recently confirmed Secretary DeVos—to ensure that educational equity and opportunity are the reality for all our nation's students, and that our nation's public schools remain at the forefront of our broader conversation on education and student learning."
The National School Boards Association, the sister organization to AASA's school superintendent members, also congratulated DeVos.
This comes after individual members of several groups, including the CEC, AASA and NSBA, have voiced their anxiety of DeVos being in charge of public education. CEC advocates sent 27,751 letters to Capitol Hill during DeVos' confirmation hearings asking their senators "to ensure that the rights of children and youth with disabilities and their families are protected."
American Federation of Teachers went as far as to openly call for the Senate to reject the nomination.
Senate Democrats were outspoken in their opposition.
"It's not a job for amateurs who don't know the first thing about education," said Sen. Al Franken of Minnesota, who grilled DeVos during confirmation hearings last month. "I voted against the nomination of Betsy DeVos, a billionaire Republican donor, because she is the most incompetent cabinet-level nominee I have ever seen."
DeVos has been candid in her support of charter schools and voucher programs, so it should come as no surprise that the National Alliance for Public Charter Schools cheered DeVos' confirmation.
"We believe that Secretary DeVos will put students and families first and we look forward to working with her to ensure each child has access to a high-quality public school and a safe and supportive environment in which to learn," the organization said in a statement.
The NAPCS is a strong proponent for both charter schools and voucher programs.
School Transportation News reached out to the three national school bus associations for comment on DeVos' confirmation. Both the National Association of State Directors of Pupil Transportation Services and the National School Transportation Association declined comment. The National Association for Pupil Transportation had yet to respond at this writing.
For the first time in a confirmation process of a presidential Cabinet appointment, Vice President Mike Pence had to cast the deciding vote to break a 50-50 stalemate to usher DeVos onto President Trump's team. Last week, Republican Senators Lisa Murkowski of Alaska and Susan Collins of Maine broke ranks and sided with Democrats against DeVos.
Stay tuned to School Transportation News for more reaction on the DeVos appointment and its expected impact on transportation service.