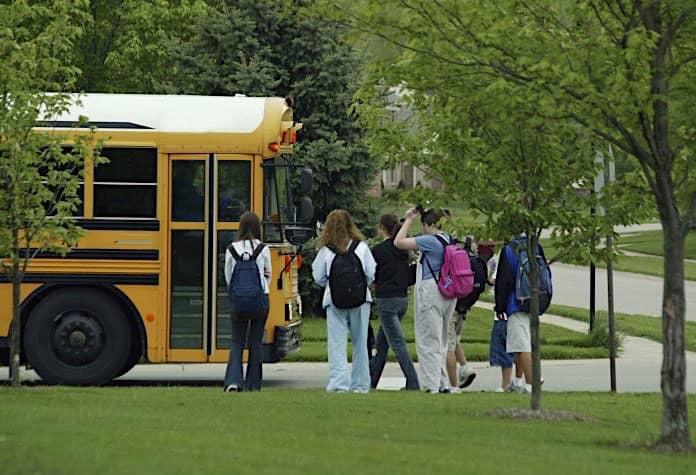 Realizing the importance of specific school bus security training for both drivers and student riders, school districts are implementing training specific to bus hijackings or active shooter situations.
In a survey administered in March, School Transportation News asked readers nationwide with the titles of transportation director, supervisor or fleet manager, about what kind of school bus security training they provided for drivers and students. Results showed that 73 percent of respondents trained their drivers on how to respond to an active shooter incident, but only 20 percent trained students on what to do in the same situation.
Hutto Independent School District near Austin, Texas develops and conducts its school bus security training in-house, and has been doing so since the Columbine school shooting in 1999. Director of Transportation David Uecker said the district is conducting a live training this month to test the awareness and reactions of drivers and students to an actor playing an unidentified college-age stranger who is attempting to board the bus.
"(It's) just to see if students and driver are aware enough to even detect when someone doesn't belong at the stop or on the bus," Uecker explained. "Then we'll see, does this guy make it the whole trip? Does the guy make it to school? Does the guy make it into school? So, it'll carry on into campus."
The district is also setting up after-hours exercises with local police officers, who will conduct a training breach on a school bus, possibly breaking windows or using paint balls to practice handling a perpetrator.
"It works really well," said Uecker, who has conducted similar trainings in his previous district. "They learn what they need with the buses they'll actually be working on—not an old, outdated, retired bus that no longer has the same window structure, seating structure and aisle width that the new buses have."
Driver training is also conducted, with scenarios being posed and drivers questioned on what they would do in the event of a student injury, a stranger boarding the bus, an angry adult trying to confront a student rider, or fights on the bus.
Related: Training Students, Not Just School Staff Vital for Surviving Incident
Pittsburg Unified School District in Contra Costa County near San Francisco, conducts annual in-service school bus driver sessions. These not only cover security issues and protocols, but they also include a mock hijacking.
"We go through the process of what the drivers are supposed to do, what code they're supposed to call in on the radio," shared Matthew Belasco, director of maintenance, operations and transportation. The training is then critiqued by the administrative team, while staff members are invited to help brainstorm ways to make the process easier or more efficient.
Annual student emergency evacuation training covers the importance of being prepared and staying calm in the event of a takeover or hijacking. However, Belasco noted that such trainings had to be handled with care, in order to avoid panicking younger children.
"We do our best to cover that so that the students will be as prepared as they possibly could be," he explained.
The district also conducts annual meetings with police and fire departments on protocols and processes for hijacking or active shooter situations on a school bus. Last school year, police used a PUSD bus to carry out a training on how they would handle an active shooter or hijacking. Belasco said that the district would be open to helping coordinate such a training again and having a representative on hand to observe.
Related: Hey, Ms. Bus Driver, 'Am I safe on this school bus?'
Jackson County Central School District, located near the southern border of Minnesota, already has in place precautionary safety policies, including preventing unauthorized students or parents from boarding the school bus, and requiring written notes or parent phone calls for changes in student ridership.
Transportation Director Jim VanderVeen shared that the district has had police conduct active shooter drills on campus and is discussing a similar training for the school bus.
"The training of our students on the bus—that program we need to step up a little bit. We've worked hard on securing our building but that will be our next step," he said.
"Effective Active Shooter training that is completely specific to the school bus … this doesn't seem to necessarily exist," another respondent to the STN survey commented. "ALICE (Alert, Lockdown, Inform, Counter, Evacuate) covers the buildings, but not our buses."
Editor's Note: Read more about how the job of school bus driver has evolved to include more complicated tasks and training in the May 2018 issue of School Transportation News.