RENO, Nev. — At the STN EXPO, employee culture expert Don Harkey presented proven ways to understand and apply good management principles for a happier workforce and healthier companies and school districts, especially in light of school bus driver shortages.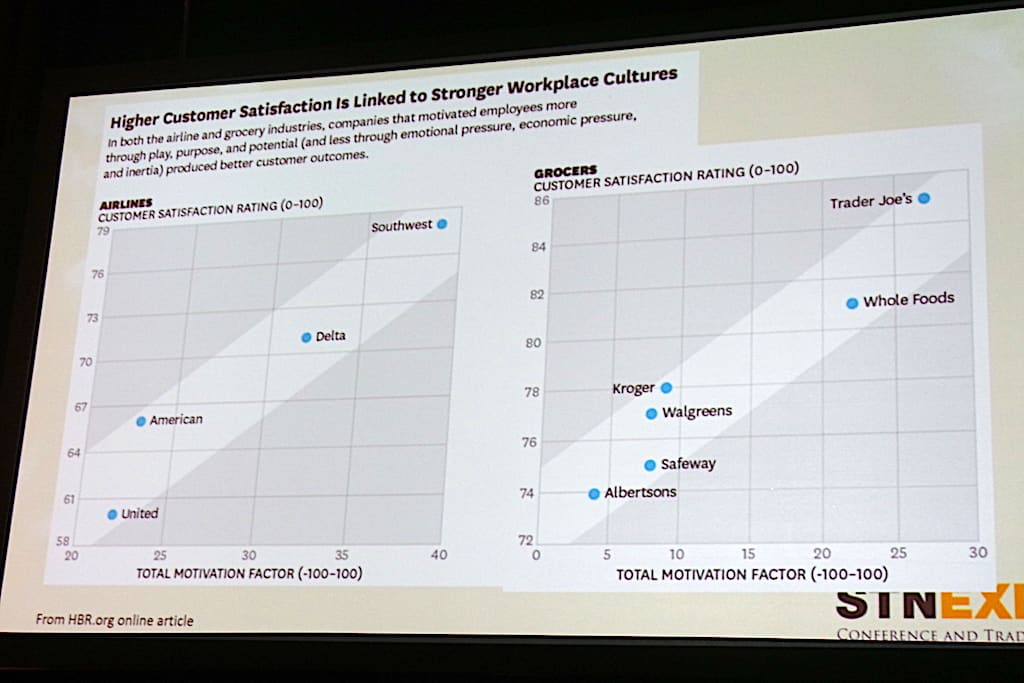 Everyone wants hard-working employees, said the founder and chief innovation officer for People Centric Consulting Group in Jefferson, Missouri during the Monday morning keynote address. But some of the methods commonly used to get them are not the best ones.
"Your job as a manager is not to make people successful; it is to help them succeed or fail quickly," said Harkey, adding that the best way to do that is through creating a definitive workplace culture.
This starts with inspiration. Harkey showed a video of comedian Michael Jr. observing, "When you know your 'why' your 'what' has more impact." Harkey followed that up with the observation that 30 years of research is discovering that why we work determines how well we work.
Good managers don't just tell employees how to fix problems. Harkey recounted a story in which he consulted for a company and discovered they were throwing away excess product that amounted to $40,000 a year. The manager told Harkey to fix the problem, but Harkey tasked a recent hire with that job. A month later, the employee had cut the waste in half, and three months later he had eliminated all the waste.
Since he'd made his job easier, he went looking for other problems to solve. He was able to find better manufacturers for products they used, and eliminate redundant processes. He went on to save the company $250,000 a year through his improvements.
Harkey showed a chart that compared companies with positive cultures that customers appreciated, like Southwest and Trader Joe's, with companies with a perceived mediocre or even negative culture, like United Airlines or Albertson's. He explained that companies with high levels of employee engagement have customers who are more satisfied and loyal. This also results in increased sales.
The numbers for employee engagement in the US are as follows: 33 percent of employees are engaged, 51 percent are disengaged, and 16 percent (or one in six) are toxic. People who work with toxic employees are 54 percent more likely to quit their jobs. Cutting a toxic employee, while undesirable in the short run due to shortages, is much better for your culture, current employees, and company in the long run.
Seventy percent of disengagement is caused by management. Harkey shared the five following tips to create people-centric management and thereby lead the whole company to success.
Understand leadership styles. Leadership can be Authoritarian (controlling with no team input), Democratic (viewing team members as participants), or Laissez-faire (hiring smart people and letting them work). Learn to use all of these styles, and evaluate when to use them effectively.
Communicate better. Communicate and listen. Realize which of the following communication styles the manager has and which the employee has: the Outliner uses logic, values, and systemic inquiry; the Empathizer values human interaction; the Go-Getter craves action and getting things done; and the Whiteboard User places a high value on ideas, innovation and concepts.
Be a Coach. Don't just solve problems, start a conversation and help employees solve the problems themselves. "We make our people dumber by solving problems for them all the time," Harkey said. Coaching isn't cloning, teaching, or telling. It needs to be authentic and nonjudgmental.
Run better meetings with the four C's. Provide Context, encourage Collaboration, require Commitment, and Circle back to check on assigned tasks.
Cultivate accountability. Do what's necessary for your organization's success, even if that means having the hard "Watershed Conversation" with a toxic employee: Offer to work with your employee but be clear that they have to change their attitude; otherwise if the employee can't resolve their attitude and issues with the company, they will leave, but be clear that they cannot continue to work at the company acting like they are. Either way, a decision will be made, and you will be rid of a toxic employee.
"Where do you find dedicated employees? They already work for you," Harkey explained. He finished with three main takeaways: Culture Matters, Management Influences Culture and Train Your Managers.