Editor's Note: This profile is part of an ongoing series on women who have made an impact in the school transportation industry. 
---
In 1989, Trish Reed had just graduated college with a major in finance and a minor in economics and then started her career at Navistar Financial. Now 30 years later, she runs one of the industry-leading school bus OEMs, IC Bus.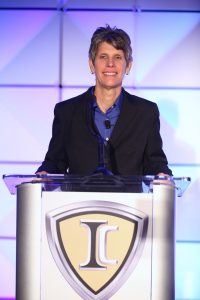 Reed started with Navistar Financial by collecting past-due truck payments. From there, she continued moving up in the company, becoming the vice president of business operations and then the general manager of specialty vehicle segments. Now she serves as vice president and general manager of Navistar's school bus division, a position she has held for five years this August.
Reed said her current job duties consist of "everything IC," from product development to manufacturing and to sales and marketing.
"I did not plan on doing this; one working for the same company for 30 years; and [two] being in the same industry for 30 years," Reed said. "I think one thing that really attracted me was the people I worked with. They were really good people with integrity, who wanted to do the right thing for the customers and the industry, whether that was in the truck or bus industry. Who you work with plays a big part in how long you stay with something."
Another aspect that has kept her in the industry is dealing directly with truck or bus customers. She said they are also good people with high integrity.
"I hate to use the word, salt of the earth, but it is," Reed said. "It's good people doing good things. And then, when I came over to the bus side, I really got excited, because the bus industry is a smaller industry. [It is] made up of such wonderful people with a higher purpose and higher mission of getting kids to and from school safely each day."
It's the people who continue to inspire Reed and fuel her love for the industry, as well as the role she plays in helping students get to school and home again, safely. Reed wants industry professionals to take a step back and realize the greater impact they are having on society.
"The fact that we are getting kids to school who might not have a chance to get to school; These [are] bus drivers—the people that interact with these kids every day. [They] are having such an impact, a positive impact," Reed said. "The bus driver is typically the first and last [school district representative] a student sees as part of their school day. There are so many positive stories on the impact that these bus drivers have on children's lives. I don't think we step back and reflect on that enough, how big of a deal that is."
Reed said the direct role one plays in the industry doesn't matter. Whether someone is a bus driver, transportation director, private contractor, OEM or supplier, everyone who is involved is contributing to the largest mass transit system in the U.S.
"The fact that we are transporting 25 million students to school every day, people in the industry need to take a step back and think about that and the tremendous impact it has," Reed observed.
However, that same impact continues to influence people outside of the industry. Reed feels that school buses not only have the safest record of transporting students to and from school, but students are taught independence, communication skills, and conflict resolution tactics. Students also form lasting memories.
"I think about my time on the bus," Reed said. "The bus rides to and from school, or even athletic events—that is something special that you want to keep special—and make sure it doesn't get disrupted by something coming from another innovative trend."
Reed is always trying to challenge herself and push herself to try new things and embrace new ideas. Some of her earliest challenges included moving to a new state and developing a rapport with a new group of dealers and customers. Looking back, Reed identified her time living in Atlanta, where she led the East Region office, as a time of personal growth.
"I had to put more effort into that than maybe if I had been a male. Who knows for a fact, but it felt that way," Reed said. "So, I think that it was always a little bit of effort. I've said this a lot, 'What doesn't kill you makes you stronger.' All that experience makes me better in the long run."
As Reed progresses through her career, one goal is to always challenge herself and never grow comfortable. Putting herself in different teams is one way she accomplishes that goal. Reed has stepped into leadership roles where she is not the subject matter expert, so she has had to learn from the team members who are.
Reed recalled walking up on stage at the 2019 IC Bus dealer meeting to the song "For the First Time" by Hootie & the Blowfish singer Darius Rucker. The song talks about letting yourself go and taking chances. The chorus of the song, "when was the last time you did something for the first time," was what inspired her speech.
"I think we always have to be focused on learning, growing and changing. When we were younger, that comes naturally. As we age, I think it is a natural progression. We get a little more comfortable and settled, maybe we believe we know all we need to know."
Reed continued, "I find myself having to challenge myself, [asking] are you learning, growing and changing? The other philosophy I have is, when you put yourself in uncomfortable spots, or you do something for the first time, that tends to be when you grow the most."
Reed continues to fuel change and learning by encouraging different ideas and thoughts. One of her greatest accomplishments so far was holding the IC Bus Innovation Summit in February 2017. The company brought in leaders from both inside and outside the industry, to encourage conversations about trends and the impact of disruptive technologies. Afterward, Reed was happy to have heard such good dialogue and ideas being discussed.
"Sometimes we get stuck in this day-to-day [rut]. It was really great to think about not just a year from now but five years from now, 10 years from now," Reed said.
Another IC accomplishment she is proud to be a part of was the decision last year to make electronic stability control and collision mitigation technology standard features on all of its new school buses. IC Bus was the first OEM to make this announcement, and Reed said the company was unsure of the initial reaction its customers were going to have. However, Navistar and IC Bus officials felt it was the right thing to do for the industry, and they ended up receiving very positive responses.
Going forward, as the GM of IC Bus, Reed said she hopes to continue thinking about emerging technology on a school bus and how to make implementing it easier to use for their consumers. As the demographics shift, Reed sees new technology as becoming an expectation of student transporters and parents, alike, and IC Bus as leading that development.