The Sanford School District in Maine added 31 new propane autogas school buses to its fleet, marking its first venture into alternative fuels.
 Contractor Student Transportation of America owns and operates Ledgemere Transportation, which provides route service for the district. STA purchased the Blue Bird Vision buses as replacements for older diesel buses. In doing so, the it entered a joint investment with Down East Energy to operate the 4,000-gallon propane fuel tank on STA property, said Greg Stinson, the company's vice president of operations for Northern New England.
STA said it chose propane for the location because it is less expensive to install compared to other available alternative fuels. The new propane Visions have been in operation since the start of school in September, added Eric Knowlton, the district's assistant superintendent. He explained that the replaced diesel buses were all eight to nine years old, so biodiesel was not an option for them.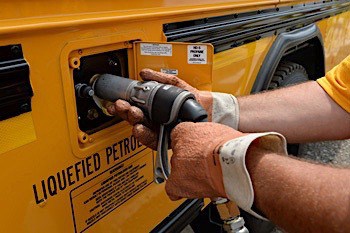 Student Transportation of America said drivers and transportation staff are utilizing fast-fill propane pumps during fueling.
"To date, there have been no issues, smooth running," he told STN. "No smell and very quick to warm up and provide heat — a vast improvement over diesels."
The 31 new buses are fueled via high-speed pump. STA's Stinson added that the bus drivers appreciate the quiet operation of the new gas-powered engines compared to the older "loud" diesels.
"They also love how quickly the engines reach operating temperatures for the heating and defroster systems functions," he said. "The school district is excited about having replaced their aging diesel buses with a more fuel-efficient, environmentally friendly fleet. The benefits to Sanford's citizens are safe transportation for their students, with cleaner air and reduced noise pollution for the entire community."
He also noted that certain employees received re-fueling certification training, while the company's technicians attended certified training on the engine fuel system, which is expected to require less maintenance than diesel.
David Theoharides, Sanford's superintendent, said the propane buses are forecast to save nearly 25 percent on fuel costs in year one and reduce carbon dioxide by 12 percent.
"As school budgets and funding for our district gets tighter every year, we are always committed to finding cost savings," he added. "In conjunction with our transportation provider, Ledgemere/STA, we found that propane buses would not only save the district money, but also reduce the environmental impact of using diesel."
STA said its alternative-fuel fleet now totals more than 1,300 vehicles in six states, including the nation's largest propane autogas fleet in Omaha, Nebraska.