The state senate in New Jersey unanimously passed legislation to upgrade an existing school bus seat belt law to require lap and shoulder restraints in response to last month's fatal Paramus school bus crash.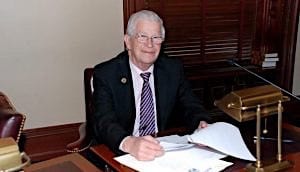 The bill that passed on Monday requires that all school buses manufactured on or after the 180th day following the bill's enactment be equipped with three-point lap and shoulder seat belts. Gov. Phil Murphy is expected to sign the bipartisan bill into law.
The current bill was originally introduced in 2013 by Sen. Sam Thompson, Ph.D., after the fatal Feb. 2012 Chesterfield school bus crash killed one student and injured 15 others. The National Transportation Safety Board (NTSB) investigated the crash and concluded that the misuse of existing two-point lap seat belts, plus the lack of lap and shoulder belts, contributed to the severity of injuries.
"I've worked for the past five years to address a glaring safety deficit in the school buses that our children ride every day," said Sen. Thompson. "When this measure is signed into law, students riding a bus will finally have access to the same lap and shoulder seat belts that we trust to protect them in their family cars."
The Paramus School Board approved a new three-point seat belt policy earlier this month and ahead Thompson's bill passing the senate.
In a related development, last month's NTSB crash investigation report on fatal 2016 school bus crashes in Baltimore and Chattanooga, Tennessee recommended that New Jersey amend its statutes to require school buses to be equipped with lap and shoulder seat belts. Current state law only requires lap belts in school buses.
Sen. Thompson noted that his legislation, substituted as A4110, complies with the NTSB's recommendations, by requiring that all new school buses be equipped with three-point lap and shoulder seat belts.
"The NTSB's recommendations confirm that the legislation I've proposed is the right approach to improve school bus safety for our children and other passengers," said Thompson. "It's hard to believe there would be any remaining doubt that this legislation should move forward."
He concluded that, "Our new school buses must be outfitted with this extremely affordable form of protection. I have no doubt it will save lives."