Careful Bus of Brooklyn just brought hybrids back after a successful pilot test of a retrofit package for gasoline-powered, Type-A school buses.
Last month, the contractor increased the number of its hybrid school buses using the XLH system from connected vehicle electrification manufacturer XL. The system, which is approved by the New York State Department of Transportation for both Ford and GM HEV school and shuttle bus chassis, uses regenerative braking to decelerate and electric assist to accelerate.
"Upon acceleration you feel (the hybrid system) right away," explained Marty Hoffman, vice president and co-owner of Careful Bus. "There's a certain smoothness. You're not driving a fully electric vehicle, but that first couple of seconds you feel like you are in one. Then there is no difference (compared to a regular gasoline bus), but you can feel the regenerative charging when braking."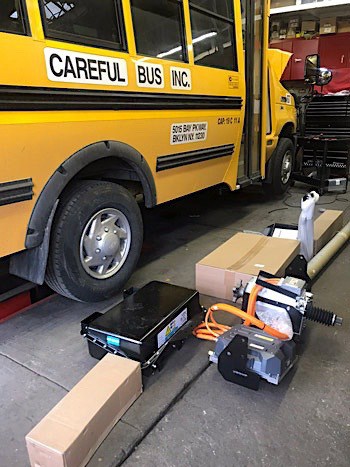 Careful Bus said the XLH retrofit kit installs in a day.Hoffman said the family-owned company has already seen a more than 25 percent increase in fuel economy, a 20 percent decrease in carbon dioxide emissions, and a 20 percent increase in front-wheel brake life.
"Brakes don't have a great life expectancy in the city," Hoffman added.
Careful Bus, which has transported students across the five boroughs for the past 46 years, became the first school bus operators to pilot the XLH system last September, at the suggestion of dealer Bird Bus Sales and concluded the project in February. Hoffman said his company had been interested in alternative fuels, but was discouraged by a lack of what he termed viable options for the company's city routes.
After the pilot test returned positive, Careful Bus purchased four additional systems that XL installed last month. Hoffman said it takes a technician about a day to install the kit on the company's 20-passenger Micro Bird SRW models that are built on the Ford E-350 gasoline chassis.
"I'm a mechanic by trade and I was impressed by the quality of the (XLH) components," he commented. "I'm very skeptical, and I've seen salesmen come and go, but when I saw the quality of the device, I was interested in trying it. It can't disable my vehicle and there are very little moving parts."
Attempts by large and small school bus OEMs a decade ago to develop factory-installed, diesel-hybrid systems never caught on, but Hoffman said retrofit kits make sense to Careful Bus as either a long-term or short-term solution. He said the plan is to retrofit 5 percent of the company's fleet of 88 Type-A school buses each year with the XLH.
"Replacing with a fully electric new bus works for us, but so does retrofitting a bus with life left in it," he added.
Feedback from the company's school bus driver corps has also been positive. "Attracting drivers today is difficult," he explained. "A lot of our drivers like the fact they have a vehicle that says hybrid on the side. I really didn't think about that when we began this project."
Careful Bus transports about 1,500 students a day for the New York City Department of Education, 80 percent of the riders on Type-A school buses.