Up until now, we've faced student safety outside the school bus as we always have. We've focused on educating passing motorists on how and when it's safe and legal to pass a school bus. We've relied on drivers to recognize and know the expected behaviors when it's not safe to pass the bus, with ticketing and fines the result of stop-arm violations that are caught either on video or in person. The unfortunate reality of this approach on its own is that it will take a long time before we are able to reach our targets of Vision Zero.
In order to make a real and impactful difference that results in a reduction in incidents today, not years from now, we need to approach this problem differently.
Finding a More Effective Solution is Urgent
Eight students were killed in school bus loading and unloading accidents in the 2016-2017 school year. This number is double that of the number of students killed in similar situations during the 2015-2016 school years. And late last year we saw evidence that the 2018-2019 school year was looking even worse. In the space of one week, Several children were killed and others injured in multiple incidents outside of school buses across the nation.

The 2018 NASDPTS National Stop Arm Violation survey shows 108,944 school bus drivers reporting 83,944 vehicles illegally passing their buses on one single day alone. The study surmises a 180 day school year would result in over 15 million violations.
Our children are—and will remain—in harm's way, as we add more cars, more drivers and distraction to our daily lives. Taking the above survey numbers into consideration, it's disheartening to know that we will continue to hear of accidents that could and should be prevented. Children will needlessly face injury and even possibly death outside the school bus—unless we do something really different from what we are currently doing today.
Catching and Ticketing Stop-Arm Violators is Not Enough
We only need to look at the issue of drunk driving to see that a requirement for change in how we approach accidents outside the school bus is necessary. Consider the millions of dollars spent every year to prevent drunk driving. These high-profile, high-cost campaigns have been running nation-wide for the past 30 years. And yet, every day almost 30 people in the United States die in drunk driving related crashes. In 2017, one person died every 48 minutes. Drunk driving related deaths have fallen by one third over this 30-year timespan, but drunk driving continues to claim an average of 10,000 lives a year.
It's clear that education and the resulting repercussions of bad decisions (fines, loss of license and even jail time) help affect positive change. But it's also clear from the drunk driving information shown above that change takes time and, in this case, time is not on our side.
One more child injury or death is one too many.
Technology and Out-of-the-box Thinking Can Drive Change
Radar technology, predictive analytics and approaching the problem from a different angle are about to change how we manage this most serious issue. Our hope is this new technology and innovative perspective, the Predictive Stop Arm will help drive down the number of accidents, the number of injuries, and the number of student deaths outside the bus.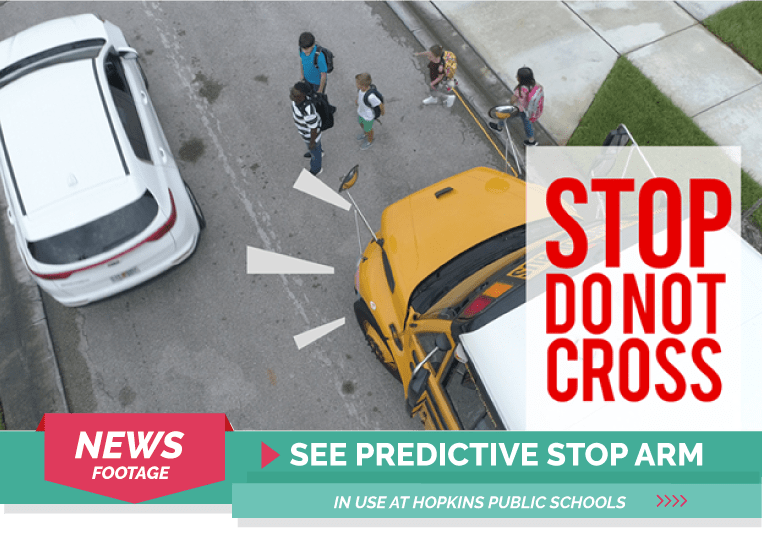 At Safe Fleet, we believe a shift from solely trying to control the behavior of passing motorists to one in which we actively engage with the students directly can help students better avoid the danger of distracted motorists. We're using radar technology and predictive analytics to monitor oncoming vehicle traffic around the school bus, gauging the risk of stop-arm violations and proactively issuing audible and visual warnings inside and outside the bus. Both the driver and the students are notified when it's not safe to cross.
Our goal is to prevent the accident before it occurs and help springboard us all towards Vision Zero. And to do this, we are doing things differently.
For more information on Safe Fleet's Predictive Stop-Arm product or to learn more about Safe Fleet's Intelligent Perimeter Safety Suite of solutions, please contact us at info@safefleet.net. Join us in Indianapolis on June 9 for a live demo of our Intelligent Perimeter Safety Solutions during STN EXPO Indy.