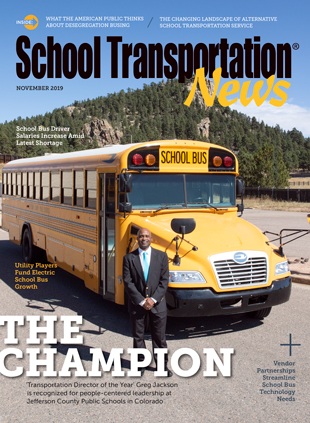 Meet our 2019 Transportation Director of the Year, Greg Jackson, from Jefferson County Schools in Colorado. This month's issue also covers electric school buses, the driver shortage and more.
Cover Story
Running Towards Every Challenge
Greg Jackson is known throughout Colorado for his charismatic personality and relationship-driven style of leadership—two reasons why he was chosen as this years' "Transportation Director of the Year."
Features
All Charged Up
Electric school bus options are not only becoming increasingly popular with school districts, but also with local utility companies that seek to create sustainable energy grids.
Salary Figures
The school bus driver shortage continues nationwide, despite a slight rise in the average hourly wage. How else can school districts attract new applicants and retain current staff?
Special Reports
On-Demand
Parents are expecting school districts to include the latest technology on their buses. The result is a greater reliance on integrated solutions from multiple vendors.
Busing for School Integration Lacks Support
The U.S Supreme Court in the 1990s said busing was no longer needed to desegregate schools. But is school choice now contributing to a new lack of racial diversity?
Sections
Feedback
Online
Trends
Ad Index
Product Info
Marketplace
Columns
Editor's Take by Ryan Gray
Good Leaders and the Mentors Who Believed in Them
Thought Leader by Linda Bluth
Let's Talk: School Reform and Safe Transportation Challenges
Thought Leader by Gregg Prettyman
The 'Gig Economy' — New Rules, New Risks for School Districts
Publisher's Corner by Tony Corpin
The Cross-Generational Workforce